The idea that Betta fish can live in small, empty bowls is a sad misconception.
Like most fish, Betta fish are happiest when their tanks reflect an accurate representation of their natural environment. So, what exactly does the natural environment of Betta fish look like?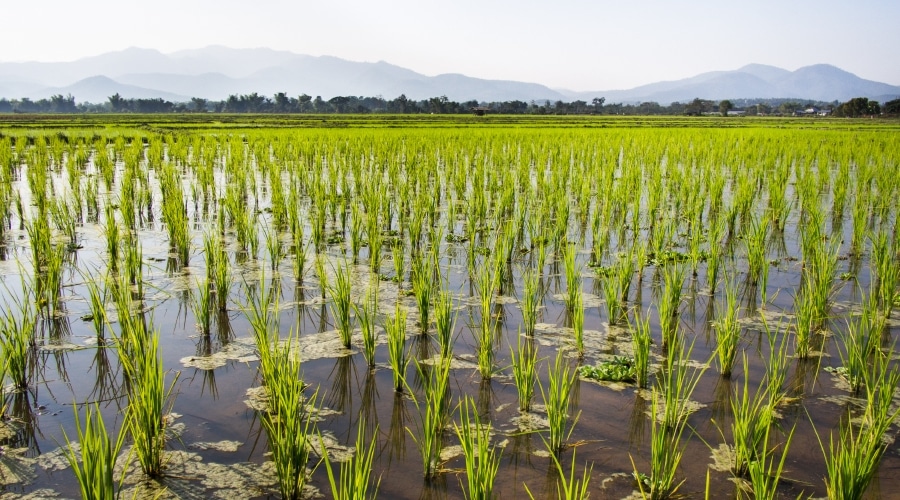 Notice anything surprising? Their natural habitat isn't a tiny pond…in fact, rice paddies are massive in size and heavily planted.
Why, then, do pet stores spread the misconception that Betta fish are perfectly fine in tiny bowls?
The answer is sad, yet quite simple; to sell more fish. Pet stores know that they will sell more Betta fish if people think that they can simply put them in a $5 glass bowl and forget about them.
Since Betta fish are capable of breathing air from the surface, they have the unique ability to survive in small ponds for a short period of time. Pet stores capitalized on this ability and spread the lie that Bettas "thrive in tiny ponds in the wild" and are fine in small bowls. In reality, this couldn't be further from the truth.
Betta fish only live in tiny spaces if it is a matter of life or death.
In reality, they are much happier, healthier, and more comfortable in large spaces with thick vegetation.
---

Setting up a Betta Tank the Right Way
So now we know that keeping your Betta fish in a bowl is wrong…but how do you set up a Betta tank the right way?
Picking out a good tank for your Betta is a crucial step in the process. As we talked about before, small bowl are not a good option. Stay for away from the "kits" sold at pet stores (you usually pay way too much and the quality is really bad). Whatever tank you choose, it should preferably be at least 5 gallons.
We highly recommend the Fluval Spec V (5 Gallon Model). It offers a lot of space for your Betta and comes with a light capable of growing most plants. 
Related Content: In you are interested in putting together a more serious planted tank, check out our all-inclusive beginners guide to setting up a planted aquarium.
The next step is choosing a few plants for your Betta to make him/her feel more at home. Below are a few great plants for Betta fish tanks.
---

12 Awesome Live Plants for Betta Tanks
Here are 12 of the best live plants for betta fish tanks:
Amazon Sword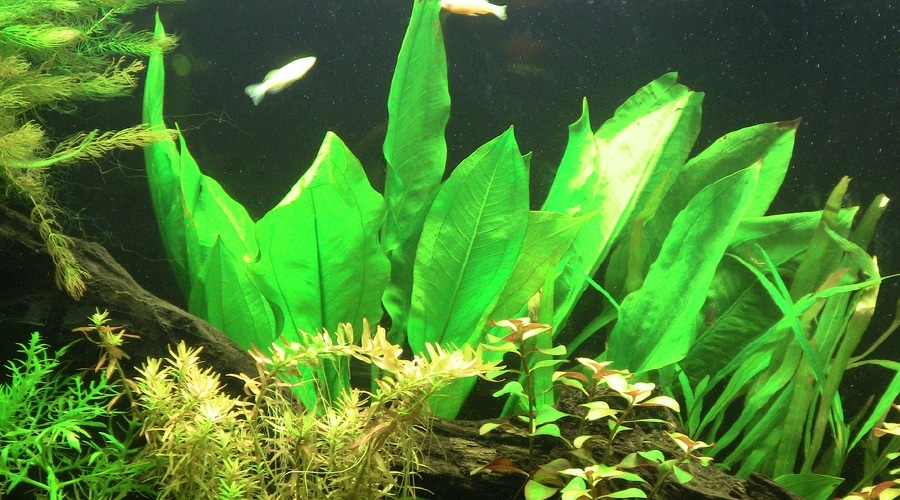 The broad leaves of the Amazon Sword make it a favorite among Betta fish. That said, the Amazon Sword has a few unique care requirements that you should keep in mind.
First, the Amazon Sword can grow quite large. As a result, it probably isn't the best choice for a five gallon tank. You will have better luck with this plants if you are planning to keep your Betta in a 10+ gallon tank.
In addition, the Amazon Sword must be rooted a few inches deep into substrate. As a result, choosing a quality aquarium substrate is vital if you plan to keep these plants.
Anubias Nana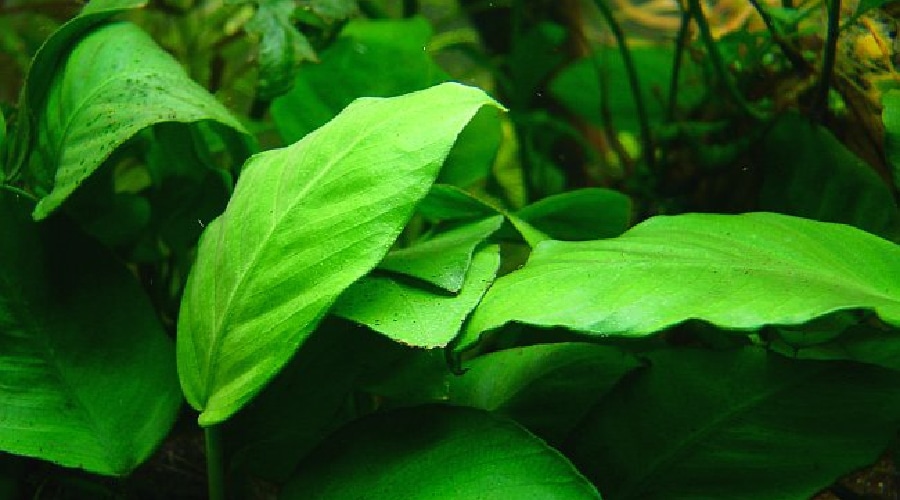 If you are searching for the perfect Betta fish plant, look no further. The Anubias Nana tops our list for several reasons:
First of all, the Anubias Nana has broad, wide leaves. Since Bettas are known to perch themselves on plant leaves to conserve energy and sleep, Anubias Nanas are a great fit for any Betta tank.
In addition, Anubias Nanas are small and easy to keep. They stay small enough to fit in any aquarium over 2 gallons and don't require intensive lighting. In fact, Nanas are featured on our list of the best low light aquarium plants.
Finally, Anubias Nanas are notoriously slow growers. Though this may seem not seem like a great thing at first, but slow growing plants actually make aquarium care and maintenance much easier.
Marimo Balls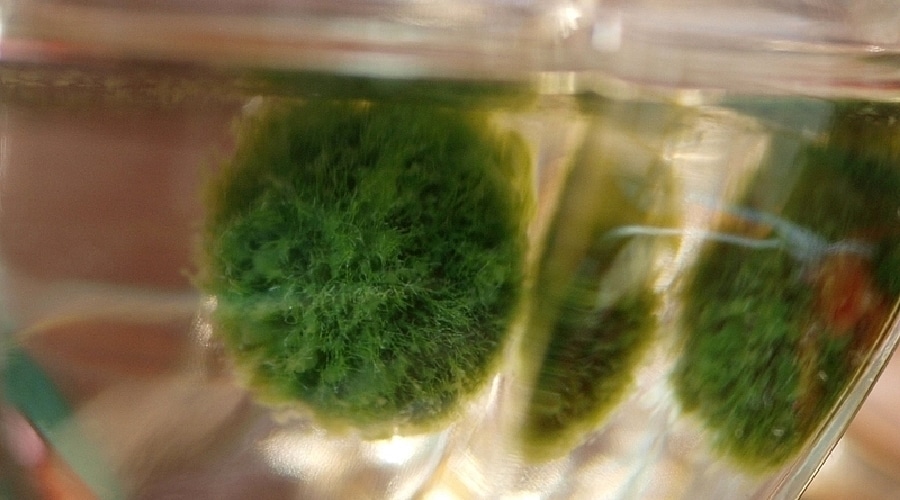 Marimo balls are definitely one of the best options for anyone looking to add live plants to their Betta tank.
Interestingly, these unique spherical balls are actually a type of algae (don't worry, not the bad kind). They require next to no special care, minimum lighting, and are extremely easy to keep. Though they grow quicker in cold water, Marimo balls thrive in any temperature.
Marimo balls are also a favorite among Betta fish, shrimp, and other species. Bettas are known to use these moss balls as resting spots or even roll them around like a toy!
We highly recommend this species to anyone looking for an interesting, easy introduction to live plants.
Java Fern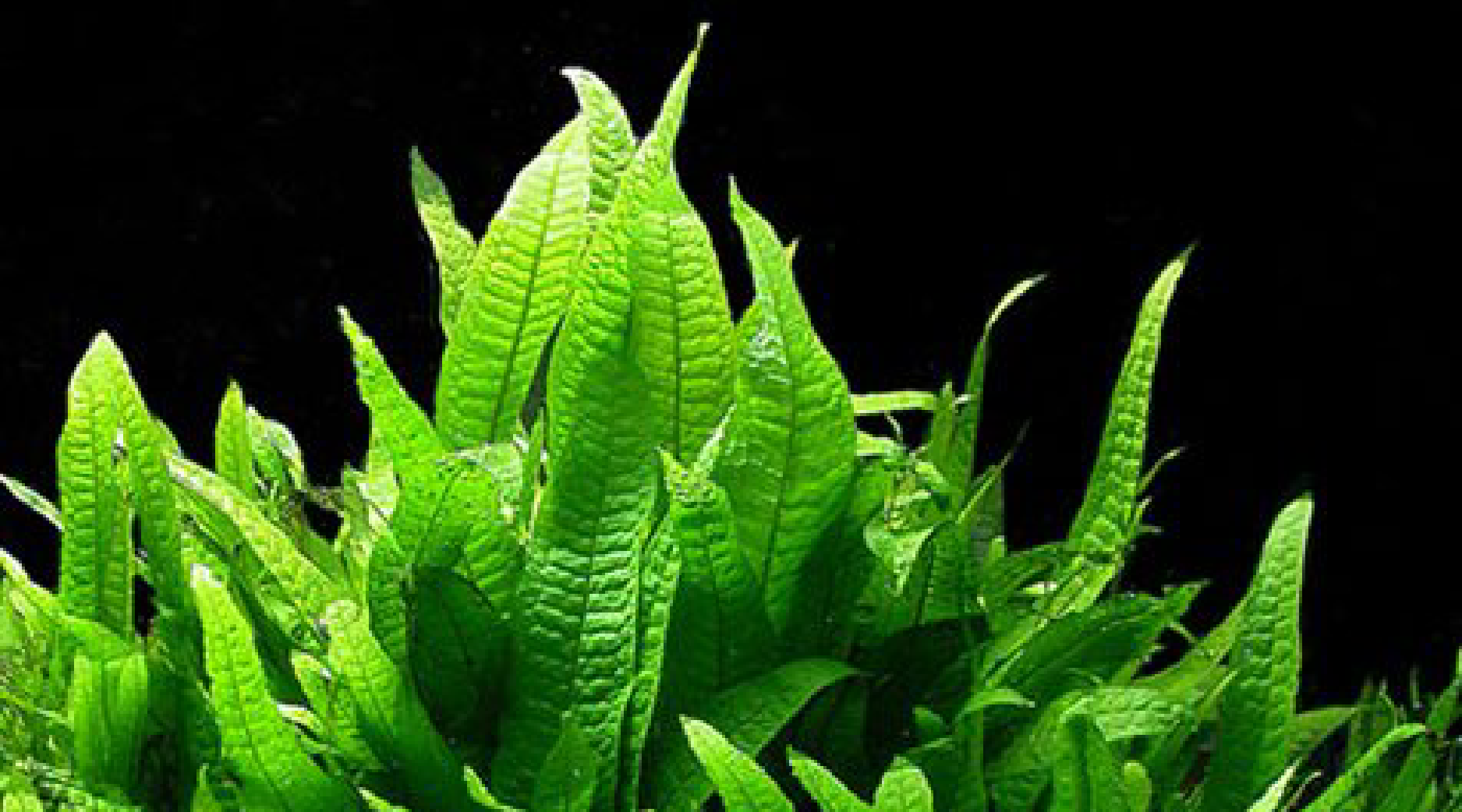 Java Ferns are great plants for Betta tanks because they are extremely easy to grow and do well in low lighting. I once grew a Java Fern in a jar for months with only the natural light in the room. Seriously, they're that easy.
That said, be very careful when planting Java Ferns. The plant will die if you bury the rhizome.
Java Ferns are also pretty slow growers, so you won't need to trim them back every few days like you would have to do with Swords.
Water Sprite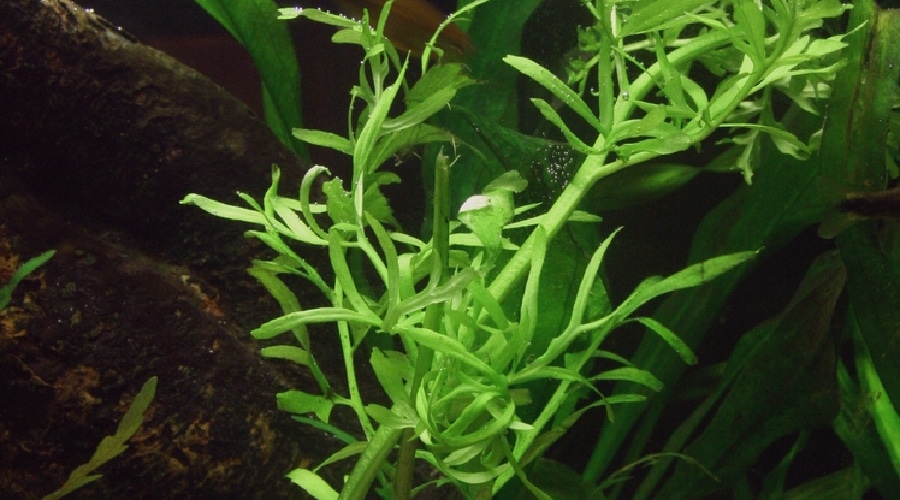 Water Sprite is definitely a Betta fish favorite. In fact, a lot of Betta fish enthusiasts refer to Water Sprite as a "Betta fish playground" because of the way Bettas often hang out in the forest of leaves.
One thing that make Water Sprite a great option is that it can be planted or let free to float on the surface. For a Betta tank, floating plants create great cover and can even encourage your Betta to build bubble nests.
Through Water Sprite is known to grow very quickly, it is one of the easiest plants to trim. Simply cut at the base of the stem and discard the leaves to prevent them from rotting in your tank.
Overall, Water Sprite is a great beginner plants that fits in well in any Betta tank.
Java moss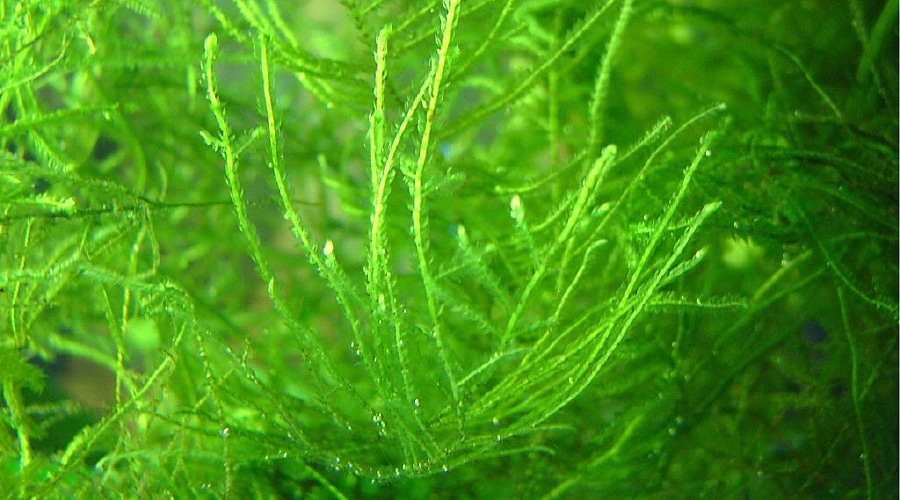 Java Moss is one of the most popular freshwater aquarium plants, and for good reason. This species is hardy, easy to care for, and visually appealing. Overall, Java Moss is the perfect beginner plant.
Java Moss doesn't require any sort of intense light setup to grow well. In addition, it doesn't need to be rooted into substrate, which makes it a popular choice among Betta fish owners. Attach it to driftwood, let it carpet the bottom of the tank, or simply let it float; regardless or where you keep it, Java Moss is an easy and great plant for Betta tanks.
Anacharis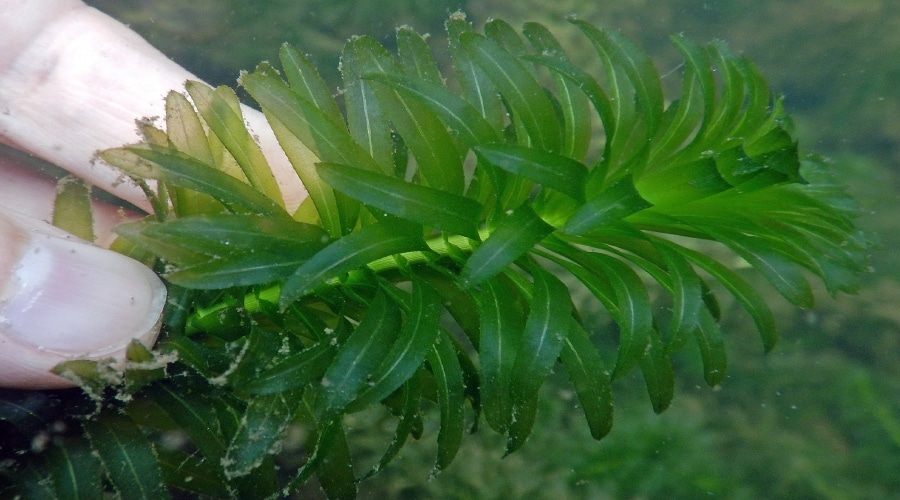 The Anacharis is a fast-growing, bright green plant that has become extremely popular in fish-keeping over the last few years. This species is known to help filter toxins and curb algae growth, making it a great choice for any home aquarium.
Anacharis can be planted or left to float, which gives Betta owners more options when it comes to the aquascaping of their tank. Since this species often grows into thick "forests", it acts as a great hiding place and gives your Betta a good spot to rest/sleep.
Pennywort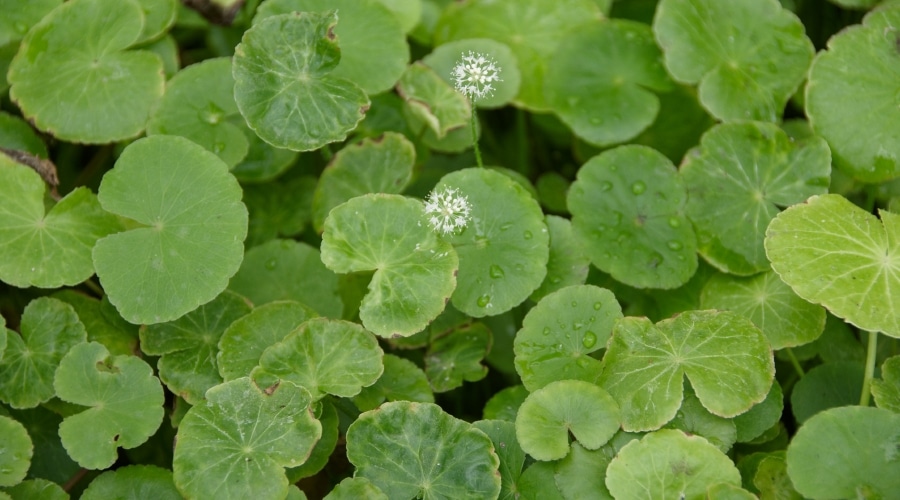 Pennywort is a versatile aquarium plant that can thrive under, on, or above the water surface. It is easy to care for and has very low lighting requirements, making it a popular plant for Betta tanks.
Pennywort naturally gravitates to the surface, where it creates great cover for Bettas. That said, it has a tendency to cover the surface quite quickly, so make sure to trim it often to ensure the surface doesn't get smothered out (this can be dangerous for Bettas since they often breath from the surface).
As long as you don't let it take over your tank, Pennywort is an interesting and visually appealing plant that is perfect for most Betta tanks.
Duckweed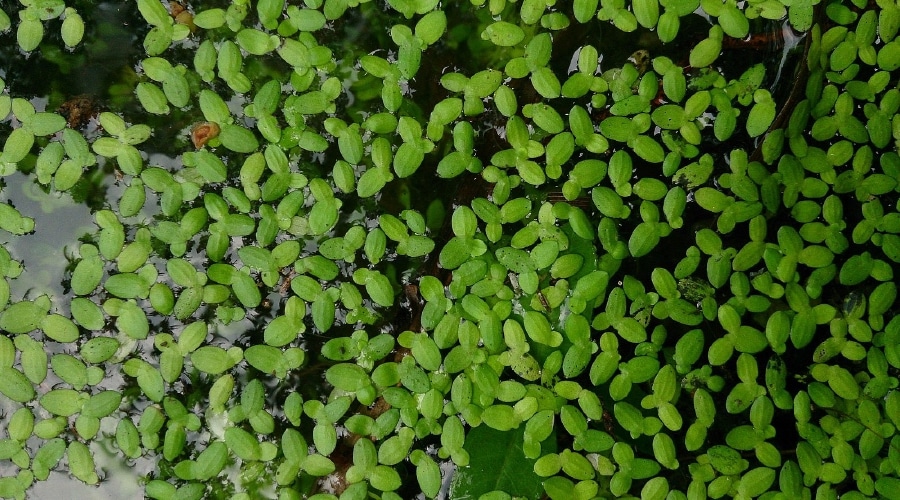 A lot of planted tank owners have a love/hate relationship with Duckweed.
On one hand, Duckweed is a unique surface plant that gives tanks a unique, natural look. On the other hand, it tends to grow extremely fast and can be hard to eradicate once established in a tank.
An overabundance of Duckweed can also block a significant amount of light from reaching lower-level plants, stunting their growth. Make sure it doesn't completely cover the surface if you plan to keep this species.
Hygrophila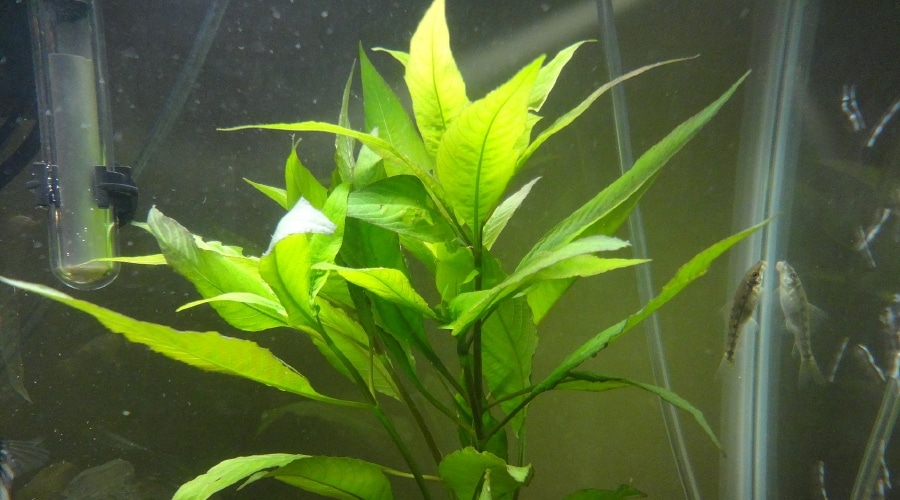 Hygrophila is a broad leaf plant popular among planted aquarium enthusiasts. The large leaves provide great resting spots for Betta fish, making it a useful and effective choice.
Since Hygrophila can grow up to 28″ tall, so a 20+ gallon tank is recommended. This species tends to grow quickly, so can will outgrow smaller aquariums in no time.
Overall, Hygrophila can be a great choice for those who were already planning to give their Betta fish a little more room than normally required.
Hornwort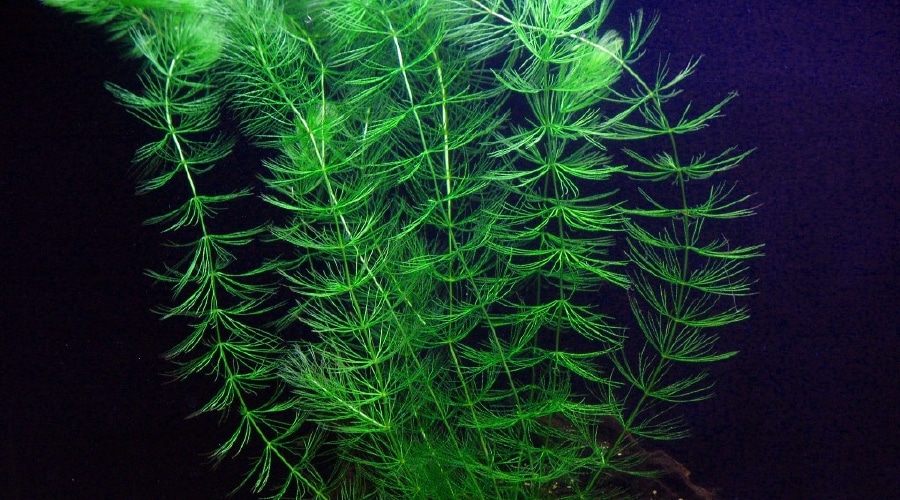 Hornwort is popular in Betta aquariums because it is easy to care for and versatile. It's capable of thriving either planted in the substrate or floating at the tank surface, and provides great cover for Betta fish.
Hornwort grows quickly, even in low light setups. Be careful when trimming this plant; it tends to be delicate and you really don't want the bristles floating all around the tank (they take a while to clean up but pose no other problem).
That said, Hornwort is great at removing toxins and nitrate. As long as you don't mind a little extra maintenance, Hornwort is a great choice for Betta setups.
Wisteria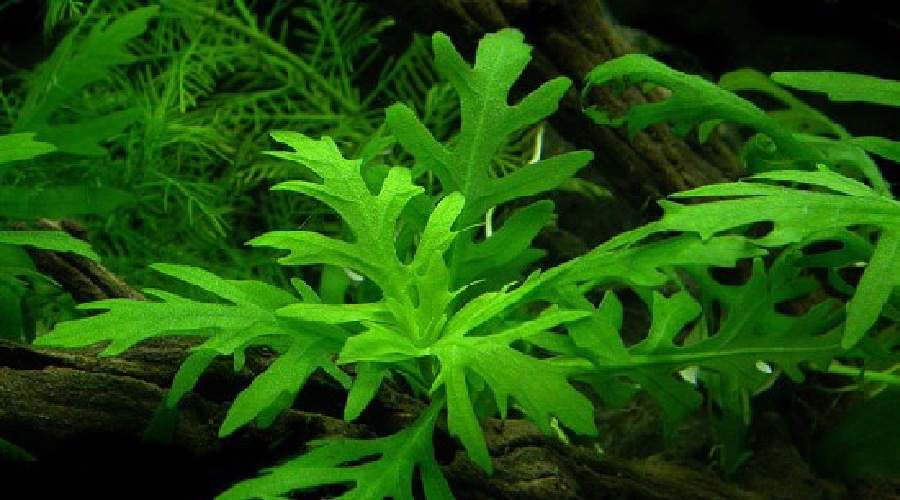 Water Wisteria is a popular aquarium plant that is known to thrive in low-light setups. The unique appearance and interesting leaf patterns of Wisteria will help give any Betta tank some extra flair.
Water Wisteria can grow pretty large (over a foot tall), so it may not be the best choice for smaller aquariums. With regular trimmings and good care, a 10 gallon tank should suffice.
---
Recommended Fake
Bet
ta
Fish Plants
For those who don't want the responsibility of caring for live plants, fake Betta fish plants are always a great option.
When considering fake plants for your Betta fish, try to look for plants that are made from silk. Other types of material can harm your Betta's skin if they aren't made well.
Here are a few of the best fake plants for Bettas:
Zoo Med Betta Hammock
Sale
Zoo Med Laboratories AZMBL20 Betta Hammock
Simple and easy to use, this Zoo Med Betta Hammock will instantly become your Bettas favorite hang out. Just stick to the side of your tank near the surface and watch as your Betta makes itself at home.
The Zoo Med Betta Hammock is a single leaf that easily sticks to the side of any tank. Though it may look overly simple, this plant functions as a "hammock" for your Betta and allows it to rest away from water flow.
In the wild, Bettas often like to perch themselves on wide leaf plants to conserve energy and sleep. The Zoo Med Betta Hammock perfectly replicates this in any home aquarium. This small addition will quickly become your Betta's favorite spot!
Though this plant isn't silk, it is soft enough to not harm your Betta's fins.
Marino Natural Silk Red Plant
If you are looking for something to add a little more color to your tank, this colorful piece by Marino Natural is a great choice.
Measuring about 6 inches tall, this plant is large enough to become the main piece of any Betta tank. In addition, the silk material and soft edges assures that your Betta is 100% safe and comfortable.
Perhaps the best feature of this plant is the large leaves. They function as a good alternative to a Betta hammock and provide a good place for your Betta to rest or sleep.
Overall, this plant by Marino is a great choice for any Betta tank that needs a little color.
---
So…Live or Fake?
The decision to go with live or fake plants for your Betta tanks is completely dependent on you. Here are a few advantages and disadvantages of keeping live plants:

Advantages of Keeping Live Plants
Visually Pleasing: There are not many things more beautiful than a naturally planted aquarium. Its almost like having a little slice of the Amazon River right in your house. Adding live plants to your Betta tank gives it a real, natural look that fake plants simply can't compete with. Though fake plants are much more realistic that they were year ago, they still don't match the beauty and movements of live plants.
Better Filtration: A lot of fish owners get super hung up of their filtration systems, but completely ignore live plants. In reality, live plants are one of the best filtration systems you can own. As plants grow, they remove toxins and unwanted compounds (such as nitrate) from the water and use it as fuel for growth. You can't beat natures original filter!
Aeration: As plants grow, they remove carbon dioxide from the water and replace it with oxygen. A high dissolved oxygen concentration helps promote fish health, reduce algae growth, and lends to an overall healthier tank. The mutually beneficial relationship between plants and fish is really quite amazing.
Reduced Algae Growth: Algae and plants often compete for the same nutrients. By adding plants to your Betta tank, you are dramatically reducing the amount of nutrients available to unwanted algae. Algae eaters are another great way to reduce algae growth without harmful chemicals.
Disadvantages of Keeping Live Plants
Maintenance: Fake plants are a "set and forget" kind of thing. Live plants, on the other hand, require more work. You have to make sure the plants have enough lighting and nutrients, trim them every few weeks, and pay more attention to water conditions. In addition, some species can be difficult to care for and require supplemental aquarium fertilizers and additives.
Lighting Requirements: Live plants need light to survive. Though most of the plants on our list are easy to care for and don't require specialized lighting, not every type is so easy. Large tanks with more difficult plants can require expensive lighting and CO2 systems.
---
Final Thoughts
Unfortunately, the idea that Betta fish are capable of living in small, unfiltered bowls has become a popular misconception in the hobby. As we have learned, this is neither healthy nor enjoyable for your fish.
As a result, responsible Betta owners should do everything possible to provide a natural, healthy environment for their fish. Part of this means giving your Betta enough space (at least 5 gallons) and enough hiding/rest spots (plants).
By following this guide, you should be able to put together a stunning naturally planted tank and give your Betta fish the best life possible!