Here's the truth…
Betta fish should never be forced to live in tiny bowls. Not only is it inhumane, but it is downright wrong. They might be fine for a short period of time, but no fish deserves to live in a cup its whole life.
This comprehensive guide will walk you through a few of the best betta fish tanks on the market. Not just tanks that Bettas can survive in, but tanks that they will enjoy and thrive in.
Note: Betta fish require more than just an adequate tank to live long, healthy lives. Check out this complete betta fish care guide for everything you need to know about caring for these amazing fish!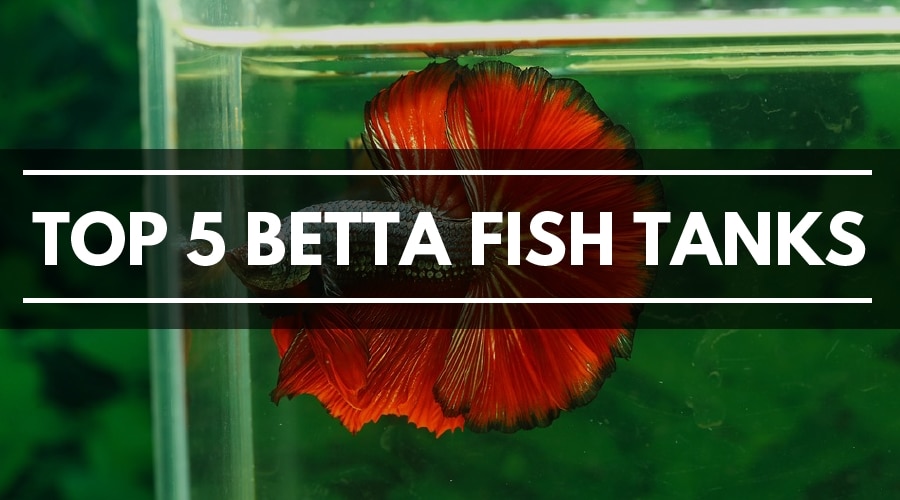 Best Betta Fish Tanks: Our Choices
Based on careful review and testing, here are our choices for the best betta tanks on the market:
1. Fluval Spec V
Even though the Fluval Spec V isn't made specifically for Betta fish, that doesn't disqualify it as one of the best betta fish tanks on the market. In fact, I find myself recommending this tank more than any other on the list.
The Fluval Spec V is a 5 gallon etched-glass masterpiece. It is available in two colors (white and black) and looks great in nearly any setting. Don't be fooled, though, this tank doesn't stop at just looks; the features are amazing as well.
Quick Overview of Features
High-clarity etched glass with aluminum trim
Overhanging LED light system
Circulation pump with adjustable nozzles
3-stage filtration system with filter media
Things to Know
Like we said before, the Fluval Spec V isn't made specifically for Betta fish. As a result, a few simple changes are necessary to make the tank perfect for your Betta. Don't let this scare you away, though; the tiny upgrades are definitely worth it for the extra performance you get out of this tank.
The only necessary adjustment is with the filter hose outlet. As you probably know, Betta fish prefer low flow environments. The pump that comes with this tank, though, is pretty strong. Way too strong for Betta fish.
The fix to this problem is extremely simple. All you need to do is pick up a Fluval Edge Pre-Filter Sponge and place it over the filter outlet (bonus: it fits perfectly). This should calm down the water flow just enough to keep your Betta nice and happy. Plus, if you want to convert the tank for a different species, all you have to do is remove the sponge.
In addition, you should give your Betta somewhere to rest. In the wild, they like to "sit" on plants right at the surface of the water. I would highly recommend a Betta hammock leaf. They are cheap, simple, and effective.
---
2. Marineland Contour
The Marineland Contour is another all-star in the world of betta fish tanks. Like the Spec V, the Marineland Contour isn't specifically made for Betta fish, but I find that this is usually a good thing. You get more quality for your money compared to most "betta fish kits" sold at the local fish store.
At 3 gallons, the Contour is the perfect combination is size and convenience. In addition, it comes full of great features right out of the box.
Quick Overview of Features
Stylish curved glass
LED light system with day and night features
3-step filtration system
Glass canopy for reduced evaporation
Things to Know
I really like that this tank comes in a 3-gallon option. As great as the the Spec V is (#1 on our list), not everyone wants or has room for a five gallon tank. The Contour is a great option for those with a little less room.
Like other tanks on our list that are  not "made" specifically for Betta fish, you may have trouble with the flow rate being too strong. Luckily, the pump that comes with the Contour is easily adjustable. You should be able to get it set just right with a little tinkering.
The only thing that I don't love about this tank is how hard it is to clean. The back chambers are pretty small, so getting a hand in there to scrub is pretty much impossible. Make sure you have something long to jam a sponge down there. In the end, it's not really a huge issue, though.
Overall, the Marineland Contour definitely deserves its rank of one of the best Betta fish tanks on the market. Its amazing design, reliability, and quality are hard to match for the price.
---
3. Tetra Cube Aquarium Kit
The Tetra Cube Aquarium Kit is one of the most popular Betta fish tanks on the market. At 3-gallons, it has a small footprint and is great for those with limited space.
The Tetra Cube offers a crystal clear, 360 view of your Betta, which is quite a unique trait for such an inexpensive tank. The kit comes with the tank, filter, LED light, filter cartridge, power adapter, and a pedestal base. In other words, you won't need much else.
Quick Overview of Features
Tetra 3i filter
Clip-on LED light
Lid for reduced evaporation
Seamless 360 view glass
Things to Know
This tank does a lot of things well. It is somewhere in the middle on a full-on started tank and a high-end nano tank. It is definitely not as high quality as the Fluval Spec V and the Marineland Contour, but it is not really supposed to be.
Lets start off with a few things I like about this tank.
First of all, the seamless 360 viewing glass is pretty neat. It makes for a a good view and gives it the feel of a high-end tank. In addition, the footprint of this tank is pretty tiny. At only 10″ by 10″, anyone can find room in their room or office for the Tetra Cube.
Some things about this betta fish tank kind of disappoint me, though.
To start off, the filter on the tank is pretty weak. There are a lot of reports of the filter dying out on people pretty quickly. If yours manages to last, the weak flow rate really shouldn't be too much of an issue considering Betta fish prefer low-flow areas.
Secondly, the tank is made from plastic instead of glass. While this can be good for you're looking for something light and easy to transport, I am just not a fan on plastic tanks. They tend to scratch too easy for my pleasing. In addition, you have to be extremely careful where you place your heater. Heaters and plastic do not mix well.
---
4. Tetra Half Moon Bubbler
Next on our list of the best betta fish tanks is the Tetra Half Moon Bubbler. While your Betta doesn't need a bubbler for survival, this tank and its bubbler makes quite the beautiful mantel piece, especially with the color changing effects.
The Half Moon Bubbler gives a 180 degree seamless view of your Betta and perfectly fits along any wall or countertop in your house. If you are looking for a cheap, beginner oriented tank, this may be the choice for you.
Quick Overview of Features
Color changing LED light
Adjustable bubbler
180 degree view
Cartridge filtration system
Things to Know
Like I mentioned before, this tank if definitely targeted to first time fish-keepers. Whether that's a good or bad thing, though, depends completely on your preferences. If you want a natural, professional looking tank, this one probably isn't for you. If you're just looking for an inexpensive, first-time Betta tank, it might be a great choice.
One cool feature of the tank if the color-changing LED light. It definitely catches your eye from anywhere in the house. You may find yourself having to add less decorations because the light is sufficient.
The bubbler is also a great addition. It is completely adjustable, so with a little bit of tinkering you should be able to find the best flow rate for your Betta. Though Bettas don't need a bubble (they breathe air from the top of the water), it provides visual stimulation and will be useful if you ever want to switch species.
Now, on to the things that I don't like. Overall, the tank isn't the best quality. You definitely get the feeling that it is a little cheap when you first start playing with it. In the end, though, you aren't paying too much money.
In addition, the lights are not sufficient if you want to keep live plants. All the previous tanks on our list have a plant-capable light, but this does not. Once again, not a huge deal if you're just starting out.
If you are getting a Betta as a decorative pet in the house, this may be the tank for you. The bubbler definitely makes this tank one of the most visually appealing betta tanks on the market. The tank itself is not the best quality available, but for the price, it will most definitely do its duty with an added visual flare for any starter.
---
5. Penn Plax Vertex
The Penn Plax Vertex is a great starter kit for those just getting into the hobby or looking for an upgrade for their Betta. In my opinion, this tank really doesn't get enough credit. It is definitely the least popular model on our list, but has some great benefits that often get overshadowed by "big name" tanks.
The Vertex runs around 2.7 gallons, so it should be perfect for any Betta. In addition, it has a few great features that make it one of the best Betta tanks on the market.
Quick Overview of Features
High-Quality bent glass that offers a seamless view
Small footprint
Includes tank, filter, net, and thermometer
Things to Know
Like I said before, this tank doesn't get enough credit. It is a much higher quality version of the traditional "starter kits" sold to beginners in local fish stores. Here are a few things I really like about this tank:
First of all, the Penn Plax Vertex is 100% glass. You're not getting cheap plastic that will scratch up the first time you clean it. Personally, this is a huge benefit as I really prefer glass tanks.
In addition, the filter included with the kit is great (not something you see often with kits). The Penn Plax Cascade filter is well know in the hobby and is used for much for difficult fish than Bettas. That being said, it might be a little strong. Try to position it so that your Betta doesn't get too much flow.
Finally, this tank comes with an thermometer. Thermometers are often something overlooked by new aquarium owners, so the fact that this kit includes one is very helpful. Keeping track of your tank's temperature is crucial.
My only real complaint regarding this tank is with the cover. It is pretty flimsy and not the best quality. Overall, benefits of this tank far outweigh the flimsy hood. It's not that big of an issue.
---

Tips for Setting up Your Betta Fish Tank
There are several things you should keep in mind when setting up your Betta fish tank. Here are a few of our suggestions:
Always Use a Heater
Much like the idea that Betta fish can live in bowls, it is a common misconception that Betta fish don't require a heater. Don't get me wrong, they are pretty hardy fish and don't require pristine conditions. They do however, need a tank that is sufficiently heated. They are not cold water fish.
Since betta fish tanks are generally 5 gallons or smaller, you don't need a huge heater. They being said, heaters generally aren't something to skimp on. A malfunction from a cheap heater can not only kill your fish, but also start a fire.
I have been using a Cobalt Aquatics Neo-Therm for the last few years and I have nothing but great things to say. Cobalt Aquatics is an amazing company and they take care of their customers. If you don't mind spending a few extra dollars for quality, definitely go with the Neo-Therm. Check out our list of the best aquarium heaters for more options.
Add Substrate and Plants
Though Betta fish are just fine without any fancy extras, they will be far happier with a few simple additions.
For substrate, I like to stick to a simple gravel. Make sure you purchase the gravel from a fish store to make sure that it is fish-safe.
There are tons of plants suitable for Betta tanks. In their natural habitat, Bettas like to rest on wide leaf plants to conserve energy. If you don't want the responsibility of keeping live plants, a few fake plants will work. Make sure they are silk plants, not plastic. Plastic plants will tear up the fins of your Betta.
Other than some simple accessories, Betta fish don't require anything crazy.
Always use Water Conditioner
Water from the tap is fine to use in your Betta tank if and only if you treat it with water conditioner.
Tap water contains traced of chlorine. This chlorine is non-toxic to humans, but extremely toxic to fish. 95% of the time when new fish-keepers come to me wondering why their fish died, it is because the water wasn't de-chlorinated. Make sure you do this for every single water change. Tetra AquaSafe is always a great choice.
Cycle the Tank Before Adding Fish
Local fish stores tend to sell customers Betta fish without telling them how to properly set up a tank. More often than not, the Betta only lives a few weeks and the owner can't figure out why. Usually, this happens when a tank is not properly cycled.
Cycling a tank is the process of building up beneficial bacteria that convert fish waste and uneaten food into harmless substances. In an un-cycled tank, waste and food breaks down into ammonia, which is extremely lethal to fish. For this process, you will need a good test kit. I recommend the API Freshwater Master Test Kit.
Set up your tank completely. I'm talking gravel, decorations, filters, heaters, everything. Add a few pinches of flake food to get the process going. When this breaks down it becomes food for the first set of beneficial bacteria, which then convert it to Nitrite.
Nitrite is still very poisonous to fish. Luckily, another set of beneficial bacteria will begin to grow. These bacteria convert the Nitrite into Nitrate, which is far less toxic. Throughout the process, you should add additional pinched of flake food every other day to sustain the bacteria.
This is a very simplistic version of the process, which generally takes 3-5 weeks. That being said, you can drastically cut down the time by getting a cup of gravel or a filter pad from an existing tank. This jumpstarts the process and starts you off on the right foot. If you would like to learn more about this process, check out our fishless cycle guide.