When shopping for medium to large aquarium fish you may notice that the smaller fish tend to be the most brightly colored. It seems some fish get duller as they get larger. Especially when looking for schooling fish.
However there is a notable exception that's becoming more and more popular lately: the Roseline Shark. This fish actually goes by a few names but is a fascinating, fast, and not too difficult animal to maintain, assuming you can afford a school of them!
What are Roseline Sharks?
Roseline Sharks have actually been known to science for a fair amount of time. The fish was originally described by Francis Day in 1865, the British Inspector-General of Fisheries in colonial India. As was traditional at the time, he named the fish after Sir William Dennison, a colonial governor who supported studies into the natural fauna of India.
As a result, you'll also frequently see them labeled as Denison Barbs. Red Line or Roseline Torpedo Shark are other, much more exciting names that sometimes get used. They are a fairly recent addition to the aquarium trade and have only been commonly seen for about 20 years.
Roseline Sharks come from just a handful of rivers that flow through Kerala and Karnataka in Southern India. In the regions where these fish are found the water is swift flowing, cool (for South India), and highly oxygenated, giving you some idea as to the kind of habitat you'll need to provide them.
Unfortunately, the past two decades have seen a lot of harm done to wild Roseline Shark populations. They became too popular too fast and were exported by the thousands as demand skyrocketed.
Roseline Shark wild populations crashed and the fish was placed on the IUCN Endangered Species list. While exports were partially halted it only caused prices to skyrocket, encouraging poaching of wild fish.
However, experiments with captive breeding were established in both India and Southeast Asia using hormonal treatments. Eventually breeders were successful in getting these challenging fish to spawn.
While it's not 100% certain, the odds are still in your favor that the Roseline Sharks you see in stores are captive-bred. But it's definitely worth asking about if you're concerned about their conservation.
That's just a brief introduction to this striking cyprinid. There is a lot more to learn about Roseline Sharks so let's dive in, shall we?
Common Names: Roseline Shark, Denison Barb, Red Line Torpedo Barb, Roseline Torpedo Barb
Scientific Name: Sahyadria denisonii
Origin: Kerala & Karnataka, South India
Length: 5 inches
Aquarium Size: 55+ gallons
Temperament: Peaceful; Schooling
Ease of Care: Moderate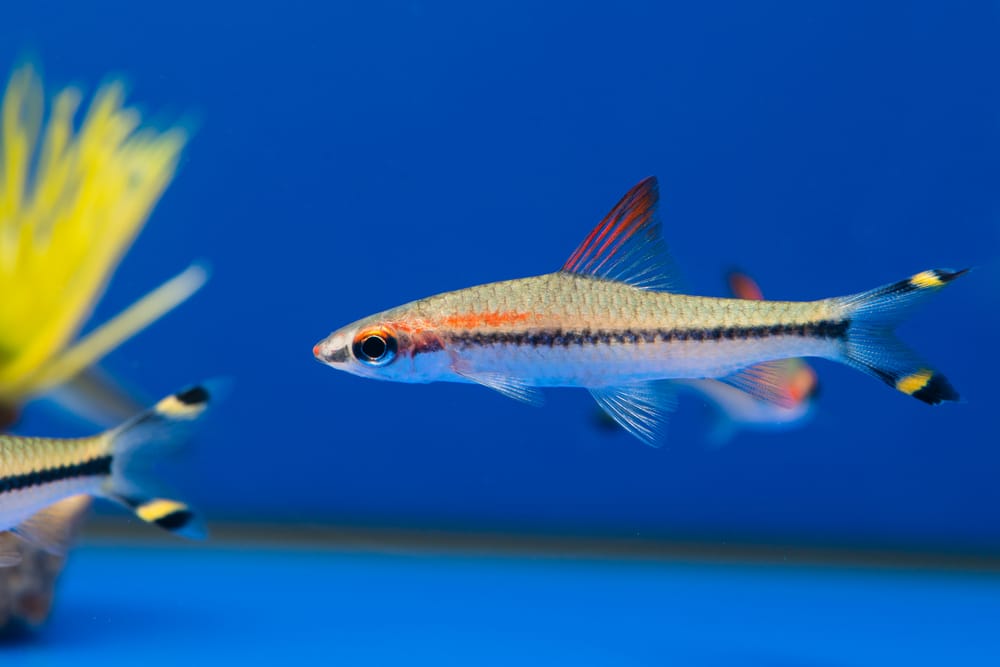 Caring for Roseline Sharks
This section cover several Roseline Shark care topics such as tank size, water parameters, diet, and more.
Aquarium Size
Having the right sized and shaped aquarium is as important as water quality when caring for Roseline Sharks. These fish aren't especially large but they aren't small by any means. They reliably grow 4-5 inches in length, making them slightly larger than Giant Danios and other mid-sized Dither Fish.
And like other dither fish, they are continuously active. Roseline sharks are very fast, which is hard to appreciate until you see them feeding or you need to catch one. They will race from one end of the tank to another almost instantly.
Therefore any aquarium under 4 feet in length is cramped for these fish as adults. If you're raising a school of captive bred juveniles you might be able to get away with a 20 gallon long for a few months but you'll still need to upgrade sooner or later.
55 gallon aquariums are the minimum for a school of Roseline Sharks. 6 sharks is a minimum for a school, with more always being better. In the wild they form schools of hundreds of fish at a time.
They may even be migratory, like salmon, traveling seasonally from one part of the river to another. Which is why spawning them in captivity has proven to be very difficult.
In tanks that are too small they are likely to rub their noses up against the glass. They may even slam right up against it if suddenly frightened. Like all good-sized, fast swimming fish, a solid hood is essential.
Because if your Roseline Shark school gets startled one may even decide to leap. A full grown Roseline Shark has enough force to lift a plastic fluorescent light's lid and end up on the floor. You're better off securing it early on than learning from grisly experience later…
Water Quality
Water quality is the other important hurdle in keeping these fish healthy. A decent number of Roseline Sharks come from the wild still and they have only recently been captive bred. These fish demand highly oxygenated, clean waters mostly free of dissolved nitrogenous waste.
They are fairly sensitive to high levels of ammonia, nitrite, and nitrate. Therefore your Roseline Sharks should be the last fish you add to an aquarium. New Tank Syndrome is very real and it affects sensitive fish like Roseline Sharks the hardest.
New Tank Syndrome is caused by newly introduced fish dying due to the buildup of ammonia and not having bacteria to process it. And as fish die, they add to the ammonia issue, causing it to compound on itself. Therefore, cycle your tank properly for these fish.
Don't cut any corners when shopping for a filter, either. Stick to a unit that's rated for a minimum of your tank size but has capacity for larger volumes. A bit of extra power will also boost the water flow rate.
Flow is helpful for these fish because it provides aeration, oxygenating the water, removing carbon dioxide, and giving the fish a bit of exercise. You can also use a powerhead on one end of a long tank to provide a continuous current for them to swim against.
Just be certain to angle it in such a way that other fish get a break. Typically you can direct the current to flow along the surface to facilitate gas exchange and create a zone along the bottom that flows more slowly.
Roseline Sharks also need slightly cooler water than you'd expect. They are still tropical fish but should not be kept above 80℉. High temperatures jump-starts their metabolisms, causing them to eat more, yet weakens their immune systems long-term. Instead, keep your temperatures at 72-76℉ year-round.
In terms of water chemistry they are extremely flexible, though. A pH of 6.8-7.8 is perfect for them, with alkaline parameters even higher well tolerated. Water hardness isn't something these fish care much about either.
Plants & Substrate
Like most fish Roseline Sharks appreciate sharing a tank with live plants. They create nearby shelter, which encourages your fish to swim about in the open with more confidence. Plants also absorb nitrogenous waste products as food, helping to purify the water alongside your filter.
Since Roseline Sharks are open water swimmers we want to choose plants that are either background or carpeting/low to the ground. Tall background plants like Vallisneria (Vallisneria spiralis) and Amazon Sword plants (Echinodorus sp.) are perfect for them.
And for the bottom of the substrate you can keep Pygmy Chain Sword plants (Echinodorus tenellus) or Dwarf Sagittaria (Sagittaria subulata), both of which thrive in cooler water and aren't high light plants.
I also highly recommend floating plants for creating a shady ambience for these sometimes sh fish. They provide the most benefits to aquariums while being extremely easy to care for. They get all of the carbon dioxide they need from the air and being close to the light, they don't need extra sources.
Roseline Sharks are midwater swimmers that care little for the substrate. You can use the gravel or sand of your choice. If you're keeping live plants, a planted substrate that encourages their growth is best for the tank.
Aquarium plant soils can bind free floating fertilizers to their substance, holding them in place until plant roots can uptake them. They also look great and are often naturally or darkly colored, helping the colors of your Roseline Sharks pop!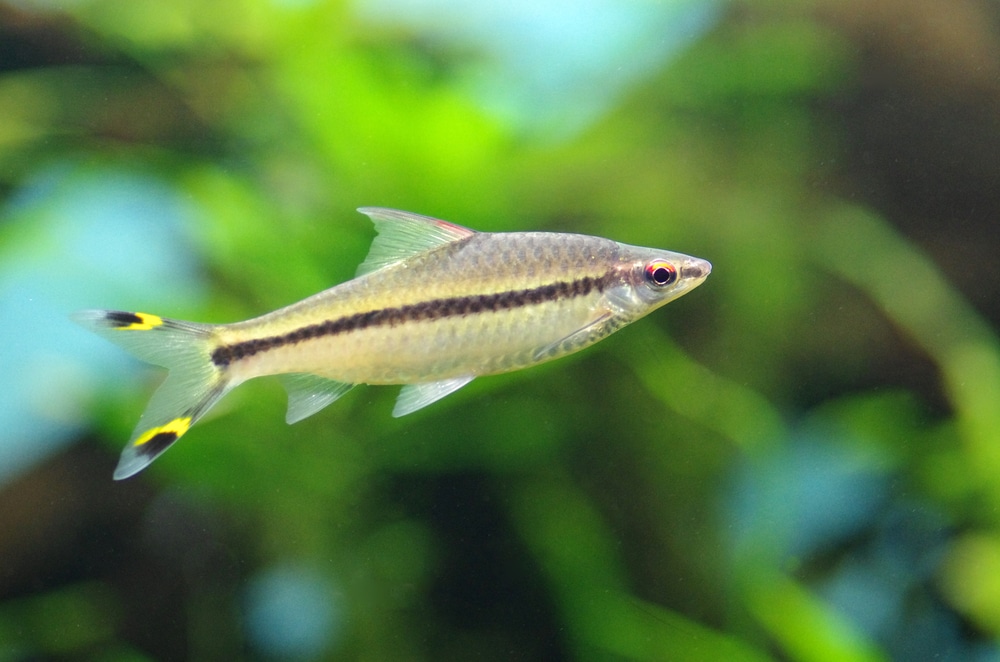 Feeding Roseline Sharks
There are some specific challenges that need to be met in terms of aquarium size and water quality. Fortunately, feeding Roseline Sharks is as easy as it gets! They are midwater predators that feed on just about anything small and meaty they can find.
Free-floating planktonic organisms like water fleas (daphnia), bloodworms, and Tubifex replicate what they'd find in the wild. Feel free to add some frozen or live brine shrimp, mysis shrimp, or other small sources of invertebrate protein!
They will also take just about any prepared flake or pellet that's the right size for them. Just take some time to study the ingredient label and choose brands that are high in animal protein.
Fluval Bug bites is a personal favorite as it uses salmon and soldier fly larvae as the two main ingredients instead of wheat and potato starch like generic brands.
Tank Mates for Roseline Sharks
Strangely, there is a lot of conflicting information out there when it comes to Roseline Sharks. Despite them being more or less the same as any other midwater, medium sized schooling fish when it comes to personality. Some books and websites list them as "semi-aggressive," "territorial," and other nonsense.
Roseline Sharks are quite peaceful, both towards each other and other fish. At worst, they may nip the fins of a small fish that wiggles too temptingly like a Betta or Guppy. But most fish their size would do the same.
These "sharks" have small mouths and aren't predatory towards anything much larger than brine shrimp or baby Guppies. They may display and spar with each other on occasion, especially males, but the duels are mostly show and rarely cause lasting harm.
Considering their size and speed, they may make small fish nervous. I wouldn't keep them with nano fish however medium sized Tetras like Black Skirt Tetras (Gymnocorymbus ternetzi) should get along fine with them.
Medium sized community fish are ideal tank mates for them. Gouramis, Barbs, Cichlids, Corydoras, Plecostomus, smaller Stingrays, and other good sized fish are ideal companions.
Be careful when choosing Cichlids as Roseline Sharks are good sized but very slim. A few of the more predatory species will be tempted to try eating one.
Good Tank Mates for Roseline Sharks
Gouramis, small to medium sized Cichlids, Giant Danios, Angelfish, Barbs, and other Medium Sized Community Fish
Swordtails, Mollies, and other larger Livebearers
Plecostomus, Corydoras, and other peaceful, bottom dwelling Catfish
Snails and larger Shrimp (Bamboo, Vampire, etc)
Poor Tank Mates for Roseline Sharks
Bettas, Guppies, and other small fish with flowing fins
Small, nervous fish (most nano fish)
Dwarf Shrimp
Breeding Roseline Sharks
Breeding Roseline Sharks has only recently been successful in captivity and only after years of study by companies and governments throughout South Asia.
The government of Kerala, their native land, was especially interested in learning to farm them as Roseline Shark exports were a significant boost to the local economy.
Eventually, captive breeding was done through a combination approach of large outdoor ponds and hormonal injections. Obviously both of these techniques are out of reach for most aquarists in temperate countries.
There have been a few reports of success, including one from the Cleveland Zoo. The secret seems to be large schools that number in the dozens of individuals. This means a tank that's hundreds of gallons in size, if not thousands.
Like nearly all cyprinids (Goldfish, Danios, Barbs, Koi, etc), Roseline Sharks are egg scatterers. But unlike the rest they seem to spawn in mass all at once.
So it takes a whole school of willing fish for them to breed, complicating things quite a bit. They likely also respond to seasonal cues in their environment, such as shifts in temperature and pH.
You'll likely want to breed these fish to help preserve wild stocks and make good money at your local fish store. But breeding them in captivity is mostly a matter of luck for the time being.