Hang on Back (HOB) filters have been used for decades in the fishkeeping hobby, and for good reason. They are an easy, cost effective way to filter your aquarium and can be bought nearly anywhere.
For beginner and experienced fishkeepers alike, HOB filters are a great choice. In this complete guide, we will review five candidates for the best hang on back filter. Read below for our top five choices and where you can buy them!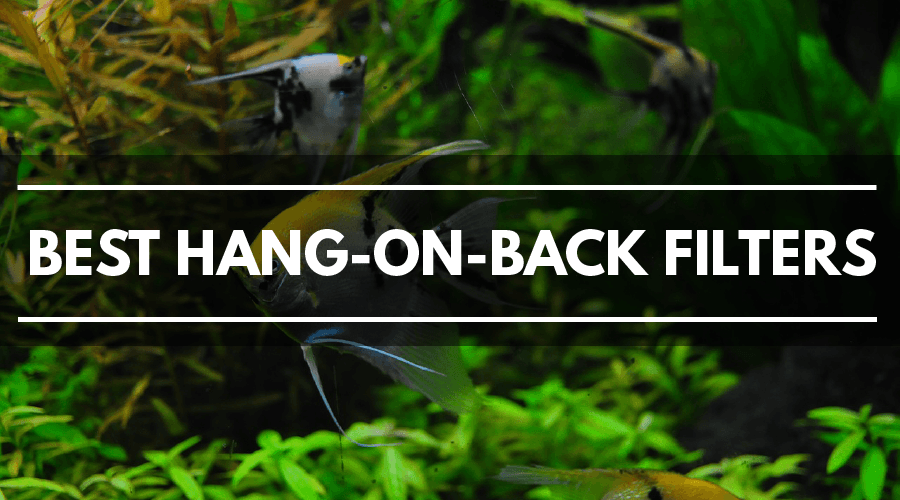 Best Hang on Back Aquarium Filter (Top Choices)
Here are our choices for the best hang on back aquarium filters currently on the market:
1. AquaClear Power Filter
AquaClear Power Filter
Aquarium filtration system that offers superior...
Quick and easy installation; we recommend that you...
Provides optimal mechanical; chemical; and...
The AquaClear Power Filter is a classic when it comes to hang on back filters. It is available in tons of different sizes up, the largest of which can handle up to 110 gallons. The solid build and large chamber give this filter a quality feel, which is something I that can be tough to find.
One thing that I really loved about the AquaClear Power filter is the amount of water volume it can handle. The chamber holds a ton of water compared to other HOB filters, which helps create a cleaner environment and keeps parameter stable (especially in smaller tanks). In addition, the large processing power of this filter helps create a good amount of water flow in the tank. This helps increase the levels of dissolved oxygen, decrease algae growth, and promotes an overall healthy tank. If you plan to keep fish that require low water flow (such as Bettas), you may want to buy a model a size smaller than the recommended size.
Another thing that a really loved about this hang on back filter is that it comes fully ready to use. Included in the package is AquaClear filter foam, activated carbon, and BioMax. All of these different medias help establish a healthy colony of beneficial bacteria and remove any impurities in the water. On top of all the great features, the AquaClear Power hang on back filter comes with a full 2 year warranty.
What We Liked
Holds and processes much more water than most other HOB filters
Quality build and feel
Large range of choices for different size tanks
Comes ready to use out of the box with a few bonuses thrown
What We Didn't Like
Kind of hard to hide because of the large build
Some users report a grinding noise that can't be fixed. If you notice this, contact the manufacturer and they will replace it free of charge
---
​2. Marineland Penguin Power Filter
Sale
Marineland Penguin Power Filter
REPLACEMENT FILTER CARTRIDGE: Pack of 3 cartridges...
EASY TO INSTALL: Pre-assembled cartridges slide...
THREE-STAGE FILTRATION: Mechanically filters water...
The Marineland Penguin Power Filter is one of the best hang on back filters on the market. For years, beginners and experts alike have turned to this piece for their filtration needs. Even though it is not "new" and cutting edge like some of the other filters on the list, this filter ranks among my favorites. It was built for effectiveness and it really excels in that category. The Penguin Power Filter comes in a few different sizes, so finding one to fit your tank won't be an issue at all.
One thing that I really like about this filter is its power. It can move around a good amount of water, despite the chamber being somewhat small. It tends to be less bulky and look less obtrusive than most of the other on this list. In addition, the BioWheel is a nice touch. I am not too sure how effective it is at harboring a good amount of beneficial bacteria, but it is a great concept.
On the flip side, this filter does have a few weaknesses. First of all, it can be pretty loud. I have had several of these, and it seems like its either a hit or a miss. Some of them have been extremely loud, and others have been pretty silent. In addition, the impeller can be kind of finicky. If you are using sand as your substrate, I would recommend going with a different HOB filter.
What We Liked
Powerful and moves a good amount of water
BioWheel is a cool element, though I am skeptical as to its practicality
Available in tons of sizes
What We Didn't Like
Some units seem to be loud for no reason
Impeller sometimes breaks without warning, especially if you are using sand as a substrate
---
3. Penn Plax Cascade
Penn Plax Cascade
QUIET & EFFICIENT: The Cascade 100 Power Hang-On...
ACCOMMODATING: The adjustable flow knob allows for...
EXTREMELY BENEFICIAL: This Cascade filter utilizes...
The Penn Plax Cascade is a large-chamber hang on back filter that was built for style. If you are looking something easy on the eyes, this filter could be a good choice for you. It contains a "Bio-Falls" quad filtration system that encourages health growth of beneficial bacteria. This is quite an interesting feature that I have never seen done before. It kind of replicates to effect of BioBalls, but in a more effective manner.
In addition, the Penn Plax Cascade comes with several bonuses right out of the box. The activated charcoal helps remove toxins, discolorations, and harmful contaminants. Also included is a filter sponge, which provides to perfect place for beneficial bacteria to thrive and populate. As we know, beneficial bacteria are one of the most important aspects of a healthy tank.
Perhaps my favorite feature of this hang on back filter, though, is its adjustable flow knob. Strong flow is great most of the time, but sometimes you need to crank it down a little bit. Whether you just got a new fish or have a particularly picky eater, reducing the water flow can be extremely helpful. With the Penn Plax, this is as easy as a simple turn of a knob.
What We Liked
BioFalls feature is interesting and seems to be pretty effective
Includes space for a filter sponge and activated charcoal
Adjustable flow knob that allows you to set whatever water flow you desire
What We Didn't Like
Some users report that the filter becomes noisy over time
---
4. Fluval C Power Filter
Sale
Fluval C Power Filter
5-stage clip-on power filter designed for...
Two mechanical stages trap large and fine debris,...
Chemical stage with activated carbon effectively...
Fluval is a respected brand in the freshwater aquarium hobby. Their C line of power filters is no exception, proving to be a great option for any fishkeepers. The Fluval C Power Filter comes in various sizes, which can handle between 30-70 gallons. In my opinion, this filter is great for large aquariums. It has a large chamber, processes a lot of water, and has a certain knack for making water crystal clear.
One feature that really makes this unit great is the clip on filter. Simply slide in and out of the chamber for easy cleaning. This is a huge upgrade from other filtration units, which require a complete disassembly for thorough cleaning. In addition, this filter features a cleaning indicator switch that alerts the user when it is time for a cleaning
Another great feature of the Fluval C Power Filter is the re-filtration system, which you won't find with any other filter brands. The re-filtration system allows you to control the amount of water flow in your tank without compromising the effectiveness of the filter. Instead of restricting the amount processing power of the filter, the unit simply re-filters a portion of the water in the chamber. This allows for 50% less water flow, but still provides 100% of the filtration.
What We Liked
Large chamber that processes a lot of water, making it great for big tanks
Clip-on filter that is replaced and cleaned much easier than other units
Cleaning indicator that alerts the user when the filter needs to be cleaned
Re-filtration system that allows you to reduce water flow rate without affecting the cleaning power
What We Didn't Like
Can be a little noisy
Some users report that the impeller shaft is made poorly
---
5. Aqueon QuietFlow
Aqueon QuietFlow
Provides mechanical, chemical, biological...
Self-priming – starts up automatically after...
Certified flow rates that assure proper water...
With a name like "QuietFlow", this filter better the pretty silent. Luckily, it definitely lives up to its name. You would be hard pressed to find a hang on back filter that produces less noise than the Aqueon QuietFlow. This is especially great if you plan on keeping your tank in a bedroom or office.
In addition, the Aqueon QuitFlow hang on back filter is built with a great feature that alerts the aquarium own when it is time for a cartridge replacement. A conveniently placed LED light at the top of the filter flashes red when water starts getting backed up. Simply slide the old cartridge out and slide a new one in. No other maintenance is needed! I must say, though, that these filter cartridges tend to get clogged pretty quick, which can get a little expensive. If you are looking for the least expensive option, this filter may not be right for you.
Another great feature of the Aqueon QuietFlow is its sucking power. This one kind of caught me off guard, the the suction from the intake is extremely strong. This can be great, because it means that water is getting processed at a faster rate. You may need to use a pellet food instead of flakes so that they don't get sucked up quite as fast. As long as you feed on the opposite side of the filter, you should be fine.
What We Liked
Much more quiet than other other hang on back filter I have tested
LED light that alerts the user when it is time to replace the filter cartridge
Strong intake and water processing power
What We Didn't Like
Can get expensive to constantly replace filter cartridges
---
Hang on Back Filter FAQs
Here are a few of the most frequently asked questions regarding hang on back aquarium filters:
What are the benefits of HOB filters?
Hang on Back filters are extremely easy in regards to set up and maintenance. Simply place in the desired position, arrange the filter media, and you're good to go. During cleanings, all you have to do is take out the filter media for a rinse. In comparison, canister filters are time consuming and confusing. There are a lot of moving parts that can break and cleaning requires a complete disassembly. All in all, hang on back filters are convenient, easy, and save tons of time compared to canister filters of sumps.
What are the weaknesses of HOB filters?
Hang on back filters are convenient and easy to use, but they also come with a few drawbacks. To start, HOB filters generally can not process as much water volume as canister filters. If you keep a large tank (over 50 gallons) or keep ultra-sensitive fish, I would probably recommend going with a canister filter. You can check out our list of the best canister filters.
In addition, hang on back filters can be a little bit on an eye sore. The bottom intake is usually visible in the tank. Whether this is a big deal or not depends completely on your preference. Personally, I think it is pretty easy to add a few plants or decorations to hide it.
Finally, hang on back filters can be a little noisy if water levels fall below a certain level. For some, this sound can actually be kind of relaxing. All you have to do to combat this issue is keep up with water tops offs, so it's really not that big of a deal.
Where can I buy a good HOB filter?
When it comes to hang on back filters, quality is very important. There are tons of cheap filters out there that just won't clean your tank thoroughly. All of the models reviewed below are available online and have been extensively tested, so you won't have to worry about effectiveness. Simply click "check price now" to be directed to a top quality source!