Guppies are world famous and are some of the first tropical aquarium fish to hit the hobby.
We've all seen some of the hundreds of color forms out there. But how can we tell them apart and what are the rarest Guppy breeds?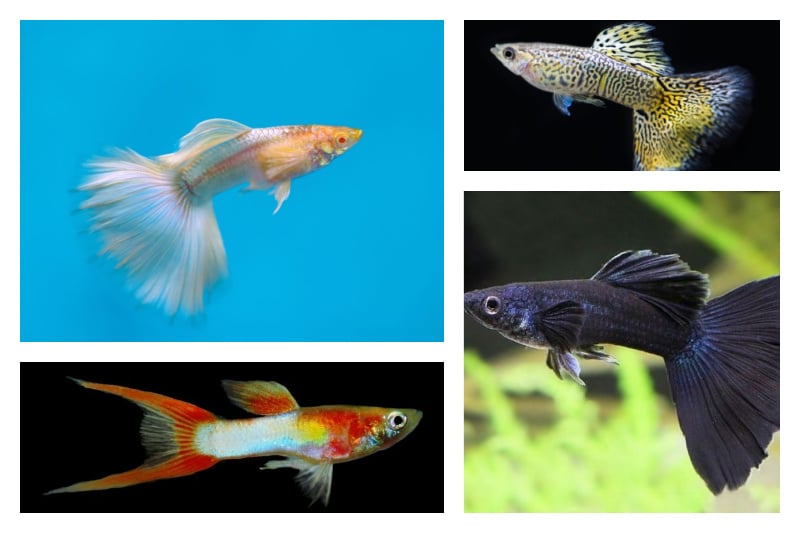 About Guppies
Nearly every freshwater aquarium hobbyist has kept guppies at some point in their fishkeeping career! These little fish are some of the most low maintenance fish you can start with. Guppies are not only extremely hardy but also come in a wide array of colors and are easy to breed.
The Common Guppy is a somewhat plain little fish found in the flooded grasslands and swamps of Venezuela and Trinidad, in South America. Preferring neutral water parameters and tropical temperatures, Guppies will nevertheless thrive in alkaline and even acidic conditions. They will also eat just about anything and adapt well to prepared flake and pellet formulas.
If you've ever seen feeder Guppies for sale then you know what wild Guppies actually look like. Guppy males and females are so different in appearance that you'd be forgiven for taking them for different species. The males have blue, green, orange, and black markings while the females are a dull grey in color. However, thanks to breeding efforts achieved over the course of many decades, the Common Guppy has proliferated into hundreds of distinct breeds.
Tank bred Guppies are much larger and more colorful than their wild ancestors. Even the females of many modern breeds have splashes of color and more vibrant fins that give them an appeal all their own. Males will always be more colorful and smaller, though.
Guppy breeds have especially imaginative names, such as the Lyretail Green Snakeskin Guppy or the Halfmoon Yellow Mosaic Guppy. But which of these are the rarest Guppy breeds and how can we tell the varieties apart?
Common Name: Guppy, Millionfish
Scientific Name: Poecilia reticulata
Origin: Venezuela & Trinidad
Length: 2 inches
Aquarium SIze: 5-10 Gallons
Temperament: Very Peaceful
Ease of Care: Very Easy
Types of Guppy Breeds
Guppy breeds can be tricky to sort out because they use several names to fully describe their characteristics. So let's break down the chain of names to better understand Guppy breeds!
The first thing to realize is that not all Guppies are truly alike. The Common Guppy (Poecilia reticulata) is the fish you're most likely to see in the aquarium trade. However, the Common Guppy has several close relatives in the genus Poecilia that sometimes also get called "Guppy." These are:
Endler's Livebearer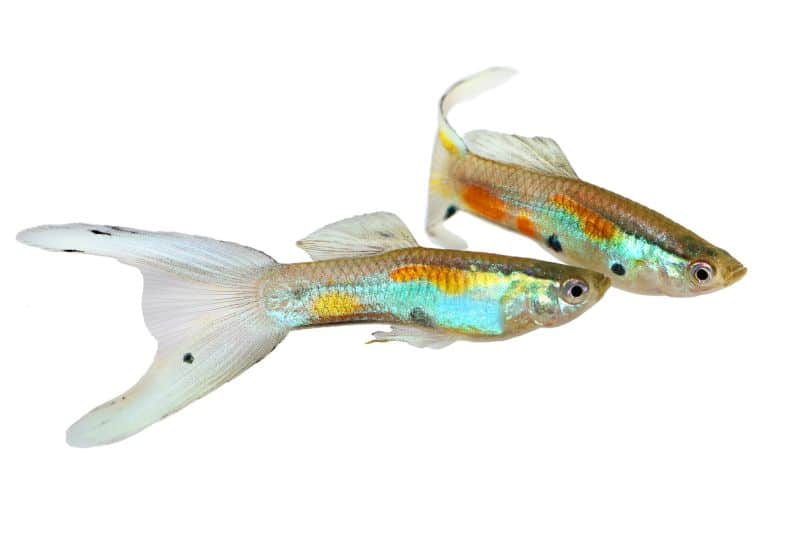 Endler's Livebearer is a striking little nano fish that looks like an especially brilliantly colored wild type Guppy. The males have truly neon orange and green tones with deep black blotches for contrast.
Since Endler's Liveberers will crossbreed with Guppies, it's best to keep the two species separate. Otherwise, it makes finding purebreds harder for breeders looking for unmixed bloodlines.
That said, crossbreeding is likely already occurring. There are several Endler's Livebearer breeds that have Guppy traits, including Snakeskin and Veiltails. Whether these genes were isolated naturally from wild-type Endler's Livebearers or obtained by crossing them with fancy Guppies is not entirely clear.
Common Names: Endler's Livebearer, Endler's Guppy
Scientific Name: Poecilia wingei
Length: 1 – 1½ inches
Swamp Guppy
The Swamp Guppy is by far the rarest Guppy breed by species classification. In fact, I've never once come across them in the hobby. They are a specialty fish because they are especially tiny (typically less than an inch in size) and have highly specific water requirements. The males have bright scarlet red tones and an eye-catching black striped fin while females are as plain as any other wild Guppy.
Swamp Guppies are found in brackish regions of South America and must have salt in their water, similar to Mollies. Hard, alkaline water is also strictly necessary for them. And since many of them are wild caught, they demand a diet of fresh algae and small invertebrates like brine shrimp and daphnia.
So long as you give them the right food and water, they will breed fairly easily. They don't have nearly as many babies as the Common Guppy, though, nor do they breed as often.
Common Names: Swamp Guppy, Scarlet Livebearer
Scientific Name: (Micro)poecilia picta
Length: ¾ – 1 inch
Guppy Patterns
Getting back to the Common Guppy, one way we can tell breeds apart is by describing their body and tail patterns. Here are some common and rare patterns you might find in stores. And keep in mind that many of these patterns, tail shapes, and tail patterns also apply to Endler's Livebearer breeds!
Tuxedo Guppy
Tuxedo Guppies get their names from their bicolored body colors. They have a dark lower half and a lighter upper half, as if they were wearing a fancy tux. If a Tuxedo Guppy has the same dorsal and tail fin color as their lower half, they may instead be called "Half Red" or "Half Black" Guppies.
Cobra Guppy
Cobra, Snakeskin, and Lace Guppies all look quite similar at first. But you can tell a Cobra Guppy apart by the mixture of rosettes and chained horizontal and vertical bars that cover their flanks.
Snakeskin Guppy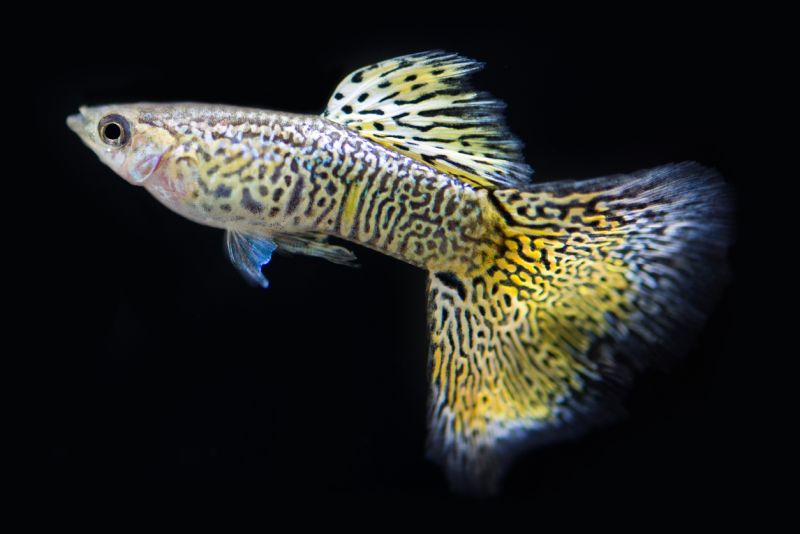 A Snakeskin Guppy, on the other hand, has almost exclusively vertical bars on its side. If there are any that run horizontally it becomes a Cobra Guppy instead.
Lace Guppy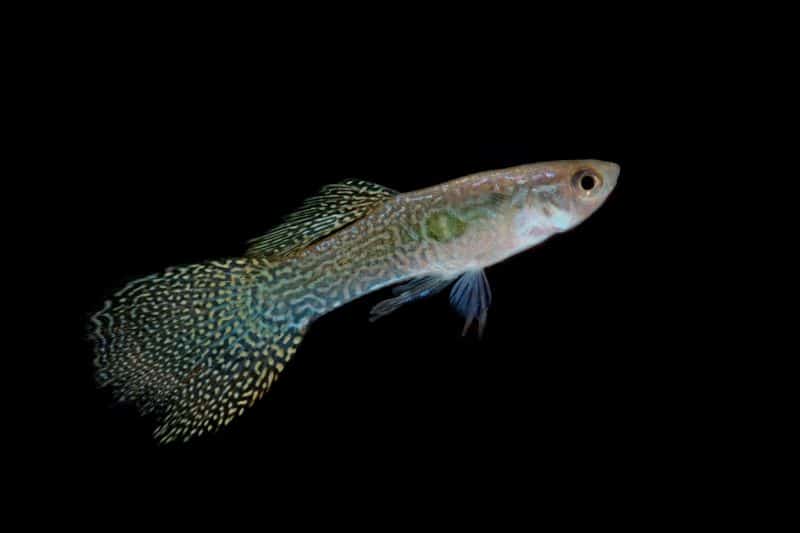 The Lace Guppy has a more delicate patterning than either the Cobra or Snakeskin and most especially on its tail, The tail patterns are extremely delicate and woven as fine as lacey fabric.
Mosaic Guppy
Mosaic Guppies are fairly easy to recognize. They have irregular patterns on their bodies that are typically a mixture of dark and light tones, similar to a Koi Betta. Their tails come in a variety of patterns that nicely complement their less complex body patterns.
Guppy Tail Shapes
The shape of a Guppy's tail is the other most common way to tell the different breeds apart!
Fantail Guppy
Fantail Guppies might be the most popular Guppy tail shape there is. While not as expansive as a Delta Tail, it's much larger than a Round or Flagtail in shape. The tail forms a shape similar to a triangular fan.
Lyretail Guppy
Lyretail Guppies are also instantly recognizable as a more popular breed. At first, you might think you were looking at a Double Swordtail Guppy. Except the tail's twin extensions are much broader in a Lyretail Guppy. And the tail has twin splashes of strong color that help accent the form of the tail.
Flagtail Guppy
Flagtail Guppies have a boxier fin shape that's nevertheless more extended than a Roundtail Guppy's is. The fin looks exactly like a small flag waving in the wind, complete with individual splashes of color!
Delta Tail or Triangle Tail Guppy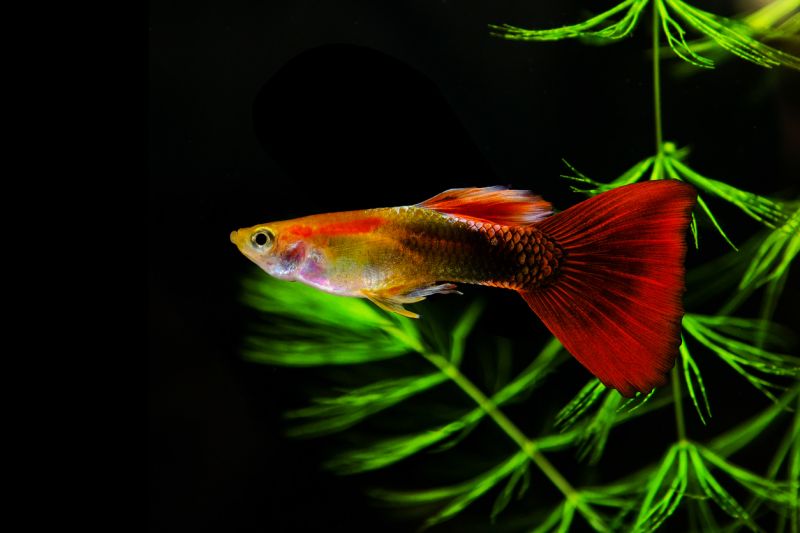 Delta Tail Guppies are some of my personal favorite Guppy breeds. The tail is similar to that of a Fantail, only it extends even further out from the fish. In a show-quality Delta Tail, the tail fin should be ⅘ths the length of the fish itself.
Roundtail Guppy
Roundtail Guppies are a fancy way of describing the standard form of the tail fin that wild Guppies have. Since they are a popular variety for European fishkeepers, it's fashionable to call them "Roundtail" rather than "Normal Tail" Guppies.
Swordtail Guppy
Swordtail Guppies are some of the most instantly striking breeds around because their tails often have deep yellow, red, and green tones that catch your eye. Like their relatives, the Swordtail (Xiphophorus helleri), Swordtail Guppies have fin extensions that stretch out the bottom rays on their tail fin.
However Swordtail Guppies can also have a sword on the upper part of the tail instead (Top Sword Tail). You can also find Double Swordtails that feature twin extensions on both the top and bottom of the tail fin!
Pintail Guppy
Pintail Guppies have a "sword" that runs right through the middle of their tails! Pintails also go by the name "Needle Tail" or "Spear Tail" Guppy on occasion as well.
Rare Guppy Breeds You Should Check Out
Now that we have an idea of how to understand Guppy breed classification, let's look at some of the rarest Guppy breeds in the hobby.
Albino Guppy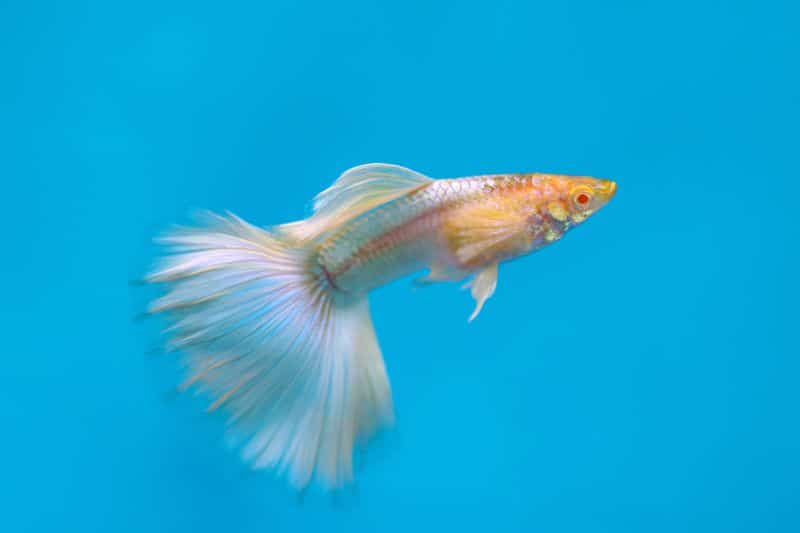 Many of the rarest Guppy breeds are albino varieties. Albino Guppies are pure white, platinium, or peach in color. Their fins may have blue, white or red patterns and their eyes are always a brilliant scarlet color.
Some albino varieties are easy to find in the hobby, while others can be the rarest Guppies of them all. Solid color red albinos, especially with Halfmoon or high dorsal fins, can run up to $50 for a quality specimen.
Dragon Guppy
Dragon Guppies are often bred as show fish. They not only have the large lyretail but a curling dorsal fin, giving them the appearance of a frilly Asian dragon. Dragon Guppies also come in Mosaic, Snakeskin, and other body patterns.
Moscow Guppy
Moscow Guppies are an uncommon variety bred in Russia in the 70's and 80's. A few were smuggled to the States over the years but not enough for them to be super common in the hobby.
Moscow Guppies have a deep blue, purple, and black pattern that's reminiscent of a Mosaic Guppy. However they are also bred for size. Moscow Guppies are noticeably bigger than other standard Guppies, both males and females.
And being one of the rarest Guppy breeds they tend to be significantly pricier as well. Expect to pay $20-40 per Moscow Guppy! Thankfully, they are just as easy to breed, giving you the chance to start your own breeding program.
Conclusion
Ultimately, every Guppy is a rare Guppy because no two Guppies are exactly alike. In a tank full of Mosaic Lyretail Guppies, you'll find something different about each one. But if you prefer truly rare Guppy breeds then the Swamp Guppy, Moscow Guppy, or many show quality Albinos are well worth the cost and difficulty of finding them!