A self cleaning fish tank sounds like every aquarium enthusiast's dream…
Doing weekly or even bi-weekly cleanings is time consuming, tiring, and often a stressful experience for your fish (I mean, scooping them out of their home once a week can't be pleasant for them, right?).  Self-cleaning fish tanks are great, easy alternatives that work especially well for beginners.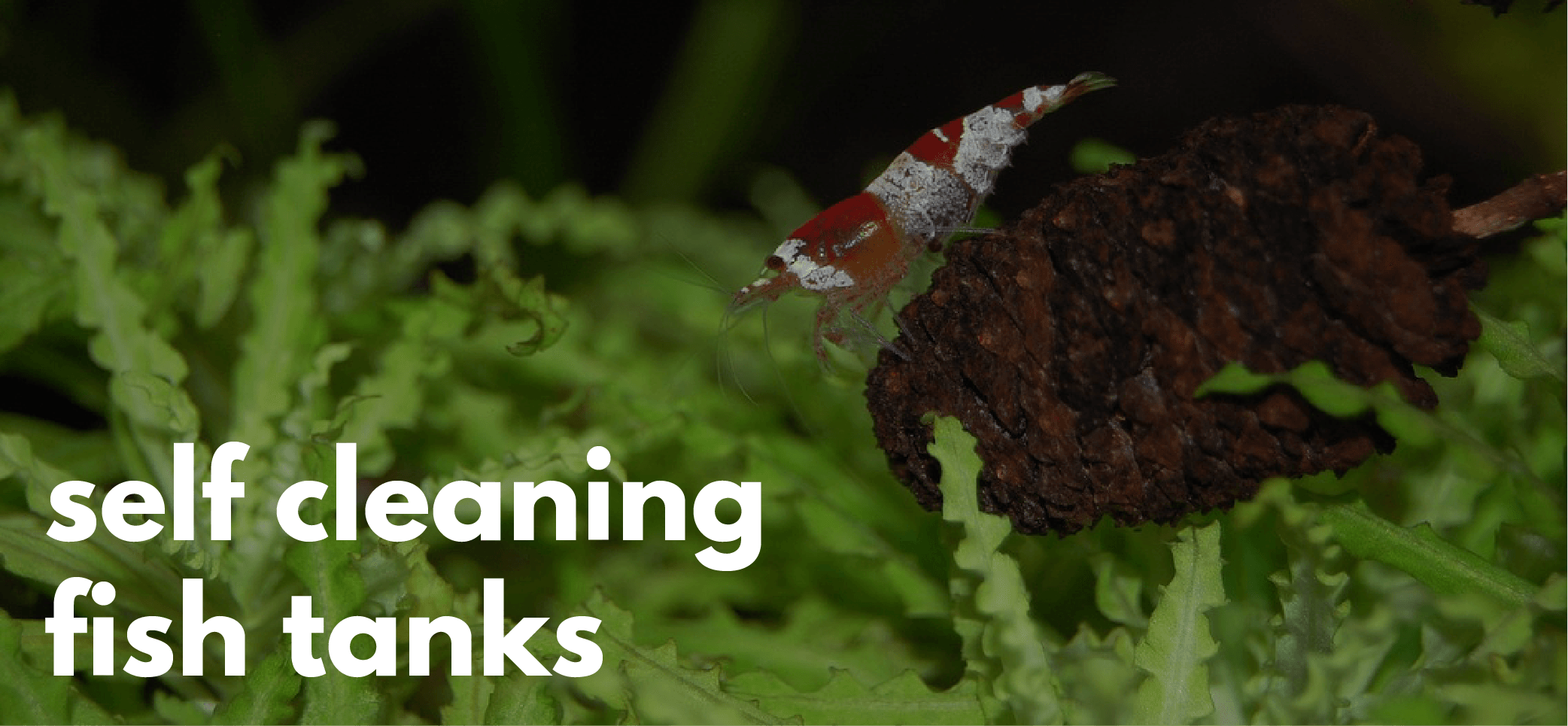 Best Self Cleaning Fish Tanks
To start out, here are a few of our picks for the best self cleaning fish tank on the market:

Like the Microfarm, AquaSprouts is designed as an aquarium accessory that can be added to any standard 10 gallon tank.  The kit contains the garden itself, a removable light bar, a 9.5 watt pump with a timer (both of which have a year warranty), and clay grow media.  AquaSprouts also offers amazing customer support services that can be contacted by phone, email, or online chat.  As a startup company, AquaSprouts is dedicated to education and sustainability.
Pros
Can sustain several fish and a mini herb garden
Great classroom addition
Amazing customer service
Sleek, modern looking design 
Cons
Light bar does not include light
More complicated setup than other designs
Does not include tank
---

The EcoQube C claims to be the lowest maintenance desktop aquarium available, and with good reason.  Once the aquarium is set up, it only requires you to feed fish a few times a week and top off with dechlorinated water 1 to 2 times per month.
At 1.5 gallons, this aquarium is very small and easily fits on most desks.  EcoQube is an independent startup creating user friendly handmade aquariums that look beautiful.  The EcoQube kit comes with the aquarium, plant medium, LED lights, and a remote control.  More expensive kits can be purchased with additional accessories.
Pros
Extremely low maintenance
Keeps water clean and safe
Beautiful, handmade design
Easy setup
Cons
Many people claim that regular water changes are still needed to keep fish healthy
Plants can be a little difficult to grow
Pretty small, not suitable for all fish
---

The Microfarm is a 10 gallon aquarium setup that doubles as a beautiful indoor garden.  Microfarm, like the EcoQube, utilizes aquaponics to keep the water clean and comes complete with basil and oregano seeds and an LED light.  It is important to note that the actual tank is sold separately.  This kit is designed to fit existing 10 gallon aquariums and make them self-cleaning.  Many reviewers note that if an automatic feeder is also installed, the tank becomes entirely self-sustaining and requires almost no maintenance, save for topping off the water.
Pros
Easy to set up
Aesthetically pleasing
Fully functioning herb garden
Keeps fish and plants healthy
Cons
Pricey
Does not include tank
---

This 3 gallon fish tank is perfect for classroom settings, as it comes with a curriculum on aquaponics for teachers.  This aquarium kit comes with the tank and garden setup, a filter, and radish and wheatgrass seeds.  This startup is unique in that they have an awesome giveaway program: for every Water Garden bought, one is donated to an elementary school of your choosing.  It is worth noting, however, that the filter system used is stronger than it should be, and there are many reports of fish deaths relating to it.  Adding an outer filter or buying a different filter altogether should fix this problem and prevent any tragedies.
Pros
Give One program donates to elementary schools
User friendly
Comes with a curriculum on aquaponics
Cons
Filter is too strong (should be altered)
Filter must be cleaned regularly
"Grow stones" require regular maintenance (many users mention them becoming moldy if not cleaned)
Requires water changes regularly
---

The Penn-Plax, which is the cheapest aquarium on this list, is available in 0.5 or 1.4 gallon options.  This tank features a simple cylindrical design with a removeable garden on top that looks beautiful. Since this aquarium is so tiny, many people use it simply as a mini garden and keep it as a windowsill decoration.
This kit comes with ceramic planting substrate, but does not come with seeds like the others on this list.  Like the first item on this list, this tank is too small to ethically house any creatures besides perhaps small shrimp (perhaps cherry shrimp).
Pros
Simple and user friendly
Low priced
Cons
Very small
Good for plants, not for fish
Holes cut awkwardly which allow substrate to fall into tank
Many reviewers have reported missing parts upon arrival
---

The Eco-Cycle is similar in style to the Springworks and AquaSprouts setups, but built for a 20 gallon tank instead of a 10 gallon.  This kit comes with an LED light, remote, and a curriculum for classroom use.  Customer service is offered, as well as a number of instructional videos to help buyers successfully set up their aquaponic tank.
Pros
Easy to set up
Low maintenance, rarely needs water changes
Great for classrooms
Cons
Pump is a little too powerful
Very expensive
---
A note about self cleaning aquariums…
In my opinion, keeping fish in a tank that is below 3 gallons is a little cruel.  Fish in tanks this small are likely to die much sooner than they would in a proper sized tank with a filtration system and a heater. Even if they don't die, they're trapped in a small, low oxygen environment with little room to do much of anything.
Both the Penn-plax and the EcoQube would look lovely as aquaponic fish tank, but are really best suited for other species such as shrimp.  In addition, self sustaining aquariums still require heaters and food.  The plants will take care of filtration, but it is important to get an aquarium heater to keep the water temperature safe for your fish as well as food or an automatic feeder for your fish.
As with regular aquariums, self cleaning tanks should still be checked regularly for safe water conditions, have occasional water changes, and use only dechlorinated water.  In addition, they should be 100% cycled before housing any fish. Self cleaning aquariums still require maintenance to keep both plants and fish alive.
Frequently Asked Questions
Self cleaning fish tanks can be kind of difficult to wrap your head around. Here are a few common questions that we get on a regular basis:
How do self cleaning aquariums work?
All of the tanks on this list work by something called "aquaponics", which is the combination of aquaculture (raising aquatic life) and hydroponics (growing plants without soil).  There are 3 main living parts of any aquaponic setup: plants, live aquatic animals, and bacteria.  In simplest terms, waste products from the fish are used to fertilize the plants, which in turn purify the water of the waste.  The bacteria are involved in the nitrogen cycle, and they rid the water of ammonia and nitrate, therefore making it safe for the animals and plants.
Aquaponics is believed to have been first used by the Mayan and Aztec civilizations many many years ago.  Today, aquaponics is practiced by people all over the world, ranging from small scale home aquariums like the ones listed here to backyard pond systems to large scale farms.  
How do you keep the tank environment safe and healthy?
Keeping a self-cleaning tank safe is not all that different from keeping a regular aquarium clean and safe.  A test kit is always a good idea in order to monitor PH and nitrate/ammonia levels.  In addition, most tanks will require a heater in order to keep the water temperature ideal for any aquatic life, and occasional partial water changes are still a good idea to keep the environment stable.  As with caring for a non-aquaponic aquarium, dechlorinated water is the only safe way to keep both plants and fish safe.
In order to help plants thrive your are going to need a good light. Many set-ups come with an LED light, but other may not. Just make sure to NEVER place you fish tank in direct sunlight.  If your setup has a filter, cleaning the filter 1 to 2 times a month is also a good idea.  Lastly, aquaponics aquariums require owners to "top off" the water regularly, as it tends to evaporate quickly and the water levels can get very low.
What are the benefits of self cleaning fish tanks?
Self cleaning tanks are not only beautiful to look at, but relatively easy to keep. They give owners the benefit of keeping fish and growing herbs simultaneously (and of course, these herbs are grown healthily and organically and can be harvested and eaten).
In addition, aquaponic tanks are also less wasteful than regular aquarium setups since water changes are needed less frequently, and less electricity is used to power pumps and filters.  Overall, these tanks are much lower maintenance, and provide an opportunity to learn about a unique self sustaining ecosystem for both children and adults.
Are there drawbacks to self cleaning fish tanks?
These tanks are often far too small to keep a fish healthy and happy. Opting for a system like AquaSprouts, which was created for a 10 gallon tank, can solve this problem.  Additionally, smaller setups can work as a pretty and unique alternative to a traditional plastic or clay pot for keeping plants.
Self cleaning tanks also tend to be pretty pricey. This can be a hinderance for some people, especially in the case of setups like the Springworks Microfarm (which requires you to purchase both the kit and a separate 10 gallon tank).  Lastly, these are not as effortless as they appear and require work to keep both the fish and plants healthy, despite claims to the contrary.
What fish are best for this type of tank?
Most freshwater fish can live just fine in this type of tank, provided the tank is large enough for them.  As most plants can't survive in salt water, it is best to reserve ocean creatures for non-aquaponic tanks.  Popular choices for these tanks are bettas, white cloud minnows, and shrimp.  10 gallon options could potentially be used as community tanks (so keep this in mind if you want a lot of fish).
Are self cleaning aquariums suitable for beginners?
Self cleaning fish tanks are wonderful for beginners and aquarium experts alike, and can be used for a variety of purposes.  In the classroom, they are an awesome learning tool.  They make a great decoration in any room, and look especially nice as an addition to an office desk.  They're also great for people looking to grow some herbs in a unique and fun way, and, of course, for fish lovers looking to upgrade their aquatic pals to a sustainable living environment.  Furthermore, learning about aquaponics through a small in home tank can give people the experience needed to use aquaponics on a larger scale; more and more people are embracing this method for backyard fish ponds in order to grow healthy and sustainable gardens.
So which one is ACTUALLY the best?
My pick is definitely the AquaSprouts kit.  It's made for a 10 gallon tank, which allows owners to keep a variety of aquatic pets humanely.  The large size also allows for less frequent water changes than smaller aquariums.  The design is attractive and relatively easy to set up and the customer service provided by the company is superb. Buyers can rest assured that any questions that arise about tank setup will be answered quickly.
In addition, the included light bar allows for easy growth of indoor plants without sunlight, and there is even a year long warranty included for the timer and the pump.  In addition to great reviews, the AquaSprouts aquarium setup is less expensive than the similar Springworks Microfarm, which probably the second best pick on this list. 
Final Thoughts
Self cleaning tanks are a great way to start aquarium keeping and have the added bonus of growing beautiful plants that can act as decorations or food!  They are a great teaching tool and are gaining popularity in classrooms around the world.  There are also a number of tutorials online for creating and customizing your own aquaponics setup, so if you're looking to tailor something to your specific tank and lifestyle, this option may be best for you.  I hope you've enjoyed this guide, and that we've answered any questions you may have regarding self cleaning fish tanks!