Algae eater fish are always popular because nobody likes an aquarium covered in algae.
Unfortunately, algae can be very tough to get rid of once it has a stranglehold on your tank. As a result, a lot of aquarium owners turn to algae eaters to help keep their tank clean and healthy.
In this guide, we explore a few of the best algae eaters and their care needs.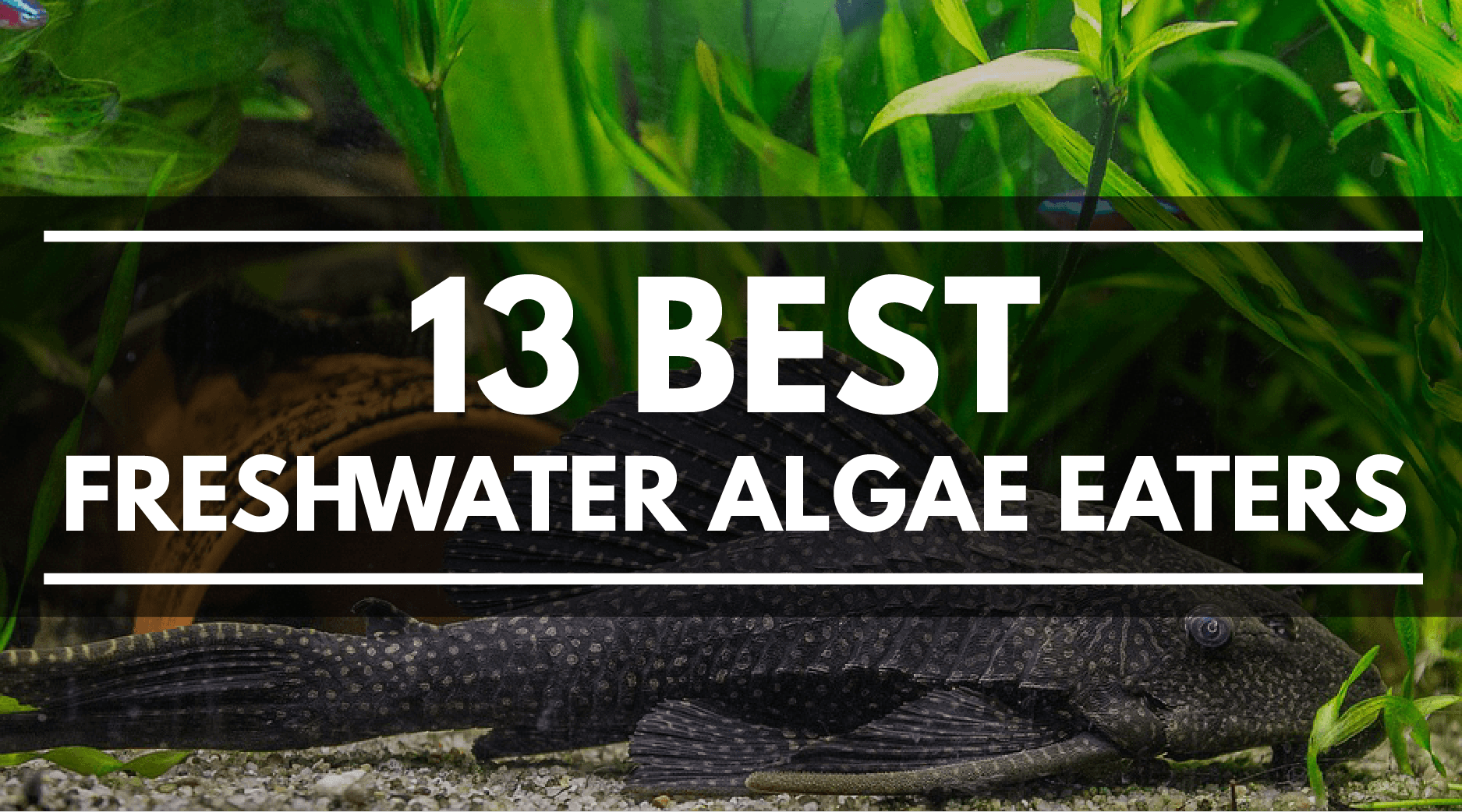 ---
20 Best Algae Eaters for Freshwater Aquariums
Here are a few of the best freshwater algae eaters for home aquariums:
1. Bristlenose Pleco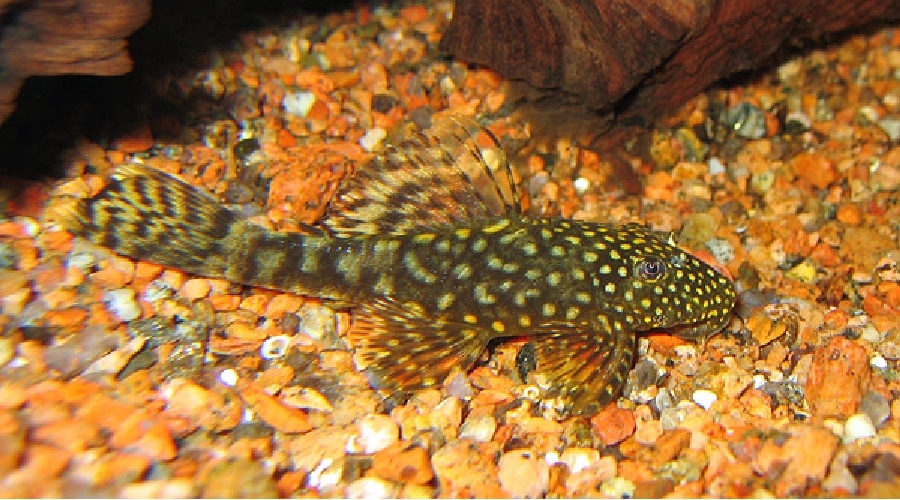 Bristlenose Plecos (Ancistrus spp.) are a great addition to any tank, regardless of whether or not you have an algae problem.
They top our list as one of the best algae-eating fish because of their small size, huge appetite, and hardy nature.
Unlike the drab tones of most common Plecos, Bristlenose Plecos come in a variety of spotted textures. Their showy bristles are modified whiskers; as true catfish, all plecos have them but Bristlenose Plecos take it to a new level. Males have larger whiskers, making it (relatively) easy to sex them.
Bristlenose Plecos are one of the smaller species of plecos, topping out at around 5 inches. As a result, they do well in aquariums as small as 20 gallons.
Considering most species of Plecostomus grow upwards of 18″, the Bristlenose is a much better alternative.
Bristlenose Plecos also make great algae eaters because they are peaceful and not territorial, even towards other Bristlenose Plecos.
No matter what you have in the tank, you can be sure that this species won't cause any problems. Something few aquarists are aware of is that these catfish absolutely require driftwood in their tank.
These specialist plecos rasp soaked, rotting wood in the Amazonian wilds and wood is essential to their digestion and health.
Driftwood is not only attractive but provides lots of surface area for nutritious biofilm and algae to attach to. Driftwood also greatly increases the chances of your Bristlenose Plecos spawning for you!
Important Tip: Bristlenose Plecos have large appetites, so it is recommended that you feed occasionally with algae wafers to ensure they get enough nutrition.
2. Otocinclus Catfish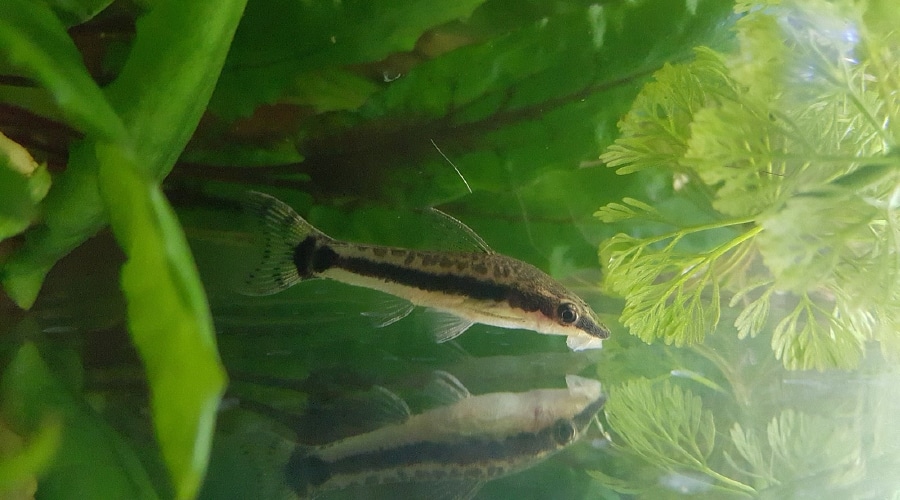 Otocinclus Catfish (Otocinclus spp.), more commonly known as the "Oto" Catfish, are a group of popular algae eaters that are both effective and easy to keep.
Takashi Amano, one of the most respected aquarists in the world, often houses Oto Catfish in his award-winning setups.
Unlike some of their larger relatives, they have no desire to knock over plants, carve our territories, eat soft leaves, or rasp the sides of slow-moving fish.
Because of their tiny size (generally around 1″), Oto Cats are definitely the best algae eater for smaller tanks. Their small size allows them to reach spots that Plecos simply couldn't fit into.
Otos Cats make great additions to any planted tank, but shouldn't be kept with aggressive algae eating fis considering their small size. In addition, they prefer to be kept in small schools of 3-5 fish as they are quite sociable.
Oto Cats do tend to squabble but have no sharp teeth to cause lasting damage with. Their antics can be clownish and quite entertaining to watch. Overall, Otos deserve a place in just about any aquarium.
3. Black Mollies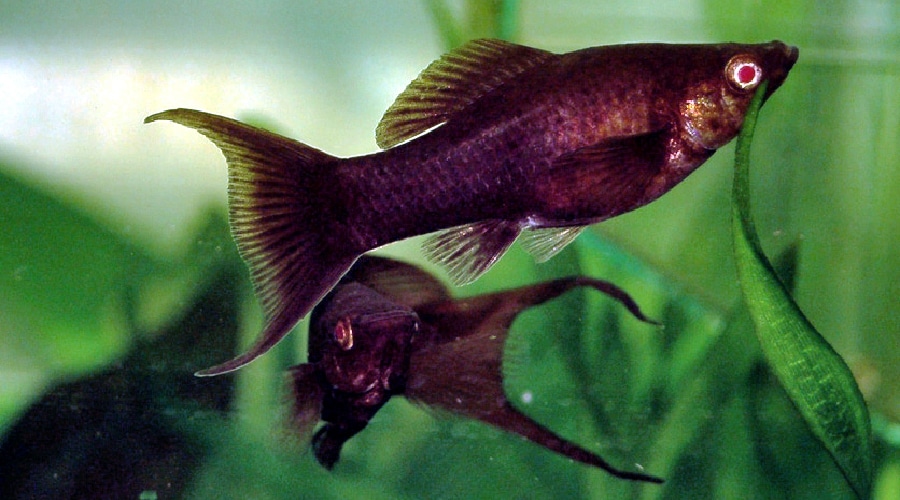 Black Mollies (Poecilia sphenops) generally aren't looked at as being "algae eaters", but they can do an amazing job at cleaning up a messy tank.
Mollies tend to do a great job with hair algae in particular.
If Plecos or snails are a little boring for your taste, this active species is a great alternative.
Another nice aspect of Black Mollies is their tendency to reproduce quickly. Two Mollies can turn into a few dozen within months, so their algae-eating power can really be intensified quickly.
Black Mollies have several relatives that will also pick at algae, including Sailfin Mollies (Poecilia latipinna) and other related livebearers like Guppies, Platies, and Swordtails.
It's worth noting that Mollies have the strongest vegetarian leanings of all of the livebearer species.
As omnivores, Mollies probably won't consume as much algae as other species on our list, but they are large, showy fish that inhabit the middle and upper water column.
Mollies also come in a variety of colors but all of them love vegetation in their diet now and again! As brackish fish, Mollies also appreciate a touch of Aquarium Salt for optimal health.
Some Molly species can even transition to full marine environments, making them decent algae eaters for fresh and saltwater alike!
4. Twig Catfish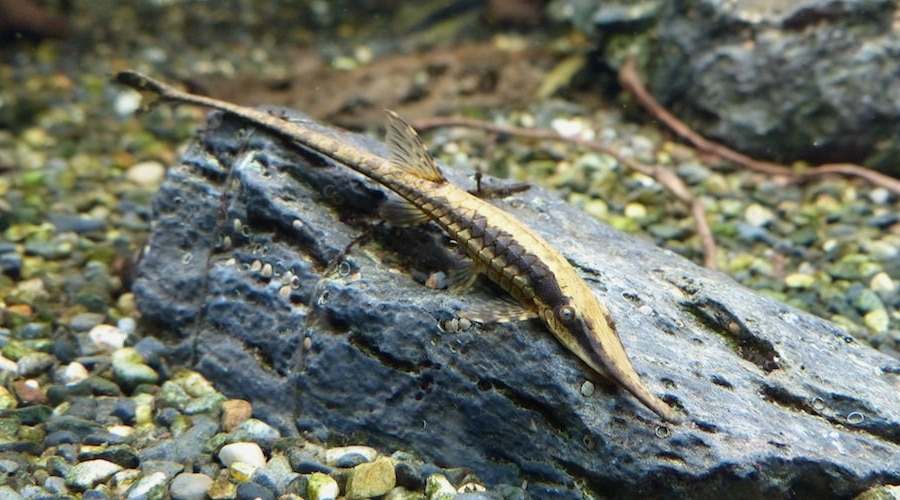 Twig or Whiptail Catfish (Farlowella acus) are delicate in appearance but have a big appetite for algae. Maxing out at around 6 inches, the Twig Catfish is a unique addition to any peaceful community aquarium.
In nature, these specialized plecos hide under rocks, driftwood, and among tall plants like Amazon Sword Plants and Vallisneria.
Giving them plenty of places for them to thread their thin bodies into will keep them feeling secure and reduce stress in these shy catfish.
Twig Catfish naturally thrive in habitats with good water flow, aeration, and lots of live plants. As a result, this species is common among planted aquarium enthusiasts.
Since this species is a little more sensitive to water changes than others on our list, try to keep your water levels as consistent as possible.
Try to avoid any aggressive tank mates such as cichlids, or fish such as Barbs that tend to nip at fins.
Twig catfish tend to be somewhat territorial as well, so ensure you give them at least 10 gallons of space apiece. As Amazonian natives, warm temperatures from 78 to 80 degrees and soft pH suits them perfectly.
5. Garra (Doctor Fish)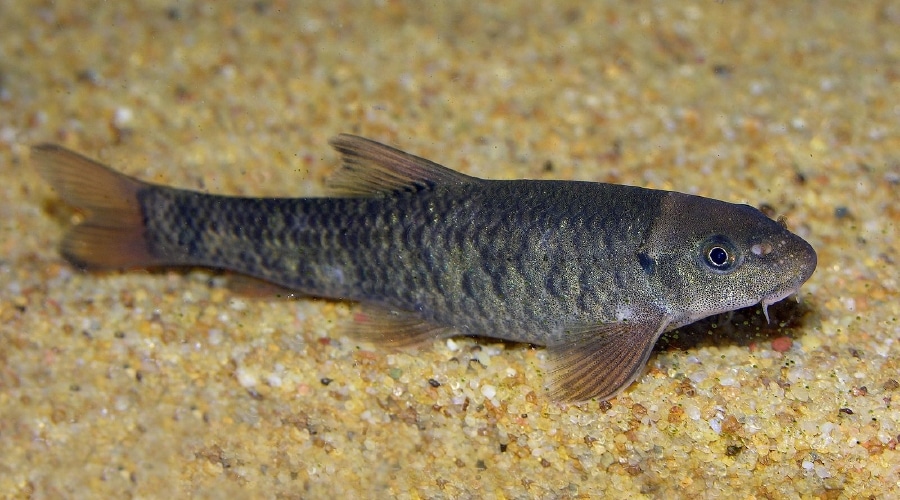 Garra (Garra rufa), also known as doctor fish, have gained popularity over the last few years for their role in spa treatments throughout Central and East Asia.
They will gladly nibble clean any surface with loose organic matter, including dead skin! That said, Garra are much happier feeding on algae and bottom detritus.
These Middle Eastern natives are very hardy and live in streams, rivers, ponds, and lakes throughout the region. Even highly disturbed environments heavy in pollution and runoff, which naturally attracts high levels of algae buildup.
Though Garra do a great job at cleaning up algae-filled aquariums, they should always be fed a balanced diet.
Supplemental feedings of bloodworms, algae flakes, or algae wafers will help keep your Garra healthy and happy.
Garra also prefer being kept in groups; 4 is the absolute minimum, with the more the merrier!
6. Siamese Algae Eater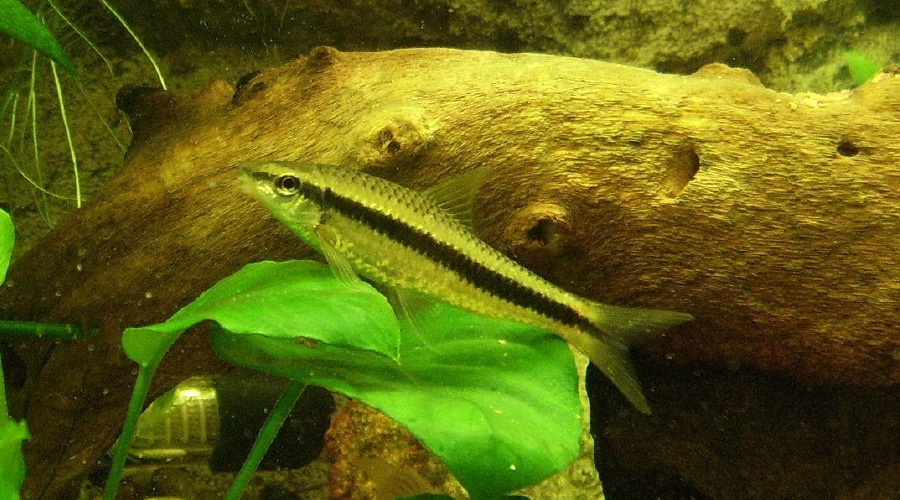 Based purely on effectiveness, the Siamese Algae Eater (Crossocheilus oblongus) is definitely one of the best algae eaters on our list.
Siamese algae eaters have a mild temperament and unending appetite for algae. This makes them the perfect choice for many home fish-keepers.
Though they eat algae of almost any kind, Siamese Algae Eaters are commonly known to clean black algae faster than any other species out there. A group of 4-5 of these fish can leave an algae-covered tank sparkling clean in just a few days.
Siamese Algae Eaters are also a great choice for planted aquariums. They do an amazing job at ridding live plants of algae without damaging the plants themselves, which is a very hard trait to find.
Overall, Siamese Algae Eaters are high-energy, active fish that can clear a tank full of algae faster than any other species out there.
7. Amano Shrimp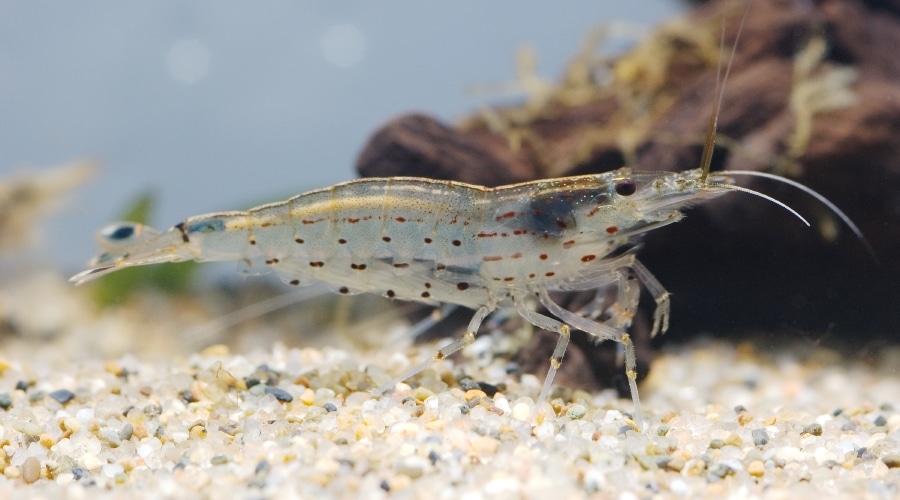 Of all the algae-eating shrimp on our list, the Amano Shrimp (Caridina multidentata) is a favorite of aquarists around the world.
They spend their entire days looking to eat algae and do best when kept in groups of five or more.
Amano Shrimp, named after award-winning aquarist Takashi Amano, are a "large" species of freshwater shrimp (around 2″).
As a result, they tend to consume much more algae than smaller species and are easier to keep with fish. That said, predatory fish should obviously be avoided.
If you plan to keep algae eating shrimp, Amanos are definitely your best option. Like most small shrimp, they have a rather short lifespan. 2-3 years is the norm when kept in optimal conditions.
8. Ghost Shrimp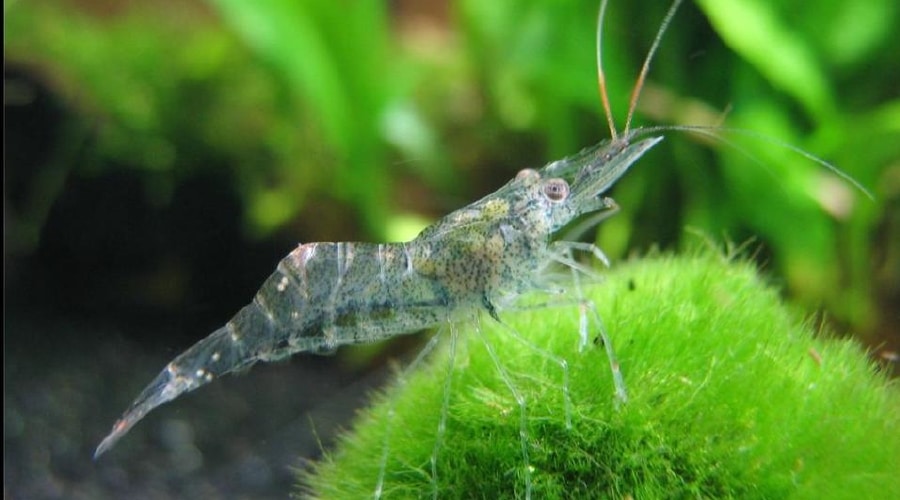 Ghost Shrimp (Palaemonetes paludosus) aren't usually viewed as algae eaters. In fact, most fish-keepers buy ghost shrimp as food for their fish because they are nutritious and extremely cheap.
That said, Ghost Shrimp can be a great addition to planted tanks if you don't plan to keep any larger fish.
While Ghost Shrimp aren't as effective at eating algae as Cherry or Amana Shrimp, it definitely won't hurt to throw a few in your tank.
Their clear bodies and tiny size make for an interesting addition, especially since they cost next to nothing.
They may even breed if they find your setup to their liking!
9. Cherry Shrimp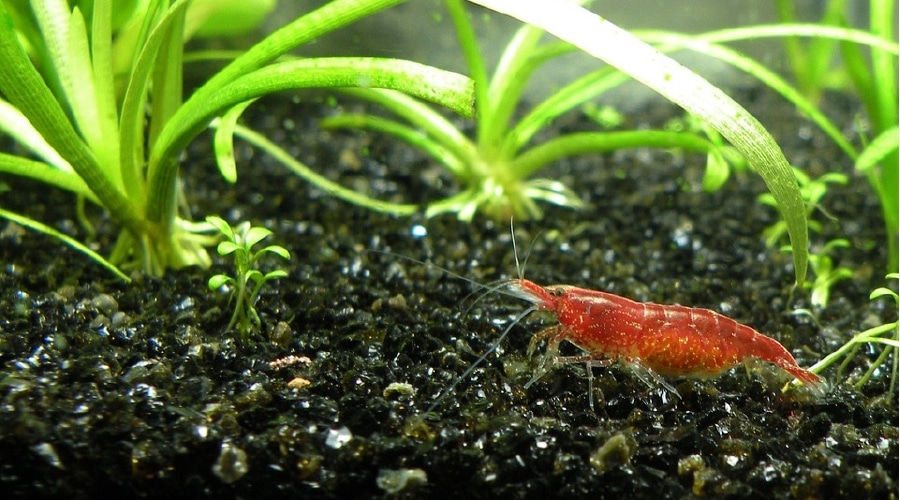 The most visually striking algae-eating shrimp on our list is definitely the cherry shrimp. Their bright red appearance adds great color to any tank, especially planted aquariums that are often overrun with green.
Cherry shrimp (Neocaridina davidi) not only enjoy eating algae, but they also help prevent the growth of new algae.
As scavengers, Cherry shrimp eat any excess pellets or flakes that fall to the bottom before they have the chance to decompose.
This, along with their small bio-load, ultimately helps cut down on the amount of dissolved organics in the tank.
In addition to being great algae eaters and scavengers, Cherry shrimp are also easy to breed. Like most shrimp, small Cherry shrimp should be fine if kept with non-predatory fish.
10. Malaysian Trumpet Snail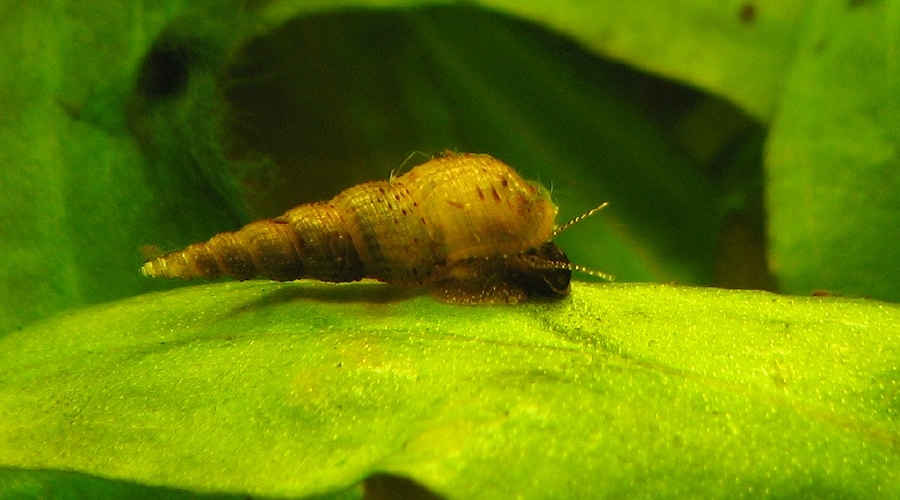 Though small, Malaysian Trumpet Snails (Melanoides tuberculata) make great algae eaters for several reasons.
First and foremost, Trumpet Snails are known to feed on debris both on and under the surface. Their ability to dig underneath the substrate and get to uneaten food put them a step ahead of most other algae eaters.
Additionally, Trumpet Snails are a great choice for planted aquariums. Not only do they leave plants undamaged and unharmed, but their digging also helps aerate the substrate (which is very beneficial for plant growth).
11. Nerite Snail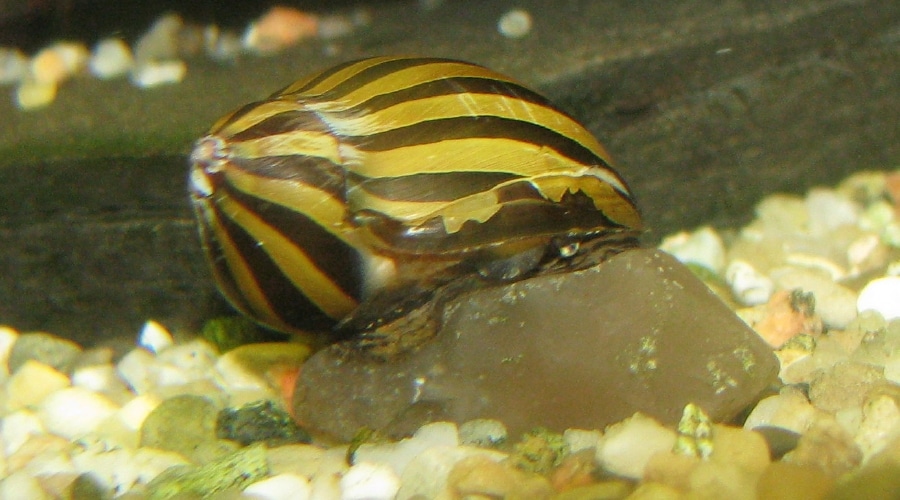 Nerite Snails (Neritina natalensis) are definitely the most popular choice when it comes to algae eating snails.
Their interesting patterns, large appetites, and hardy nature make them a great option for many aquarium owners.
Interestingly, Nerite Snails can thrive in both freshwater and saltwater tanks.
That said, they require salt water to reproduce, which makes them unable to breed in freshwater aquariums. This is usually seen as beneficial, since many types of snails tend to breed quickly and overrun aquariums.
In addition to being one of the best algae eaters out there, Nerite Snails are are also 100% plant safe, making them a common choice for planted aquarium owners.
12. Mystery Apple Snail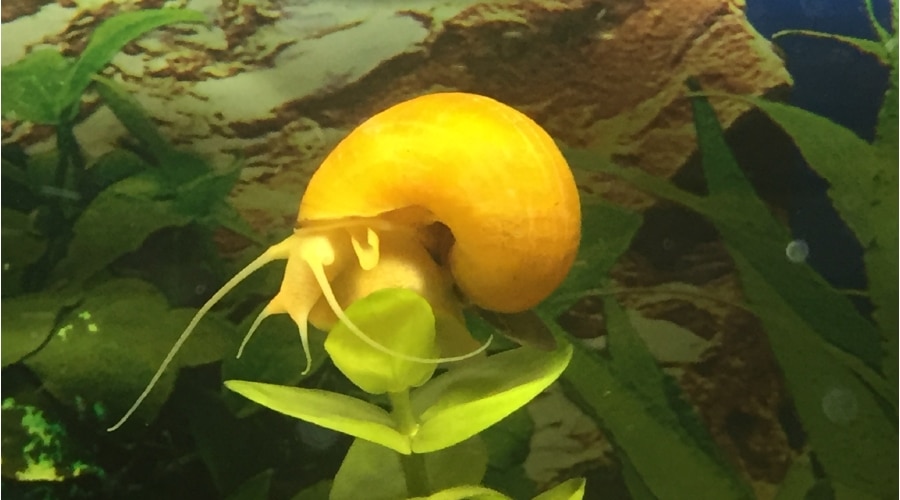 Mystery Apple Snails (Pomacea bridgesii) are (by far) the largest species of snail on our list. In fact, there are some reports of Apple Snails growing larger than a baseball in home aquariums.
Because of their large size, Apple Snails tend to do a great job a plowing throw algae. That said, they also tend to feed on certain aquarium plants. If you have a planted aquarium, these definitely aren't the best choice for you.
If you don't plan to keep any plants, Apple Snails are an interesting addition that can do a great job at cleaning up algae.
13. Ramhorn Snail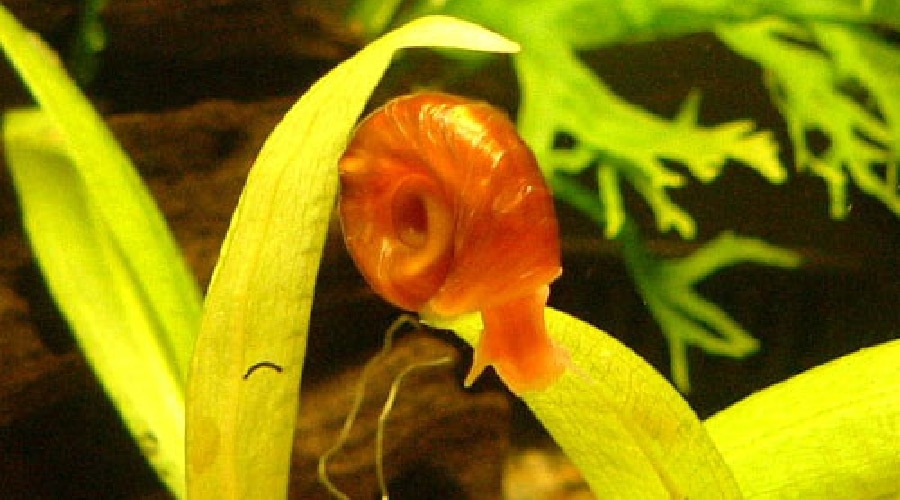 While some people look at Ramshorn Snails (several spp.) as pests (they often hitchhike their way into aquariums through plants), they are actually very beneficial to most aquariums.
Ramshorn snails do a great job at cleaning up uneaten food, debris, and dead plants before they get a chance to decompose. In addition, they are 100% safe to keep with live plants.
Ramshorn sometimes get a bad rep because aquarium owners find them eating plant leaves, but in reality they ONLY touch pieces that have already fallen off the plant.
They also have the potential to breed in out of control numbers to the point of becoming pests.
Occasionally, you might be forced to bait them with blanched lettuce to cut their numbers down, unless you don't mind swarms of these small snails nibbling away at overgrown algae.
14. Chinese Algae Eater
The Chinese Algae Eaters (Gyrinocheilos Aymonieri) is one of the most commonly seen algae eating fish in pet stores. However, they come with a few caveats.
Firstly, they don't exclusively eat algae; Chinese Algae Eaters will take what they can get and tend to eat less of it if scraps from regular feedings are easy to get.
And being somewhat aggressive and medium-sized (up to 8″), they make poor tankmates for small fish, shrimp, and especially wide-bodied fish like discus or angelfish.
A Chinese Algae Eater can attach themselves to other fish to rasp mucus from their sides. This exposes their victims to stress and eventual disease and death.
On the plus side, this makes them excellent companions for medium-sized cichlids, which are also aggressive fish that make poor tankmates.
If you have a rowdier community tank with algae issues, Chinese Algae Eaters are a good choice.
15. Sailfin Pleco
Sailfin Plecos (Pterygoplichthys gibbiceps), with their beautiful chocolate and red leopard print bodies and showy fins, are some of the best algae eaters around.
Unfortunately, they eventually grow as large as 2 feet; as adults, they require at least 75 gallons of space. Sailfin Plecos are also quite clumsy as adults and will knock over plants and disturb gravel as they please.
While not aggressive or territorial, these large Plecos do better with equally large tankmates like Oscars and Pacus.
When young, they can get by on algae and leavings from feedings but Sailfin Plecos need sinking wafers, blanched vegetables, and tablets to ensure they get enough nutrition.
16. Cardinal Sulawesi Shrimp
The Cardinal Sulawesi Shrimp (Caridina dennerli) is quite new to the world of aquariums and is taking the shrimp keeping world (yes that is a thing) by storm.
At ½" to 1″ maximum, this species is particularly small and even more vividly colored than the popular Red Cherry Shrimp.
Cardinal Sulawesi Shrimp call the Indonesian island of Sulawesi home and prefer warm temperatures from 78 to 88 degrees and hard pH levels of around 8.
They also live longer than most freshwater shrimp, reaching the ripe old age of 2 years when kept in well filtered still water with plenty of soft aquatic leafless plants (like filamentous algae) to consume.
Their diet also includes the algal and microbial biofilm present in any healthy tank ecosystem, meaning they need little in the way of additional food.
17. American Flagfish
American Flagfish (Cyprindon floridae) are a Floridian native killifish that's somewhat uncommon but not too hard to find in the pet trade.
With a maximum size of 2″ they are well suited to tanks 10 gallons in size or larger. With a checkered pattern of red, white, and blue, it's easy to see how they get their name.
Ample plant cover, a varied diet, and dark gravel will encourage them to deepen their colors even further.
While hardy and easy to care for, American Flagfish are unfortunately rather rowdy tankmates that pick at not just algae but flowing fins, slow moving companions, and even each other.
They do well in the company of swift moving schooling fish like danios or other slightly aggressive fish like dwarf cichlids.
18. Rabbit Snail
Sulawesi is home to some incredible invertebrates. And the Rabbit Snail (Tylomelania spp.) is yet another striking Indonesian import that's one of the best algae eaters around.
With a twisting corkscrew shell that can grow as long as 3″, their active, inquisitive nature makes them fascinating to watch (for algae eating snails).
Rabbit Snails come in several colors including midnight black and bright gold. And all colors love consuming soft algae and rotten plant matter.
Rabbit Snails may occasionally nibble softer plant leaves if deprived of the soft, slimy fare they prefer, but are generally a great choice for the planted aquarium.
Treating them to blanched vegetables, leftover fish food, and sinking algae wafers will help ensure they're too full to mess with your plants. Also give them calcium boosts that will keep their shells in top condition.
19. Rubber Lipped Pleco
Rubber Lipped Plecos (Chaetostoma formosae) are a very distinct looking suckermouth catfish that are easy to find nowadays.
These fish are native to fast flowing waters in South America and appreciate current whenever possible (powerheads or strong filter flow).
They also prefer slightly cooler temperatures, no higher than 78 degrees. These dwarf Plecos should be kept in tanks no smaller than 20 gallons.
Rubber Lipped Plecos are actually some of the best true algae eating fish in the market. They max out at 3-4″, are peaceful tank inhabitants, hardy, and subsist almost entirely on algae in the wild.
Rubber Lipped Plecos will chew on nearly any sort of algae available, and a few together will eliminate most infestations.
While they are dedicated algae eaters, there won't ever be enough algae to satisfy their appetites. So be sure to supplement their diet with sinking algae wafers and vegetables on occasion to keep them at their best.
20. Common Pleco
The Common Plecostomus (Hypostomus plecostomus) is the drab brown to grey Pleco or Plecostomus that every pet store in the world insists on carrying.
While they are adequate algae eaters, especially when young, few stores will tell you that they will eventually grow as large as 2 feet long, making them unsuited for anything but the largest aquariums.
You may think you'll simply re-home your giant Pleco later on. But you'll be waiting in line behind several others people with giant adult Plecos that have knocked over plants and leapt out of their too-small fish tanks.
If you're willing to commit to giving a lucky Pleco a home-sized appropriately (75 gallons or more), they make excellent algae eaters up until they mature.
At that point, sinking wafers, leftover fish food, and fresh and blanched vegetables are required to keep them happy and healthy.
With their armored flanks and bony heads, Plecos are great tankmates for large, aggressive cichlids and other toothy fish.
In Conclusion
Algae-eating fish and invertebrates come in a wide range of sizes and forms. But all are very good at helping to keep your tank clean and free of green patches that make it less beautiful. There really is an algae-eating fish for every fish tank out there.
---
Frequently Asked Questions about Algae Eating Fish
Here are a few common questions and concerns regarding algae eating fish:
What is an Algae Eater?
Algae is an unsightly problem for fishkeepers. But fish that eat algae are fairly rare in pet stores beyond a select few. Those that do are highly prized because they'll work to remove algae from plant leaves, glass, rocks, and even gravel. Algae eaters come in several different forms but are almost always bottom dwellers.
What Should I Consider Before Choosing an Algae Eater?
There are several types of algae eaters. Small algae eaters work best for small aquariums. They are also ideal tankmates for smaller fish; while large algae eaters like Plecos aren't aggressive, as they grow they become boisterous and intimidating to small fish.
Likewise, you need to think about the tankmates for your new algae eaters. Will your fish be content to ignore your ghost shrimp or try to make a meal of them instead? Are your future algae eating fish solitary or schooling? Compatibility is a big deal for algae eaters!
Will an Algae Eater Polish My Tank and Ensure I Never have to Clean it Again?
Absolutely not; this is a very persistent myth, right along with "algae eaters will eat fish waste." While invertebrates are less choosy and might partake, they still make waste of their own. Algae grows very aggressively and will easily outpace the amount your algae eaters will eat if conditions are right for it. So make sure you rely on water changes and good maintenance and not on algae eaters to keep your tank clean.
How Effective are Algae Eating Fish and Invertebrates?
This varies quite a bit on the species, the conditions, and the type of algae. Filamentous green algae is soft and a favorite for algae eaters but is relatively rare in aquariums. Green water, on the other hand, won't be controlled by any of the algae eaters listed here and requires different solutions entirely. In short: it depends!
Do I Need to Feed My Algae Eaters Additional Food?
Algae eating fish should always get supplemental food, with sinking pellets like these Hikari brand wafers being the best choice but no more than once a day. Night feedings are often a good idea since their tankmates will occasionally bully and outcompete them.
Many invertebrates like shrimp and snails will supplement their food with leftover flakes, dead plant leaves, and other tidbits scrounge up. But adding treats like lightly blanched zucchini and cauliflower helps not only keep your algae eaters fat and happy but gives them vital calcium and other nutrients that typical fish foods may be lacking.
---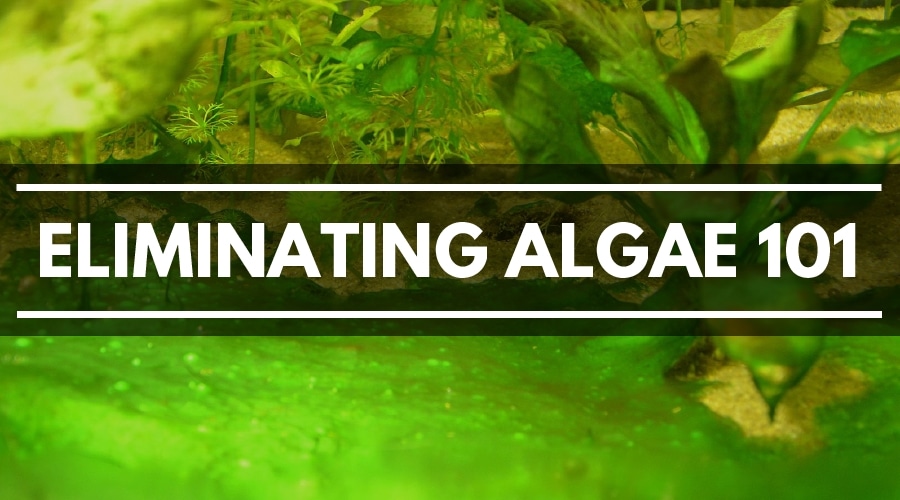 Additional Tips to Help Get Rid of Algae
While algae eaters are usually great and effective additions to any tank, sometimes even the best algae eaters can't keep up with growth.
Sometimes prevention is the best medicine and understanding the cause can go a long way towards reducing or eliminating unsightly algae growth.
Here are a few tips to slow down algae growth in your freshwater tank:
Reduce feedings
Don't get me wrong, feeding your fish is definitely one of the most enjoyable parts of the hobby. It is tempting to feed them multiple times a day.
That said, the most common reason (by far) for algae growth is excess feeding.
Uneaten food doesn't really get sucked up by the filter as much as you would think. Instead, it sinks down to the bottom of your tank and rots. This uneaten food then converts into dissolved organics, which is basically the equivalent of lighter fluid for algae.
Most people don't know that fish are completely fine eating every other day. If you notice a lot of algae growth in your tank, try cutting back feedings and see if it makes a difference.
Automatic fish feeders can really help control portions and make the process more regular.
Algae thrives so quickly because it's such a simple organism. From green water (unicellular algae) to thread and cyanobacteria, algae can become a visible issue in days or even hours.
And the extremely high nutrient load of most aquariums, combined with the still waters and constant light, are a buffet for opportunistic algae cells and spores.
Microbial imbalances as well, like a heavy water change, removing your filter media, or another shock to the ecosystem can encourage algae to suddenly bloom like crazy to soak up unused nutrients.
Do water changes regularly
Water changes definitely aren't fun, that's for sure.That said, they are definitely a necessary part of the hobby.
Water changes not only help remove toxins and dissolved organics that pass through the filter, but they also help replace beneficial trace elements that are vital to the health of fish and plants.
The fresh influx is also stimulating for your tank residents and gives you a chance to add a touch of aquarium salt, tannins, or any other additives you see fit to balance out the water chemistry and keep your fish and invertebrates happy.
Aim to change out around 20% of your tank's water weekly to every other week. If you can do it weekly you will probably see better results, but bi-weekly usually works just fine for small bio-loads.
Studying how long it takes for algae to grow is one way of knowing when water changes need to happen; if algae starts to crust over within a week, you're almost certainly overfeeding.
Bringing in weekly water changes and reduce feedings until the algae comes back in control.
Aquarium vacuums make the entire water changing process much easier.
Also, don't forget the Dechlorinator! Modern water treatment facilities add chlorine to sterilize drinking water, which naturally means it's highly toxic to living organisms like fish.
If your city uses chlorine only, letting the water stand overnight eliminates the need for dechlorination.
However, some municipalities use chloramine because it lasts longer and won't outgas like chlorine. If you're uncertain, buy the dechlorinator.
Cut down on lighting
Sometimes excess algae growth can simply be caused by too much light.
For non-planted tanks, this problem is pretty easy to solve. Cutting back on the amount of light per day will go a long way towards curbing algae growth.
But given how fast it grows, you also need to pair this with proper feeding and water changes. Otherwise the high nutrient load will undo your efforts.
For planted tanks, it gets a little more complicated. I like to run my light 10-12 hours per day in all my planted setups.
If I notice algae growth, I try to cut it back by a few hours (especially if I am keeping low light plants). If work schedules or plant needs make manually controlling light levels difficult, look into using a programmable Light Timer. These timers come in several different varieties and will let you control the day/night cycle of your aquarium without you even being around.
Every tank is unique, so you might have to test out some cycles to find the right balance of plant growth and algae growth.
Change your bulbs
As aquarium bulbs age, the spectrum of light being emitted changes.
Though this isn't obvious to the naked eye, lower spectrum light makes a huge difference when it comes to plant growth. Unfortunately, this spectrum change can fuel the growth of unwanted algae.
Incandescent bulbs are the worst offenders, with a warmer temperature profile that many aquatic plants won't make good use of but algae doesn't mind. The warmer tones also penetrates less than 12″ below the surface. Poorly lit aquariums are algae breeding grounds.
Depending on your type of light, it may be necessary to change your bulbs up to once per year (mostly with PC or T5 lights).
I highly recommend using LED lights, which rarely have to be replaced (if ever). A good LED fixture can run for years without replacement. The NICREW Classic LED is a great, low cost option.
LED and fluorescent light fixtures are the best options for aquarium lighting.
While the initial setup costs more, they not only create more balanced colors but use 10% of the power incandescent bulbs do. They also create far less heat, which can also fuel algae growth in smaller aquariums.
Increase filtration
This probably goes without saying, but filtration is very important in any freshwater setup.
The general rule is that your filter should process around 4 times the total tank volume per hour. For example, if your tank is 25 gallons, your filter should process 100 GPH.
For freshwater tanks under 50 gallons, a hang-on-back filter is usually fine (as long as your bio-load isn't too large). I always recommend the AquaClear Power Filter.
For freshwater tanks over 50 gallons, a canister filter is your best bet. The EHEIM Classic has a great reputation and is hard to beat in terms of quality and performance, especially for the price.
Using specialized filter media can also help with algae control.
Porous substances like activated carbon and volcanic pumice rock (lava rock) provide plenty of surface area for beneficial bacteria colonies that will absorb additional free flowing nutrients before algae can take hold of it.
The micropores of activate carbon are especially good at grabbing onto free flowing nutrients and act as a molecular filter for your water.
While this isn't desirable for planted aquariums, it's a great way to drastically cut down on free organics in fish-only setups.
Don't forget to change your activated carbon once or twice a month, depending on how quickly sludgy brown organic film collects on it.
---
Final Thoughts – Choosing the Right Algae Eater for Your Tank
So…what species is actually considered the best algae eater?
As we can tell from the summaries above, this question isn't so black and white. Choosing the best algae eater requires you to assess the specific needs of your tank.
Tankmates, tank size, plant species, and water chemistry all play an important role. If you have a small community tank and consider yourself a beginner aquarist, dwarf species like Oto Cats, Ghost Shrimp, and Mollies are some of the best algae eaters available.
If you have some experience under your belt, Twig Catfish, Sulawesi Cardinal Shrimp, and Bristlenose Plecos are intriguing additions to your aquarium, so long as you meet their special needs.
Aquariums with larger, more aggressive fish will find Chinese Algae Eaters to be a great choice. And American Flagfish are great for tanks with smaller bossy fish (or fast fish that can stay out the way!).
Pay special attention to your invertebrate choice. Because shrimp and snails are slow moving and rarely have enough places to hide, fish that pick at their filamentous antennae or exposed soft bodies like barbs will cause them undue stress and even eventually kill them.
Regardless, all of the species above should do a great job at cleaning up even the messiest aquariums.
Pick whichever species fits your needs the best and enjoy a cleaner tank!