I think we can all agree…
A clean aquarium makes for a happy tank owner. If only it were this easy, right? Luckily, aquarium filters have progressed a lot over the past few years. No longer are we stuck using weak filters that have next to no effect on the quality of the water.
Canister filters are a great way to pump up your filtration power without taking up valuable tank space. In this guide, we will review a few of our top choices for the best canister filter currently on the market.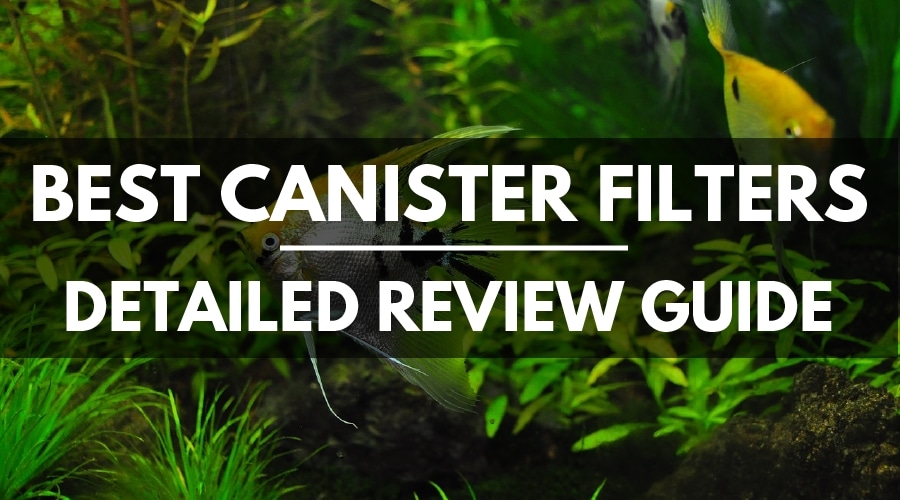 ---
Best Canister Filter: Our Top Choices
Here are our candidates for the best canister filter:
1. Hydor Professional External Canister Filter
The Hydor Professional External canister filter is often recommended as the best canister filter on the market. If you have been reading around aquarium blogs or forums, chances are you've seen it pop up a few times. Based on our careful review, it has definitely earned its hype.
Why Is It Better Than Other Canister Filters?
Here are a few reasons why the Hydor Professional blows other models out of the water:
Spray bar return system: The spray bar that comes with this canister filter is an awesome addition. It not only helps with circulation, but only with oxygenation. High levels of dissolved oxygen helps promote fish health, further the growth of beneficial bacteria, and reduce algae.
Extremely quiet: Canister filters do a lot of things well; usually, that does not include noise. Amazingly, the Hydor professional is about as close as you can get to silent. If noise is a big issue for you, you almost have to go with the Hydor. To make this filter even more quiet, place the spray bar just under the surface of the water. This also helps create a nice circular current and stir up the debris in your tank.
Stronger/controllable flow: The hoses on the Hydor Professional are thick. Every second the pump is running, more water is being circulated compared to any other canister filter on our list. This also means that you can add more filter media to the canister without sacrificing much flow. In addition, you can ramp up or dial back the flow simply by adjusting the valve. Very convenient if your fish don't like a strong current.
Tons of space inside the canister: This part is a big deal. The Hydor Professional comes with a lot of filter media, I can't deny that. That being said, you will be able to fit a lot more. The inside is a basket layout, so there's tons of room for extra sponges, activated charcoal bags, or anything else you can imagine.
Self priming: This may not sound like a huge benefit, but based on experience it is pretty darn handy. No more sucking hoses or spilling water everywhere while you try to prime the pump!
Negative Aspects to Look Out For
Overall, there is not much to say bad about the Hydor Professional Canister Filter. If I had to pick apart a few negative aspects, here is what I would look out for:
Poor directions: The directions in the box don't really explain the set up process all that well. In addition, the images on the box are not very clear. Luckily, it is not too hard to figure out without the directions.
Large/heavy design: This can be seem as a positive or negative. On the positive side, you are getting more filtration and power. On the negative side, it takes up more space underneath your tank.
---
2. Fluval External Canister Filter
The Fluval External Canister Filter is probably the most popular canister filter on our list. It has near the top of the game for a while and rightfully earned its spot as one of the best canister filters in production. It comes in four sizes; 25, 45, 70, and 100 gallon models.
Though not the cheapest on our list, the Fluval canister filter offers great quality and reliability. They run very quiet, pump out tons of power, and have tons of cool features that you wont find elsewhere.
Fluval put a ton of focus into making maintenance a breeze with this canister filter. It features AquaStop Valves that stop water flow without requiring you to disconnect the hose, eliminating messes unnecessary leaks. In addition, the clog proof intake strainer ensures that you won't be taking the filter apart to fix clogs every week.
Overall, the Fluval External Canister Filter is a solid choice for anyone who doesn't mind paying a little extra for quality. It is built from high quality-materials, delivers great performance, and made to last.
Pros
Maintenance is made extremely easy thanks to a ton of cool features from Fluval
Runs very quiet and delivers reliable performance
Tons of filter media storage space, giving you the ability to add any addition filter media you want for extra performance
Easy to set up and instructions are clear
Fluval customer service is amazing – any problems are dealt with and replacement parts are sent out very quickly
Cons
Flow rate is a little lower than other canister filters on our list
---
3. Penn Plax Cascade Canister Filter
Third on our list of the best canister filters is the Penn Plax Cascade. For anyone who has researched canister filters before, this one is another no brainer.
The Penn Plax Cascade is a master of design. Here is what I mean by that…
Every aspect of this filter is designed with the user in mind. The plastic on this unit is much stronger and sturdier than other models on our list, providing an overall more durable design. If you want a filter that is going to last, this might just be your choice. Despite being thick, the plastic is also somewhat clear, allowing you to watch the inner working of the filter to make sure everything is running smoothly without disassembling the entire unit.
In addition, the baskets on the Penn Plax Cascade are exceptionally large, allowing you to fit a lot of filter media. That being said, it is still very easy to assemble and take apart.
Lastly, the Penn Plax Cascade is virtually silent. For those of you who keep your tank in bedroom or living room, this can be a huge plus.
Pros
Extremely quiet, right up there with the Hydor Professional which is #1 on our list
Tons of space in the media baskets for extra filtration media
Durable design made with high-quality materials
Transparent plastic that allows you to see and diagnose problems without taking apart the filter
Easy to set up and maintain
Cons
Priming the pumpcan be difficult and time consuming – doesn't always work the way it should
Flow rate is not as strong as other models on our list
---
4. EHEIM Classic External Canister Filter
The EHEIM Classic External Canister Filter is another classic. EHEIM is a trusted company that has been around for a long time, so it's no surprise they their canister filter is top of the line.
The EHEIM Classic is well known for being extremely quiet. This is a pretty common trait for most of the best canister filters, but it deserves to be noted. You won't have a problem with sound. In addition, it primes easily so you will save a ton of effort there.
This canister filter also has a very large chamber, allowing for tons of filtration media and excess water capacity – definitely not features to overlook.
On the negative side, the EHEIM Classic lacks in a few areas. First on all, the intake tube only comes in one size. If this size doesn't fit for you, it is up to you to cut it down to the correct size. Not a huge issue, but it can be a little tough to get just right.
If you are a little handy and don't mind doing a few upgrades, the EHEIM Classic is a excellent choice.
Pros
Large internal chamber with space for extra filtration media
Pumps primes very easily
Very quiet despite its strong flow rate
Cons
Intake tube only comes in one size – it's up to you to cut it down to the correct length
There are a few reports of these arriving broken right out of the box. EHEIM will send you replacement parts, but it can still be an unnecessary headache
---
5. Aquatop CF Series Canister Filter
No products found.
The Aquatop CF Series is definitely the most high-tech canister filter on our list. The 3750 GPH and 525 GPH version both contain a 9 watt UV sterilizer for ultra-clear water. This is quite an unusual feature for even the best canister filters, so if you're looking for something different the Aquatop is a great choice.
All of their models contain contain flexible media trays for multi-level filtration. They come right out of the box with both fine and rough filter pads, as well as replacements for when the original media goes bad.
In addition, the Aquatop CF Series features a self priming pump for convenience.
Pros
Most budget-friendly on our list
Pretty quiet despite a strong water flow
Large filter trays that can hold a ton of media
Easy assembly
Cons
The impeller is plastic, which has been known to break pretty often
Intake and outtake attachments are very flimsy
---
Canister Filter FAQ's
Still not exactly sure what canister filters have to offer? We have you covered:
How do canister filters work?
Canister filters may look confusing, but they are actually very simple. They work by drawing dirty water out of the tank through an intake tube. The dirty water then makes its way into the "canister", which houses all of the filtration media (aka stuff that cleans your water). After it makes its way through the canister, the water is pumped back up into the tank through the return pump.
Why are canister filters better than hang-on-back filters?
Canister filters are external filters, meaning they don't take up any room in your tank. This alone is a huge benefit. Canister filters are also able to process a lot more water than hang on back filters. This leads to a much cleaner tank and, ultimately, healthier fish.
What flow rate should I look for in a canister filter?
Flow rate varies based on each design. As a rough guide, your tank volume should turn over around 4 times per hour. This means that flow rate for the following tank sizes should be:
20g Tank: 80 gallons per hour
40g Tank: 160 gallons per hour
50g Tank: 200 gallons per hour
100g Tank: 400 gallons per hour
Of course this is just a rough guide and can vary, but it is a good starting point if you are wondering what size canister filter to get.
What maintenance does a canister filter require?
Maintenance is the biggest downside to canister filters. Instead on simply pulling out the filter media like you would with a HOB filter, canisters often require complete disassembly for cleanings. That being said, manufacturers are making the assembly and cleaning process much more simple, so it's not as big of an issue than it was in the past.
What type of filtration media should I use?
Filtration in a tank can be broken down into three categories:
Mechanical: Mechanical filtration removes solid waste, such as food or fish waste, from the water column. This typically comes in the form of a sponge or filter pad. Mechanical media must be cleaned or replaced regularly to prevent build up.
Biological: BioBalls are an example of a type of biological filtration. In short, Biological filtration is anything that encourage the growth of beneficial bacteria to remove ammonia and nitrite from the tank. These should no be cleaned or rinsed.
Chemical: Chemical filtration is any type of chemical that absorbs or removes substances from the water column. The most common forms of chemical filtration are activated carbons or resins.