Here's the truth…
A planted tank is only as good as its substrate. In the exact way that good soil is rich in nutrients, aquarium substrate must also have certain characteristics in order for aquatic plants to thrive. Setting up a planted aquarium is tough enough, the last thing you need to stress about is the substrate.
In this guide, we dive into the different types of substrates for planted tanks. In addition, we give you a few of our choices for the best planted aquarium substrate on the market.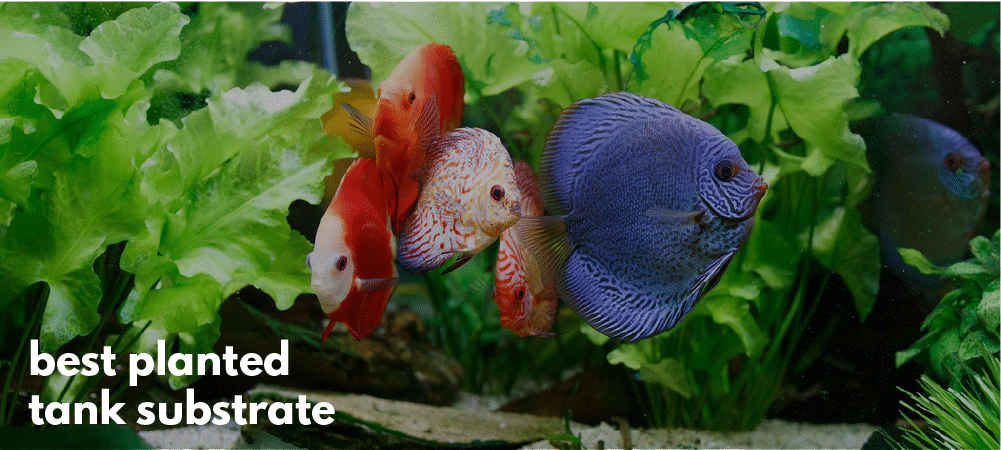 ---
Best Planted Aquarium Substrates
Here are a few of our choices for the best planted aquarium substrate on the market:
1. ADA Aqua Soil
ADA AquaSoil is a revolutionary substrate specially processed from 100% natural materials. It is packed full on nutrients right out of the bag, making it the perfect all-in-one solution for any planted tank owner. This feature alone sets it apart from anything else available. In addition, ADA AquaSoil features a ton of amazing characteristics that we will dive into a little deeper now:
Pros
Tons of absorbed nutrients (active substrate): Nutrients are the #1 most important aspect for spectacular plant growth. Without nutrients, growth will be lackluster at best. Lots on substrates on the market are inert (meaning they contain no nutrients), but not AquaSoil. This substrate comes pre-packed with tons of absorbed nutrients to provide the best plant growth possible.
Buffers pH: Monitoring and adjusting pH is a necessary but annoying part of keeping a planted tank. Luckily, ADA AquaSoil naturally lowers the pH of your water to optimal levels. This takes a lot of headaches and monitoring out of the equation and helps keep your tank stable.
Explosive plant growth: There's no doubt about it, using AquaSoil in your tank leads to explosive plant growth. If things have stalled out, AquaSoil may just be that boost that you need to get everything growing strong again.
Cons
Needs time to cycle: The flip side of having tons of nutrients is also having a lot of ammonia. When you introduce ADA AquaSoil to your tank, you will most likely have a large ammonia spike. Make sure you give it time to cycle before you introduce any fish.
Stirs up easily: If you're a person that likely to move plants and rescape often, you may have some problems with AquaSoil. You're better off leaving it alone once you get it set.
ADA AquaSoil Amazonia may not be the cheapest planted tank substrate out there, but it is definitely worth a try. If you are looking for great plant growth without the need for additional aquarium fertilizers, this is the perfect choice. Just be prepared to spend a little more.
---
2. CaribSea Eco Complete
CaribSea Eco-Complete is by far the most popular planted tank substrate and comes in at a very close second to AquaSoil. The only thing that makes me rank this #2 is the fact that it is inert (meaning it naturally contains little to no nutrients). That said, it has great CEC and will easily absorb nutrients from the water. It is significantly cheaper than AquaSoil, but make sure you add the cost of root tabs when considering which planted tank substrate to buy.
In addition, Eco Complete is high in iron and contains over 25 trace elements to promote a healthy planted tank. Overall, it is a great, safe choice for any planted aquarium owner.
Pros
Great CEC (Cation Exchange Capacity): CEC is the ability for a substrate to absorb positively charged nutrient ions. In other words, substrate with good CEC will absorb and hold nutrient well, which them becomes available for your plants.
High in iron and other trace elements: Iron is one of the most important elements when it comes to plant health/growth. Eco Complete is high in iron and other trace elements to promote an overall healthier tank.
Doesn't requires extensive washing before being used: A lot of planted tank substrates require a ton of washings unless you want a black, cloudy mess in your planted aquarium. There is really not a need to rinse Eco Complete before placing it in your tank; you shouldn't notice anything more than a slightly cloudy tank for a day or two.
Natural and clean look: Based only on appearance, Eco Complete is definitely my favorite. Something about it just gives the tank a natural, realistic look while maintaining a clean appearance.
Cons
Inert (doesn't contain many nutrients right out of the bag): If you decide to go with Eco Complete, I would recommend getting some root tabs if you want to start out on the right foot. I recommend Seachem Flourish Root Tabs.
There's no doubt that Eco Complete is one of the best planted aquarium substrates you can buy. Honestly, it's not really fair to rank it below ADA AquaSoil; it's really just all about what you're looking for in a substrate. Eco Complete doesn't contain the natural nutrients, but is a way more affordable options that absorbs nutrients better than anything else out there.
---
Seachem Flourite Black is a porous clay gravel that provides a sleek look unlike any other planted aquarium substrate. It is effective when used both by itself or when mixed with other substrates, such as sand or gravel. Flourite is known for its long-lasting attributes and is good for the entire life of your tank; no more worrying about replacing your substrate!
Pros
Never breaks down/needs replacement: While some other substrates need to be replaced every few years, Seachem Flourite is good for the entire life of your tank. It will never break down, even under long term use.
Natural appearance: Flourite Black provides a sleek, natural appearance that in hard to find in other planted aquarium substrates. Great contrast against green plants.
Facilitates great plant growth: Once settled in, Flourite Black facilitates amazing plants growth, especially when used in conjunction with Seachem Root Tabs.
Cons
No natural nutrients: As with a few other choices on our list, I highly suggest that you pick up some Seachem Root Tabs for use with this Flourite. Since Flourite doesn't contain any nutrients, root tabs will make all the difference in terms of growth.
Too rough for bottom dwellers such as loaches and Corys: Sad news…if you love Corys, Seachem Flourite probably isn't the best choice. I have found that some of the pieces are sharp and will injure bottom dwelling fish.
Wash, wash, wash: Be careful when adding this to your tank. When you think it is rinsed enough, rinse it again a few more times. Add water very slowly or you will end up with a clouded mess.
Overall, Seachem Flourite Black is a great option for those who are looking for something a little different. The black gravel-size pebbles provide an amazingly sleek look, especially against bright green plants. This substrate is definitely a show stopper.
---
Plant and Shrimp Stratum is another great choice for your planted tank substrate. Fluval is a trusted brand in the hobby, so it's not surprise that this substrate is top of the line.
Fluval Plant and Shrimp Stratum is made from mineral rich volcanic soil that contains tons on trace elements to encourage healthy growth. In addition, its unique mix natually lowers the pH on your tank to optimal levels. Stratum is made up of mostly larger sized granules (similar to ADA AquaSoil), but it tends to be extremely light. If you have large plants, they may have a hard time rooting/staying put in this soil.
Pros
Amazing for shrimp tanks: If you're looking for a substrate for a shrimp tank, look no further. This substrate contains tons on minerals than encourage shrimp health and the large granules provide a great place for baby shrimp to take cover.
Naturally lowers pH: If the pH of your tap water is naturally high, Stratum may be a great choice. It naturally lowers the pH to encourage healthier plants.
Great plant growth: A lot of planted tank owners noted great growth and colors once switching to this substrate. If you can get your plants to stay put, they really tend to thrive.
Nice appearance: Fluval Stratum looks a bit like the #1 choice on our list, ADA AquaSoil. It has nice sized granules and appears very natural in a planted tank.
Cons
Too light for some plants: I have noticed that Stratum is a little too light for some plants. They tend to uproot easily, which can be quite a pain. You may want to mix this substrate with some gravel or sand to weigh it down a bit.
Clouds tank for a few days: Because this substrate is so light, it usually takes a few days to settle down. Within a few days, though, your water should be back to normal.
---
5. Mr. Aqua Aquarium Soil
Mr. Aqua Aquarium Soil is the least common substrate on out list, but definitely shouldn't be overlooked. It contains a proprietary blend of organic and inert substances that provide all the necessary elements for healthy plant growth.
Mr. Aqua is effective for 12 to 18 months and should be supplemented with additional nutrients after that time period.  The black coloration of this planted aquarium substrate is extremely sleek and contrasts great with bright green plants.
Pros
Packed full of nutrients: Mr. Aqua (along with ADA AquaSoil) is one of the only substrates that comes pre-packed with nutrients. you won't have to worry about adding additional nutrients for 12-18 months.
Buffers pH: Like any good substrate, this soil naturally brings down pH to optimal levels.
Nice consistency and texture: Mr. Aqua Soil is made up of smooth, round pieces around 0.5cm in diameter. It doesn't break down easily, do you won't have to worry about it turning into dust like flourite does.
Long lifetime value: Like we said before, 12-18 months of performance is a great overall lifetime for this product.
Cons
Stirs up fairly easy: You're going to want to be extremely careful when adding this to your tank. It is recommended to put the soil in first, cover it with a plastic film, and then proceed to add water. This helps reduce the amount of commotion int he substrate. Don't be surprised if it takes a few days for your tank to settle in.
---

Types of Planted Aquarium Substrate
There are tons of different types of aquarium substrates out there, some of which are not suitable for planted tanks.  Here are a few types of aquarium substrates as well as how they fair with planted tanks:
Gravel
Gravel is the easiest and most common type of aquarium substrate. If you're just starting up a tank, this is most likely what the people at the local fish store tried to sell you.
Gravel has its strengths and can be used from beginner planted tanks, but it's not necessarily recommended. Here's why:
Gravel is hard to plant in
Requires a ton of additional fertilization
Only gravel between 1mm and 3mm can be used for planted tanks; larger sizes are not suitable
Does not help buffer chemical elements in your tank
Does not encourage fast plant growth
In the end, gravel is an option that I would strongly not recommend. While it is possible to start off a planted tank using gravel as a substrate, you will run into problems later on. A good substrate might be a little more expensive, but it's worth it is the long run.
Sand
Sand is a tempting choice because it provides a natural, realistic look in any tank. Much like gravel, though, sand does not contain enough nutrients to provide optimal plant growth.
In addition, there are a few problems you might run into when using sand:
Sand often compacts really tight over time, which restricts and "strangles" plant roots. This reduces the amount of nutrients your plants can absorb and stunts growth
Anaerobic pockets tend to form easily in sand, especially finer grain versions such as play sand
Stirs up easily, causing clogs in filters and pumps
That said, sand is available nearly everywhere at a pretty cheap price. If you want a truly nice planted tank, though, I have to give the same recommendation as I did with gravel and go with a real substrate instead.
Flourite
Flourite is similar to the other planted aquarium substrates in that it doesn't contain any natural nutrients (it is inert). That said, it has a high CEC, meaning it absorbs nutrients from the water very well.
Depending on the type of plants you plant to keep, it may be best to use a few root tabs when setting up you tank. This will start you off on the right foot and jumpstart some quick plant growth.
One of the interesting features of flourite is that it work very well when mixed with other types of substrate. I like to mix up my flourite with a little gravel, dirt, and sand to create a more natural substrate.
When using flourite, make sure you rinse it very well before placing it in your tank. It tends to be extremely dusty and will cloud up you tank like nothing else.
All-in-On Substrates
When we say "all-in-one" substrates, were talking about substrate such as ADA AquaSoil and Mr. Aqua Soil. These planted tank substrates are pre-packed with nutrients, which helps jumpstart plant growth and takes to duty of adding nutrients off of the tank owner.
While substrates with pre-packed nutrients are great for growth, you also need to look out for a few things. Ammonia spikes are common when first introducing the soils, so make sure you don't have any fish present when you're just setting up the tank. In addition, these soils need to be replaced or supplemented with additional nutrients at the 12-18 month period.
---

Substrate FAQ's
In case we didn't answer all your questions able planted aquarium substrates, here are a few other common questions:
How much substrate do I need?
A healthy planted aquarium should generally have 2-3″ of substrate. So…how much substrate do you need to buy to achieve this depth?
The very rough estimate is around 1.5 to 2 pounds per gallon. Like I said, this is just a rough estimate. In reality, it all depends on the footprint of your tank.
Refer to this substrate calculator for a much more accurate measure.
Does substrate ever need to be changed?
Just like soil, aquarium substrate can eventually be sucked dry of nutrients – no nutrients means no plant growth.
So it is necessary to replace the substrate once this happens? The short answer is no.
Instead of ripping apart your tank (yikes!), a much easer option is simply dosing with a mix of liquid fertilizers and root tabs. Root tabs (fertilizer tabs dug into the substrate) are great because they actually help replenish the natural nutrients in your substrate.
Do I need to clean/vacuum the substrate?
Once a tank is established and planted, there is really no need to disturb the substrate. A lot of what you would "clean" with a vacuum is actually beneficial to the plants.
In short – never vacuum your planted tank substrate. 
You can, of course, slightly disturb the surface with a net and scoop out any large debris. In addition, a lot of planted aquarium owners like to keep Malaysian Trumpet Snail. They tend to dig in the substrate in search of food, which helps keep it aerated and clean.
---
Final Thoughts

As you can see, there are tons of different substrate choices out there. Choosing the "best planted tank substrate" option really depends on what features you're looking for. If you are looking for a substrate that offers explosive plant growth, ADA AquaSoil is a great choice. It is packed with tons of nutrients right from the bag and contains everything necessary for healthy plants. If you want a substrate that absorbs nutrients well and has a nice natural look, Eco Complete is a trustworthy, popular choice. In addition, Seachem Flourite is great for planted tank owners who are looking for something long-lasting and sleek.
Overall, you really can't go wrong with any of the choices on our list. All offer their own unique benefits, but every option can be transformed into a beautiful planted aquarium quickly and easily.