Nano aquariums are great for anyone in the hobby who has limited space. They are small, easily transportable, and able to be kept in any office or room.
In this guide, we will be focusing on six of the best nano aquariums under six gallons. All the aquariums on our list have been tried and tested.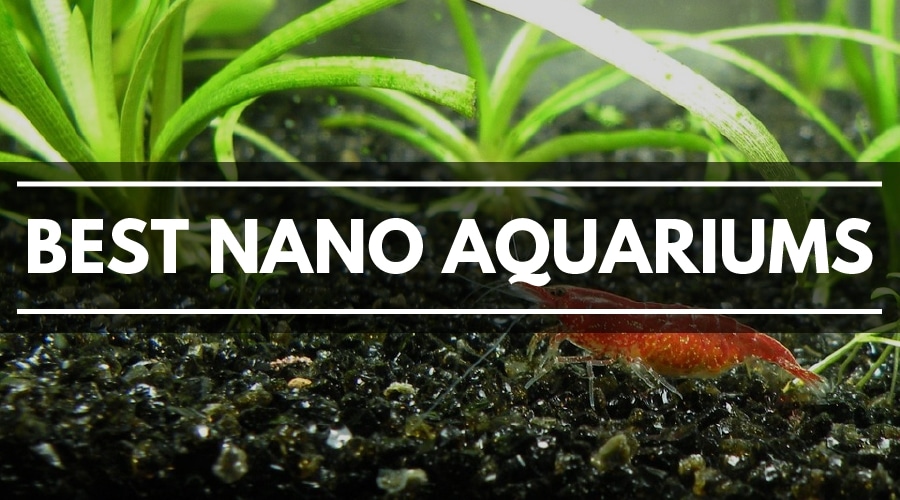 Our choice for the best nano aquarium is the Marineland ML. Keep reading for a more detailed review!
---
Best Nano Aquarium on the Market
Here is our list for the best nano aquariums on the market:
1. Maineland ML90609
The first nano aquarium on our list is the Marineland ML90609. The Marineland ML is a great addition to any office space or home and is designed for ease of use. This 5 gallon curved-glass beauty is also pretty high tech and comes with tons of features.
To begin, this kit comes with a 3 stage filtration system hidden in the back of the tank. Inside the filtration chambers are filter cartridges, bio-media, and the return pump.
If you choose to change up the filtration system, it is completely customizable and able to be tweaked to your liking.
In addition, this nano aquarium comes standard with hinged, 3 setting LED light. You can switch from white and blue to a blue only setting, which simulates a relaxing moonlight shimmer.
The white lights are capable of sustaining low level plants, so feel free to add a few greens to brighten up the tank!
Lastly, this stunning nano aquarium comes stock with a retractable glass canopy, which makes water changes and feedings a breeze. Simply slide the canopy off and on depending on your needs.
In my opinion, this is a huge plus because it cuts down drastically on water evaporation, which is usually a big problem with nano aquariums
What are Reviewers Saying?
In my experience, the feedback for this nano aquarium is overwhelmingly positive. Many users praise the tank's amazing design and style, especially since it is made out of actual glass.
Staying away from plastic (unlike most nano aquariums) really helped make this tank top of the line. In addition, glass is much less likely to scratch than plastic or acrylic, so your tank will look pristine for a long time!
In addition to its great design, many reviewers love the features of the Marineland ML.
To start, the filter on this nano aquarium is virtually silent. This is a huge bonus, as nano aquariums are often placed in offices or bedrooms where silence is needed. All cords and wires are completely hidden, giving the tank a "minimalist" look. If you want a clean design, this tank is the way to go.
Finally, the LED lights on the Marineland ML90609 are top notch for the price of the tank.
Going into it, I wasn't expecting much from the lights, but boy was I wrong. They are extremely bright and allow you to keep several species of plants. There are also a few upgrades available if you want to convert your nano aquarium to a reef tank!
Pros
The curved glass is very nice, especially paired with the black stand. The overall look of the tank is sleek and professional.
Has a small footprint, so it can be placed pretty much anywhere. The portrait orientation allows for good space for plants/decorations.
The filter and pumps are completely silent.
All cords and wires are hidden from view. Perfect for bedroom or office.
LED light is very strong for its size/price, so you should be able to keep plants if you wish.
Cons
Stand is made of plastic (very sturdy plastic, but still)
The return nozzle can create a lot of current in the tank, which is not great for fish such as Bettas
2. Fluval Spec V
There is no doubt about it, the Fluval Spec V is a showstopper. This five gallon contemporary looking nano aquarium will turn heads, no matter where you set it up. The sleek look combined with an aluminum trim makes it perfect for a desk or office.
Though relatively small at five gallons, the Fluval Spec V has plenty of cool elements.
To begin, this nano aquarium includes an overhanging LED light that packs quite a punch. The 37 LED bulbs illuminate the tank and are capable of sustaining plenty of freshwater plants.
In addition the Spec V comes stock with a three stage filtration system that will leave your tank crystal clear.As a bonus, Fluval includes several types of filter media to get you started; foam blocks, activated charcoal and BioMax bio rings.
Though this nano aquarium has a bit larger of a footprint than some of the others on the list (17.2×10.6×6.3), you definitely won't mind looking at it.
It is crafted from etched glass with an aluminum trim, giving it a elegant, contemporary look. If I had to pick one nano aquarium just based off look, the Fuval Spec V would top the list!
What are Reviewers Saying?
The Fluval Spec V Nano Aquarium is regarded highly among those in the hobby. Even for experienced aquarists, the Spec V is a top choice.
Not surprisingly, one of the most praised feature of this tank is its sleek design. Nano aquariums are meant to be small, compact, and good looking. This tank definitely hits everything on that list. If you are looking for a tank based on design, this is the one to pick.
Another thing that reviewers really love about this tank is its filtration power.
Proper filtration is often an issue in nano aquariums, as space is such an issue. With the Fluval Spec V, you will never have to worry about your water being clean.
The return pumps are strong and can handle quite the bio-load.
If you plan to keep docile fish such as Bettas, you may need to slow down the water flow. Simply place a Pre-Filter Sponge over the outtake to calm the water flow and you Betta should be more than happy.
The filter sponge is easy to clean and should even make your tank a little cleaner. Despite how powerful the filtration on this unit is, they still managed to make it virtually silent. This is a huge bonus if you plan to keep the tank in your bedroom or office.
Finally, reviewers really love the LED light fixture on the Fluval Spec V Nano Aquarium.
Many report that it is more than adequate to house low level plants. If you plan to do a little aquascaping to design a nice planted tank, this one may be the way to go.
The larger footprint combined with a strong light makes it the perfect option for a planted nano aquarium.
Pros
Beautiful, contemporary design. The frosted glass is a nice touch.
Large footprint and strong LED light makes it the perfect tank for a few plants.
Very strong filtration compared to other nanos on the list.
Silent filtration, perfect for offices or bedrooms.
Cons
Water flow can be a little too harsh for fish such as Bettas. You can fix this by placing a filter sponge over the output.
A little larger than most nano aquariums. Can be a pro or con depending on the amount of space you have.
3. Marineland Contour
Marineland came through again with this contour glass aquarium kit. This nano aquarium is very similar to the ML90609 that we covered earlier in the list, but a bit smaller.
The Contour holds only three gallons, making it the smallest nano on the list. Despite its small size, the Marineland Contour is packed full of features.
Much like its larger ML90609 counterpart, the Contour features a full curved glass build. The sleek design completely hides all of the filtration features, typical of any All In One nano aquarium.
The filtration on this unit is more than enough for the size. After all, anything you are keeping in a three gallon nano aquarium should have a pretty small bio-load. Just make sure not to overstock the tank and you won't have any problems.
This three gallon aquarium is probably better for aquarists who have had nano tanks before, as parameters can be difficult to control in tanks this small.
The Marineland Contour also comes with a LED lighting system that packs a punch. Even though it is small, the light is able to keep low-level plants alive.
Personally, I think this 3 gallon nano aquarium would be perfect for a planted shrimp tank. The size is just right for shrimp, and the light is good enough to keep some interesting plants.
In addition, this aquarium includes a glass sliding top, which helps cut down considerably on water evaporation and parameter swings.
What are Reviewers Saying?
It came to no surprise that reviews for the Marineland Contour were overwhelming positive as well. This tank piggybacks on the ML90609 tank, but is just a little smaller. It features many of the same elements as its larger counterpart, so we're gonna keep this part short.
In general, the most loves features of this nano aquarium was its amazing design. The curved glass is pretty thick, which gives the tank on overall feel of quality.
In addition, the tank comes with a foot stand that can be removed and all of the pumps/filters are pretty much silent. Overall, this tank is basically the mini version of the highly praised ML90609.
If you want something just a little smaller, this one is the way to go!
Pros
Curved glass sleek design that looks great in any setting.
Small footprint, which makes it perfect for apartments or anywhere with limited space.
Strong filtration unit that can easily handle a Betta or a few small fish.
Glass canopy that helps cut down on water evaporation and keeps parameters stable.
Cons
Three gallons can be hard to keep stable.
The stock light is enough for freshwater, but will not sustain saltwater tanks.
4. Fluval Flex
The Fluval Flex 9 gallon is one of my favorite nano aquariums. It uses a style similar to a classic bow front tank but with the angle of the curve reversed. While bow fronts do cause a slight warp in viewing thanks to the bend, the effect is minimal in a nano aquarium like this.
Affixed to the front is a honeycomb patterned strip that breaks up the appearance of the water line, which can be distracting since this is an edgeless model with no black plastic strips to hide it.
Like many all-in-one aquarium kits the Fluval Flex includes a hood, light fixture, and filter in the box. The three stage filtration chamber is located in the rear of the tank, where there is room for foam mechanical filtration pads.
Each pad has a section cut out that allows you to place activated carbon inside; an intriguing variation over traditional filter cartridges. You can also use ammonia-absorbing resins or ceramic bio balls if you want more beneficial bacteria colonies.
One of the most important advantages the Fluval Flex has over the others is the 39-bulb 7500K LED lighting system. The intensity is strong enough and of the right spectrum to grow low light plants like Anubias with ease and even medium light plants like many carpeting types.
A remote control is also included, allowing you to selectively turn on sets of colors and turn on and off the lighting from a distance.
The base dimensions of the Fluval Flex 9 gallon are 13.25 wide X 12.25 deep, which can make finding a dedicated stand a little tricky. Fluval makes attractive curved wooden stands for their other models but not the 9. Given its size, it makes for an excellent desktop nano aquarium (even if 9 gallons is on the edge of the nano category)!
While the Fluval Flex 9 gallon is the focus of this article, the Fluval Flex series of aquariums actually come in three sizes, including a 32.5 gallon, a 15 gallon! All three share the same features, merely expanded in size and output to fit the larger models.
What are Reviewers Saying?
Something noted by reviewers is that the pump has an outflow of 61 GPH (gallons per hour). This is a good rate of flow except that it's strongly concentrated right at the nozzle into the tank.
You may find that taller stem plants grow in crooked and slow moving fish like Bettas get blown about by the force of the pump when roaming nearby. Careful aquascaping with driftwood or directing the flow to scatter across the surface can mitigate this, though.
The carrying capacity is also smaller than you think because the rear chamber takes up a couple gallons of space.
Lastly, the Fluval Flex aquariums are a little more fragile than traditional tanks and are prone to shattering during transport…
Pros
Large enough to house a sizeable community of smaller fish
Lighting is intense enough and of the right spectrum for live plants
Ample three stage filtration system
Programmable lighting thanks to included remote control
Attractive bow front design
Cons
No proprietary stand for this model of Fluval Flex
Filter pump can be too strong for slow moving fish
5. Nuvo Fusion 10
Marine nano enthusiasts will find the Nuvo Fusion 10 to be an ideal smaller setup for a nano reef tank. There's nothing stopping you from using it for a freshwater setup, either. But the design is clearly optimized for saltwater.
One intriguing feature that sometimes gets overlooked is the 6mm low iron glass used in its construction. Low iron glass is the highest quality of material you can use for aquariums. Standard aquarium glass has ironed glass that's stronger but tops out at around 83% light transmission (and it gets lower over time). The Nuvo Fusion transmits over 90% of the light passing through it for unmatched viewing clarity.
The Nuvo Fusion uses an overflow design to send water into the rear compartment for processing. The Nuvo Fusion 10 has two chambers; the first of which holds the CustomCaddy Media Basket. The basket itself has three chambers and a quick access handle.
Each chamber can be filled with bags of any media you choose, from lava rock to specialized chemical media. And if you prefer using a single filter media you can use the included 200 Micron Filter Sock instead or place it in the second rear chamber. Innovative Marine also has a dedicated protein skimmer designed for their Nuvo Fusion models that can be placed in the second chamber.
One glaring omission is any form of lighting. You'll need to find a light suitable for the needs of your coral photosynthesis or fish viewing. But many aquarists prefer choosing their own light anyway since the needs of reef creatures vary so much.
A mesh screen fits over the top, allowing for good gas exchange while preventing debris from falling in from the outside. And considering the intensity of even nano reef lighting, the screen prevents the lid from becoming dangerously hot.
What are Reviewers Saying?
Many hobbyists find that the included Mightyjet 326 GPH pump is on the louder side and is not the best option for a bedroom or other noise sensitive location.
Others note that the media basket and mesh screen don't appear to be up to the quality standards you'd expect from this price tier. They feel flimsy, don't fit securely on the tank, and are not too difficult to crack if handled carelessly.
That said, Nuvo Fusion does include a 1-year limited warranty extending to any defects in manufacturing or defective materials, which a broken basket or screen may qualify for.
Overall, the Nuvo Fusion is rated highly so long as you're aware of these issues and don't mind a little more vibration from a stronger pump.
Pros
Included MightyJet 15W/24V 326 GPH DC Return Pump offers a substantial amount of flow
Options for a nano protein skimmer
High-clarity low iron glass construction
Very customizable filtration system
Cons
Protein skimmer and aquarium lighting sold separately
Pump is louder than expected
6. Fluval Edge 2.0
Aquarists looking for the ultimate in modern minimalist design should consider the striking new Fluval Edge 2.0! The original Edge was a 6 gallon tank with a more elongated design but the 2.0 version holds 12 gallons of water and has a square profile.
Like the Fluval Flex, the Edge uses an integrated LED light with a color temperature that's optimal for plant growth (6500K). I would stick to low to medium light plants like Java Fern or Dwarf Sagittaria, however. The light sits directly in the center of the tank and has a 120° spread, giving the top a clean, clear window into the tank that other aquariums don't provide.
In order for the aquarium to maintain its "floating box of water" appearance, you'll have to keep it filled to capacity. The filtration unit is a hang on the back power filter that sits directly behind the light. And as a bonus, the filter is large enough to hold not only foam blocks but ceramic media and other custom filter additions.
Unlike some of the other nano aquariums on this list the filter of the Fluval Edge 2.0 doesn't take up loads of living space from your fish. The interior is truly 12 gallons in volume, placing it on the upper end of the nano spectrum. But this volume gives you much more to work with if you envision a more diverse community of fish.
What are Reviewers Saying?
Some people who own this aquarium find that water bypass inside the power filter is an issue. This means that water occasionally flows over and past the filtration media rather than through it. In my experience, bypass is only really an issue for filters that aren't being regularly maintained, i.e. dirty media that needs changing.
The majority of people are struck by the beauty of the design, however. Fluval is probably the most well known manufacturer for higher end nano tanks, including their Spec and Flex models!
It is also very reliable in terms of the parts working straight out of the box. And if you do have issues, Fluval has a global supply chain that makes sourcing new components very easy compared to smaller brands!
Pros
On the larger side for a nano aquarium, giving you plenty of space for a community of small fish!
Striking minimalist design using an edgeless glass construction
Powerful 6500K LED light for good plant growth
Cons
Filter may be prone to water bypass (keep a close eye on your maintenance schedule)
A little pricier than many other nano tank models out there due to the volume and quality of construction
---
Other Products That We Recommend for Nano Aquariums
Here are a few other product that we recommend for use with these nano tanks:
Cobalt NeoTherm 25 Watt Heater
Every tank needs a heater, especially nano tanks. Because nano tanks have much less water volume than traditional tanks, they are more prone to temperate and parameter swings. A good heater will help keep your tank stable and healthy.
Cobalt NeoTherms are known for their durability and consistency. Heaters are definitely something you don't want to be cheap with.
Fluval EDGE Pre-Filter Sponge
Pre-filter sponges are good for two things:
First of all, this sponge helps slow down the flow of water coming out of the water outlet. In nano aquariums, to0 high of flow can be a big issue, especially for fish like Bettas.
Secondly, pre-filter sponges add a second layer of filtration and help keep your tank clean. The Fluval EDGE Pre-Filter Sponge is a great choice.
API Freshwater Master Test Kit
I can't stress how important it is to test your water regularly, especially in nano tanks where things can go downhill fast. This API Master Test Kit is the best on the market. It measuers Nitrate, Nitrite, Ammonia, and pH, so you will never be wondering about your water quality again.
---
Pros of Nano Aquariums
Here are a few benefits of nano tanks:
Price
To begin, the set up and upkeep of nano aquariums is very cheap compared to larger tanks. You don't need a lot of rock or substrate to fill the tank, which makes aquascaping a cheap and easy tank.
Nano aquariums only require small pumps, so you won't blow through tons of cash on filters/pumps either.
Light fixtures for nano aquariums are small, light, and produce a tiny energy footprint, so your electricity bill won't run up every month.
Space Efficient
Secondly, nano aquariums are extremely space efficient.
Take it from someone who know, large aquariums take up tons of space. Between the tanks themselves, sumps, canister filters, and stands, it is easy to become cluttered.
With nano aquariums, you can simply place to tank on a desk or counter end enjoy. The small footprint and weight is even more beneficial if you are on the second floor or in an apartment where you are limited on size.
This peace of mind often makes nano aquariums much more enjoyable, especially if you're tight on space.
Smaller Water Changes
Most importantly, upkeep is extremely easy and quick. For many people, weekly water changes and cleanings often take a lot of fun out of the hobby.
With nano aquariums, "maintenance" really only includes water top offs and two minute cleanings.
A single gallon on RO/DI water should last for weeks of water changes. No more running out to the local fish store every week!
Overall, nano aquariums are a cheap, easy, quick way to enjoy the beauty of a fish tank. They are a breeze to set up and maintain, and can be kept in even the smallest rooms/offices.
---
Cons of Nano Aquariums
Here are a few drawbacks of nano tanks:
Stocking Issues
The main downside of any nano aquarium, fresh or saltwater, is undoubtedly the carrying capacity. The tanks here range from 3 to 9 gallons in volume, which places a hard limit on both the size and number of animals they can hold.
Most of these tanks also have interior space taken up by built-in filter chambers. While they are an efficient use of space, they do take up living real estate that your fish would normally use.
For a 3 gallon tank, you might be looking at a small group of freshwater nano fish like Chili Rasboras or saltwater nano fish like neon gobies. Couple your gobies with a few Soft Corals and a single shrimp and your tank is fully stocked!
Regular Maintenance is a Must
Contrary to what you might expect, smaller tanks are actually more challenging than larger ones in many respects.
Small tanks can shift in parameters much more quickly thanks to the small volume of water. Temperatures can crash if a heater is accidentally unplugged and a single over feeding or dead fish can cause ammonia levels to skyrocket in ways that larger tanks better weather.
Evaporation also happens quickly, causing salt and other dissolved minerals to concentrate more quickly. You really need to be on the ball with filter maintenance and water changes to keep your fish, corals, and plants thriving.