Nano aquariums are great for anyone in the hobby who has limited space. They are small, easily transportable, and able to be kept in any office or room. In this guide, we will be focusing on five of the best nano aquariums under six gallons. All the aquariums on our list have been tried and tested.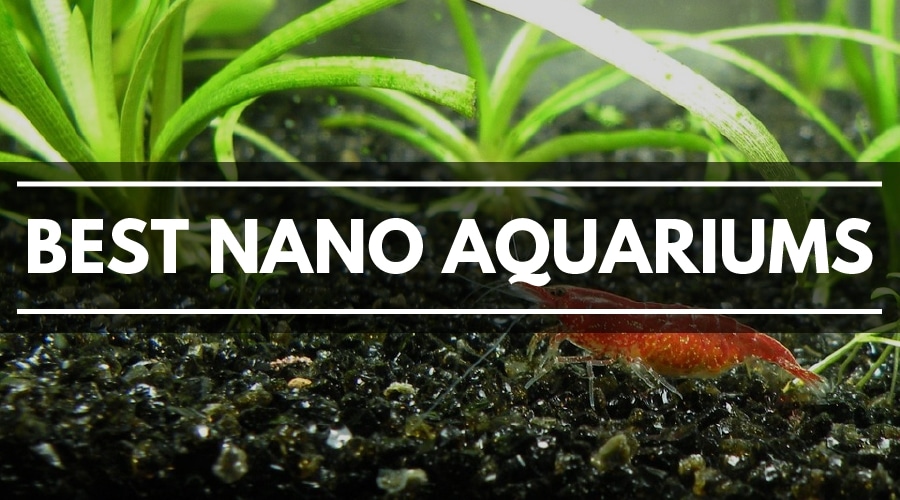 Our choice for the best nano aquarium is the Marineland ML. Keep reading for a more detailed review!
---
Best Nano Aquariums – The List
Here is our list for the best nano aquariums on the market:
1. Maineland ML90609
The first nano aquarium on our list is the Marineland ML90609. The Marineland ML is a great addition to any office space or home and is designed for ease of use. This 5 gallon curved-glass beauty is also pretty high tech and comes with tons of features.
To begin, this kit comes with a 3 stage filtration system hidden in the back of the tank. Inside the filtration chambers are filter cartridges, bio-media, and the return pump. If you choose to change up the filtration system, it is completely customizable and able to be tweaked to your liking.
In addition, this nano tank comes standard with hinged, 3 setting LED light. You can switch from white and blue to a blue only setting, which simulates a relaxing moonlight shimmer. The white lights are capable of sustaining low level plants, so feel free to add a few greens to brighten up the tank!
Lastly, this stunning nano aquarium comes stock with a retractable glass canopy, which makes water changes and feedings a breeze. Simply slide the canopy off and on depending on your needs. In my opinion, this is a huge plus because it cuts down drastically on water evaporation, which is usually a big problem with nano aquariums
What are reviewers saying?
The reviews for this nano aquarium are overwhelmingly positive. Many users praise the tank's amazing design and style, especially since it is made out of actual glass. Staying away from plastic (unlike most nano aquariums) really helped make this tank top of the line. In addition, glass is much less likely to scratch than plastic or acrylic, so your tank will look pristine for a long time!
In addition to its great design, many reviewers love the features of the Marineland ML90609. To start, the filter on this nano tank is virtually silent. This is a huge bonus, as nano aquariums are often placed in offices or bedrooms where silence is needed. All cords and wires are completely hidden, giving the tank a "minimalist" look. If you want a clean design, this tank is the way to go.
Finally, the LED lights on the Marineland ML90609 are top notch for the price of the tank. Going into it, I wasn't expecting much from the lights, but boy was I wrong. They are extremely bright and allow you to keep several species of plants. There are also a few upgrades available if you want to convert your nano aquarium to a reef tank!
Pros
The curved glass is very nice, especially paired with the black stand. The overall look of the tank is sleek and professional.
Has a small footprint, so it can be placed pretty much anywhere. The portrait orientation allows for good space for plants/decorations.
The filter and pumps are completely silent.
All cords and wires are hidden from view. Perfect for bedroom or office.
LED light is very strong for its size/price, so you should be able to keep plants if you wish.
Cons
Stand is made of plastic (very sturdy plastic, but still)
The return nozzle can create a lot of current in the tank, which is not great for fish such as Bettas
---
2. Fluval Spec V
There is no doubt about it, the Fluval Spec V is a showstopper. This five gallon contemporary looking nano aquarium will turn heads, no matter where you set it up. The sleek look combined with an aluminum trim makes it perfect for a desk or office.
Though relatively small at five gallons, the Fluval Spec V has plenty of cool elements. To begin, this nano tank includes an overhanging LED light that packs quite a punch. The 37 LED bulbs illuminate the tank and are capable of sustaining plenty of freshwater plants.
In addition the Spec V comes stock with a three stage filtration system that will leave your tank crystal clear.As a bonus, Fluval includes several types of filter media to get you started; foam blocks, activated charcoal and BioMax bio rings.
Though this nano tank has a bit larger of a footprint than some of the others on the list (17.2×10.6×6.3), you definitely won't mind looking at it. It is crafted from etched glass with an aluminum trim, giving it a elegant, contemporary look. If I had to pick one nano aquarium just based off look, the Fuval Spec V would top the list!
What are reviewers saying?
The Fluval Spec V Nano Aquarium is regarded highly among those in the hobby. Even for experienced aquarists, the Spec V is a top choice. Not surprisingly, one of the most praised feature of this tank is its sleek design. Nano aquariums are meant to be small, compact, and good looking. This tank definitely hits everything on that list. If you are looking for a tank based on design, this is the one to pick.
Another thing that reviewers really love about this tank is its filtration power. Proper filtration is often an issue in nano aquariums, as space is such an issue. With the Fluval Spec V, you will never have to worry about your water being clean. The return pumps are strong and can handle quite the bio-load.
If you plan to keep docile fish such as Bettas, you may need to slow down the water flow. Simply place a Fluval Edge Pre-Filter Sponge over the outtake to calm the water flow and you Betta should be more than happy. The filter sponge is easy to clean and should even make your tank a little cleaner. Despite how powerful the filtration on this unit is, they still managed to make it virtually silent. This is a huge bonus if you plan to keep the tank in your bedroom or office.
Finally, reviewers really love the LED light fixture on the Fluval Spec V Nano Aquarium. Many report that it is more than adequate to house low level plants. If you plan to do a little aquascaping to design a nice planted tank, this one may be the way to go. The larger footprint combined with a strong light makes it the perfect option for a planted nano tank.
Pros
Beautiful, contemporary design. The frosted glass is a nice touch.
Large footprint and strong LED light makes it the perfect tank for a few plants.
Very strong filtration compared to other nanos on the list.
Silent filtration, perfect for offices or bedrooms.
Cons
Water flow can be a little too harsh for fish such as Bettas. You can fix this by placing a Fluval Edge Filter Sponge over the output.
A little larger than most nano aquariums. Can be a pro or con depending on the amount of space you have.
---
3. Marineland Contour
Marineland came through again with this contour glass aquarium kit. This nano tank is very similar to the ML90609 that we covered earlier in the list, but a bit smaller. The Contour hold only three gallons, making it the smallest nano on the list. Despite its small size, the Marineland Contour is packed full of features.
Much like its larger ML90609 counterpart, the Contour features a full curved glass build. The sleek design completely hides all of the filtration features, typical of any All In One nano tank. The filtration on this unit is more than enough for the size. After all, anything you are keeping in a three gallon nano tank should have a pretty small bio-load. Just make sure not to overstock the tank and you won't have any problems. This three gallon aquarium is probably better for aquarists who have had nano tanks before, as parameters can be difficult to control in tanks this small.
The Marineland Contour also comes with a LED lighting system that packs a punch. Even though it is small, the light is able to keep low-level plants alive. Personally, I think this 3 gallon nano tank would be perfect for a planted shrimp tank. The size is just right for shrimp, and the light is good enough to keep some interesting plants. In addition, this aquarium includes a glass sliding top, which helps cut down considerably on water evaporation and parameter swings.
What are reviewers saying?
It came to no surprise that reviews for the Marineland Contour were overwhelming positive as well. This tank piggybacks on the ML90609 tank, but is just a little smaller. It features many of the same elements as its larger counterpart, so we're gonna keep this part short. In general, the most loves features of this nano tank was its amazing design. The curved glass is pretty thick, which gives the tank on overall feel of quality. In addition, the tank comes with a foot stand that can be removed and all of the pumps/filters are pretty much silent. Overall, this tank is basically the mini version of the highly praised ML90609. If you want something just a little smaller, this one is the way to go!
Pros
Curved glass sleek design that looks great in any setting.
Small footprint, which makes it perfect for apartments or anywhere with limited space.
Strong filtration unit that can easily handle a Betta or a few small fish.
Glass canopy that helps cut down on water evaporation and keeps parameters stable.
Cons
Three gallons can be hard to keep stable.
The stock light is enough for freshwater, but will not sustain saltwater tanks.
---
Other Products We Recommend
Here are a few other product that we recommend for use with these nano tanks:
Cobalt NeoTherm 25 Watt Heater
Every tank needs a heater, especially nano tanks. Because nano tanks have much less water volume than traditional tanks, they are more prone to temperate and parameter swings. A good heater will help keep your tank stable and healthy. Cobalt NeoTherms are known for their durability and consistency. Heaters are definitely something you don't want to be cheap with.
Fluval EDGE Pre-Filter Sponge
No products found.
Pre-filter sponges are good for two things. First of all, this sponge helps slow down the flow of water coming out of the water outlet. In nano aquariums, to0 high of flow can be a big issue, especially for fish like Bettas. Secondly, pre-filter sponges add a second layer of filtration and help keep your tank clean. The Fluval EDGE Pre-Filter Sponge is a great choice.
API Freshwater Master Test Kit
I can't stress how important it is to test your water regularly, especially in nano tanks where things can go downhill fast. This API Master Test Kit is the best on the market. It measuers Nitrate, Nitrite, Ammonia, and pH, so you will never be wondering about your water quality again.
---
What Are The Benefits of Nano Aquariums?
Here are a few benefits of nano tanks:
Price
To begin, the set up and upkeep of nano aquariums is very cheap compared to larger tanks. You don't need a lot of rock or substrate to fill the tank, which makes aquascaping a cheap and easy tank. Nano aquariums only require small pumps, so you won't blow through tons of cash on filters/pumps either. Light fixtures for nano aquariums are small, light, and produce a tiny energy footprint, so your electricity bill won't run up every month.
Space Efficient
Secondly, nano aquariums are extremely space efficient. Take it from someone who know, large aquariums take up tons of space. Between the tanks themselves, sumps, canister filters, and stands, it is easy to become cluttered. With nano aquariums, you can simply place to tank on a desk or counter end enjoy. The small footprint and weight is even more beneficial if you are on the second floor or in an apartment where you are limited on size. This peace of mind often makes nano aquariums much more enjoyable, especially if you're tight on space.
Maintenance is Easy
Most importantly, upkeep is extremely easy and quick. For many people, weekly water changes and cleanings often take a lot of fun out of the hobby. With nano aquariums, "maintenance" really only includes water top offs and two minute cleanings. A single gallon on RO/DI water should last for weeks of water changes. No more running out to the local fish store every week!
Overall, nano aquariums are a cheap, easy, quick way to enjoy the beauty of a fish tank. They are a breeze to set up and maintain, and can be kept in even the smallest rooms/offices. Check out the rest of out guide for our suggestions on the best nano aquariums on the market!