Buying aquarium fish supplies online has been an option for a long time. However people are still often surprised to learn how affordable and easy the process can be.
Online retailers expand your fish and product choices well beyond what local stores have to offer.
And with professional packaging and years of experience in live animal and product shipping you only stand to gain from expanding your horizons.
So let's get to know the 12 best online fish stores a little better!
---
12 Best Online Fish Store: Our Top Recommendations
Here is a quick recap of our favorite online fish stores. Click through each link to reach our full description and recommendation.
Keep in mind – because each store a slightly different benefits and product to offer, they aren't necessarily in any order.
---
Live Aquaria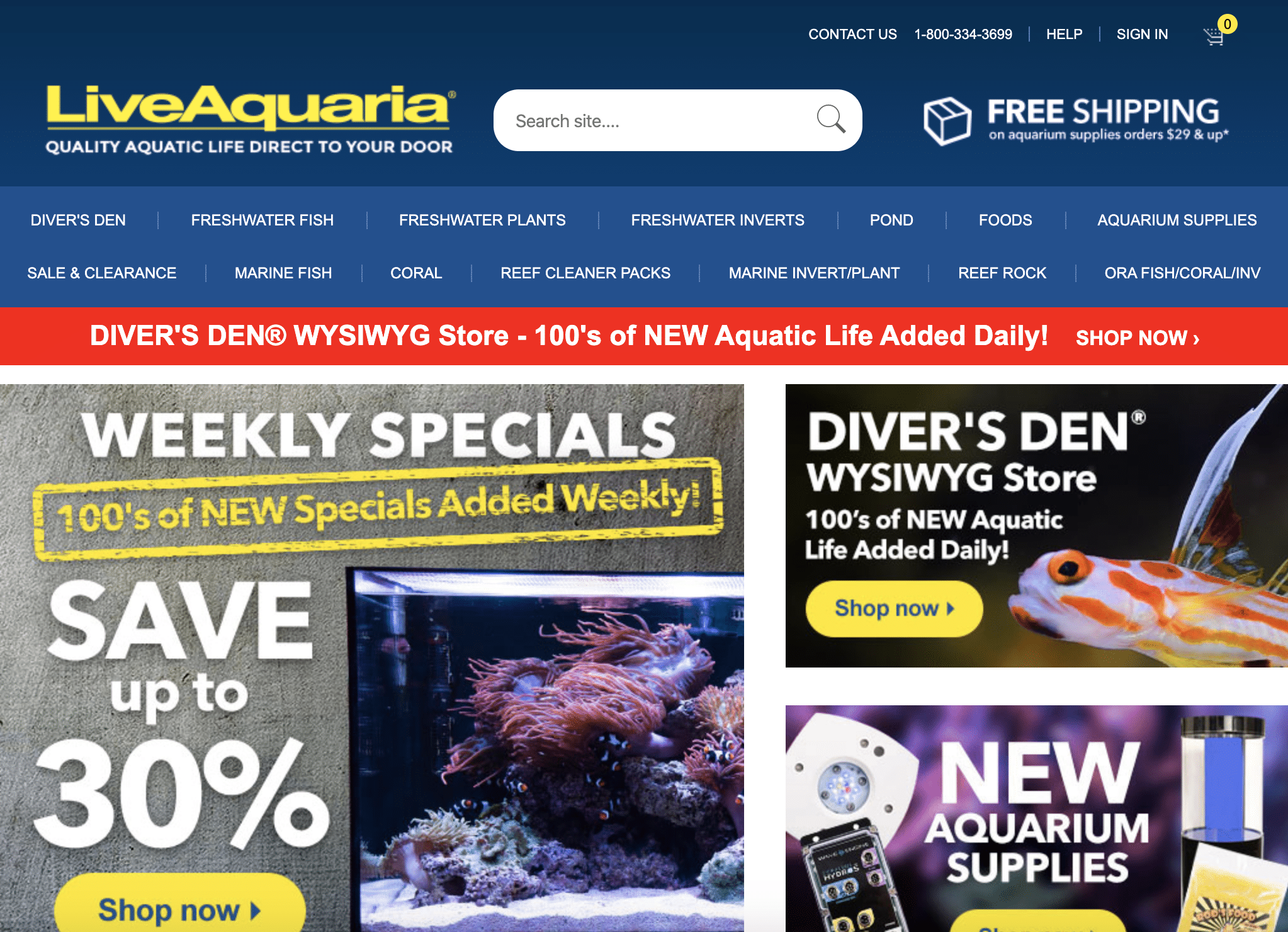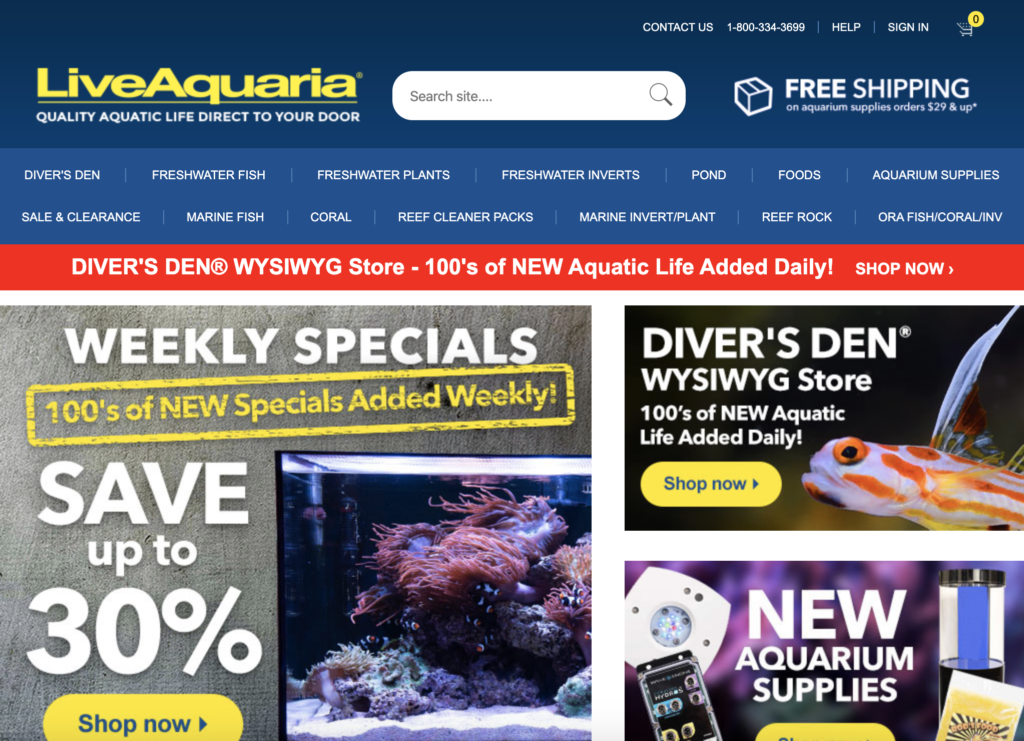 As one of the best online fish stores Live Aquaria has an array of choices to satisfy the tastes of any aquarist! They make things easy for beginners by offering a search bar that filters options by minimum aquarium size, care level, temperament, and color form.
While they carry the typical range of Livebearer, Tetra, and Barb species most stores carry, Live Aquaria also has a robust selection of marine fish and invertebrates. Every popular species is available through them, including Ocellaris Clownfish and Flame Angelfish – as well as exotics like Sharks and Pipefish.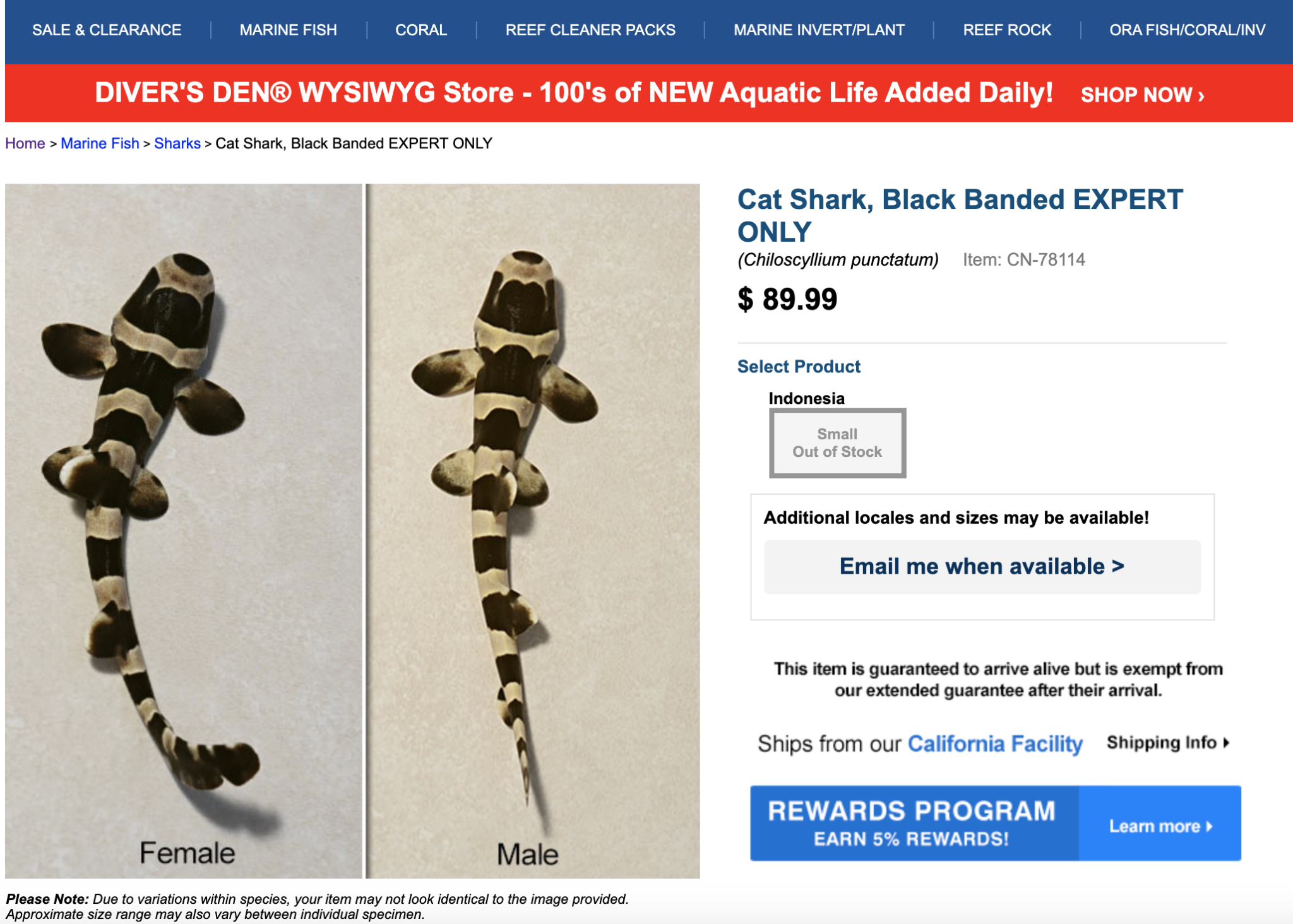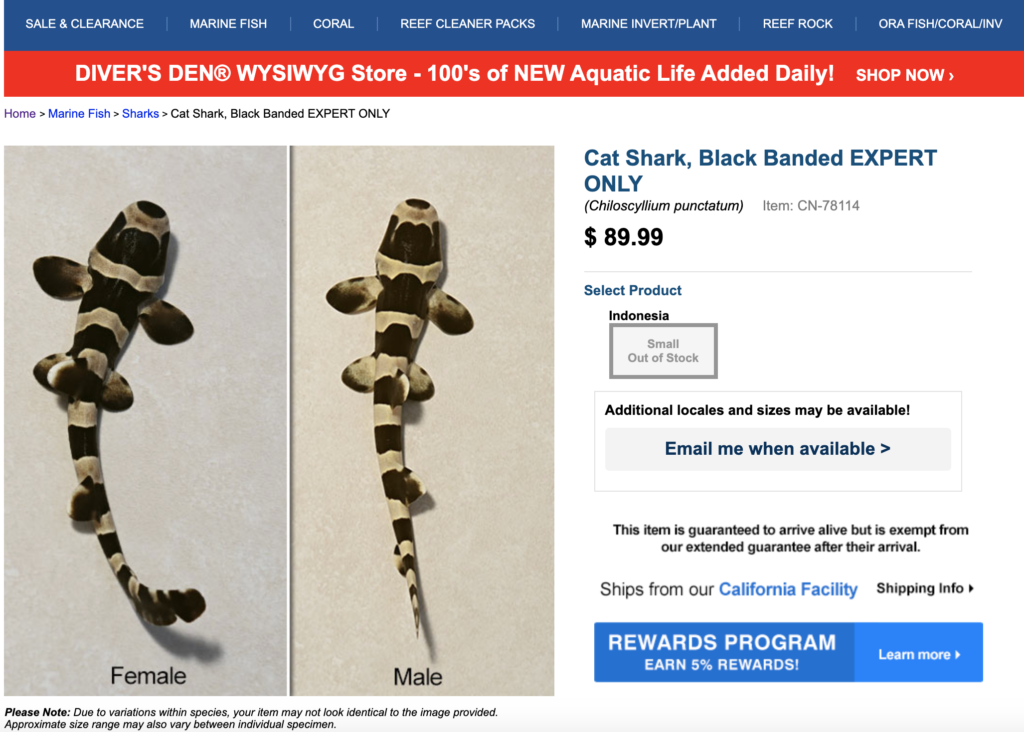 Live Aquaria also offers a Diver's Den of exotic specimens stocked in very small quantities. Each photo is of the exact fish, coral, starfish, etc, for sale, ensuring you won't be disappointed with the animal received.
Best of all, their prices closely match or even beat those of traditional retail aquarium stores. And if you're stocking a larger aquarium from scratch, they even provide free shipping on all orders above $149.
Live Aquaria also offers an excellent 14-day live guarantee on all of their animals; better than some brick and mortar stores! However they don't include Expert Level animals, which tend to be sensitive to shipping even in the best of times.
Live Aquaria Online Checklist
Fish: Yes
Shrimp: Yes
Plants: Yes
Corals: Yes
Supplies: Yes
---
Aquatic Arts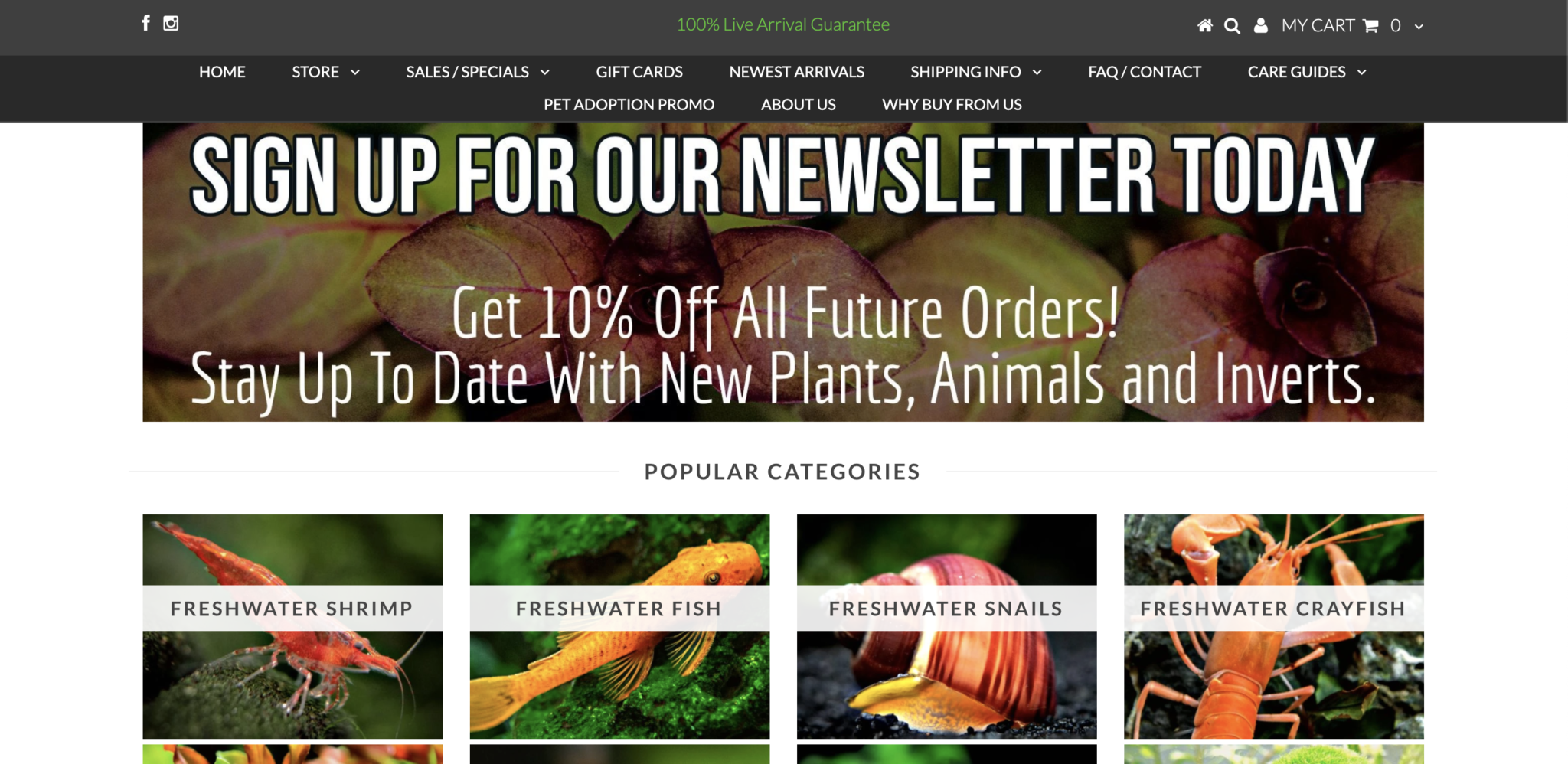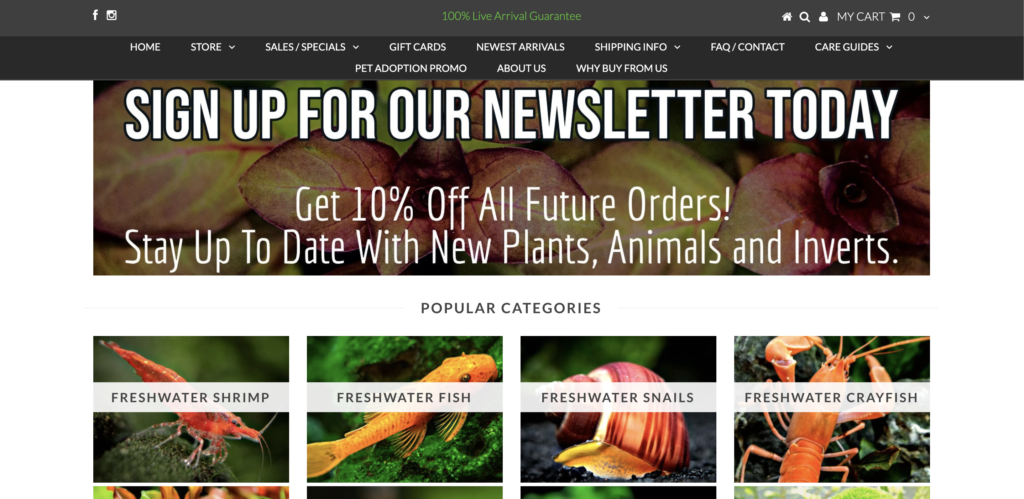 Aquatic Arts has one of the best selections of exotic freshwater fish, invertebrates, and plants on the internet. Based in Indiana, USA, they have been in business for over 7 years and are one of the largest online aquarium fish retailers in the country.
However they stand far apart from traditionally run wholesale outfits. For starters, each of their aquariums is run as a stand alone unit with no shared filtration systems. This keeps disease under control and allows each tank to maintain precisely the water conditions needed for specialty fish.
If you're looking for the latest aquarium fish discoveries from the far corners of the world or captive bred classics like Zebra Plecos, Cardinia freshwater shrimp, or rare Cichlid varieties, Aquatic Arts has something for everyone.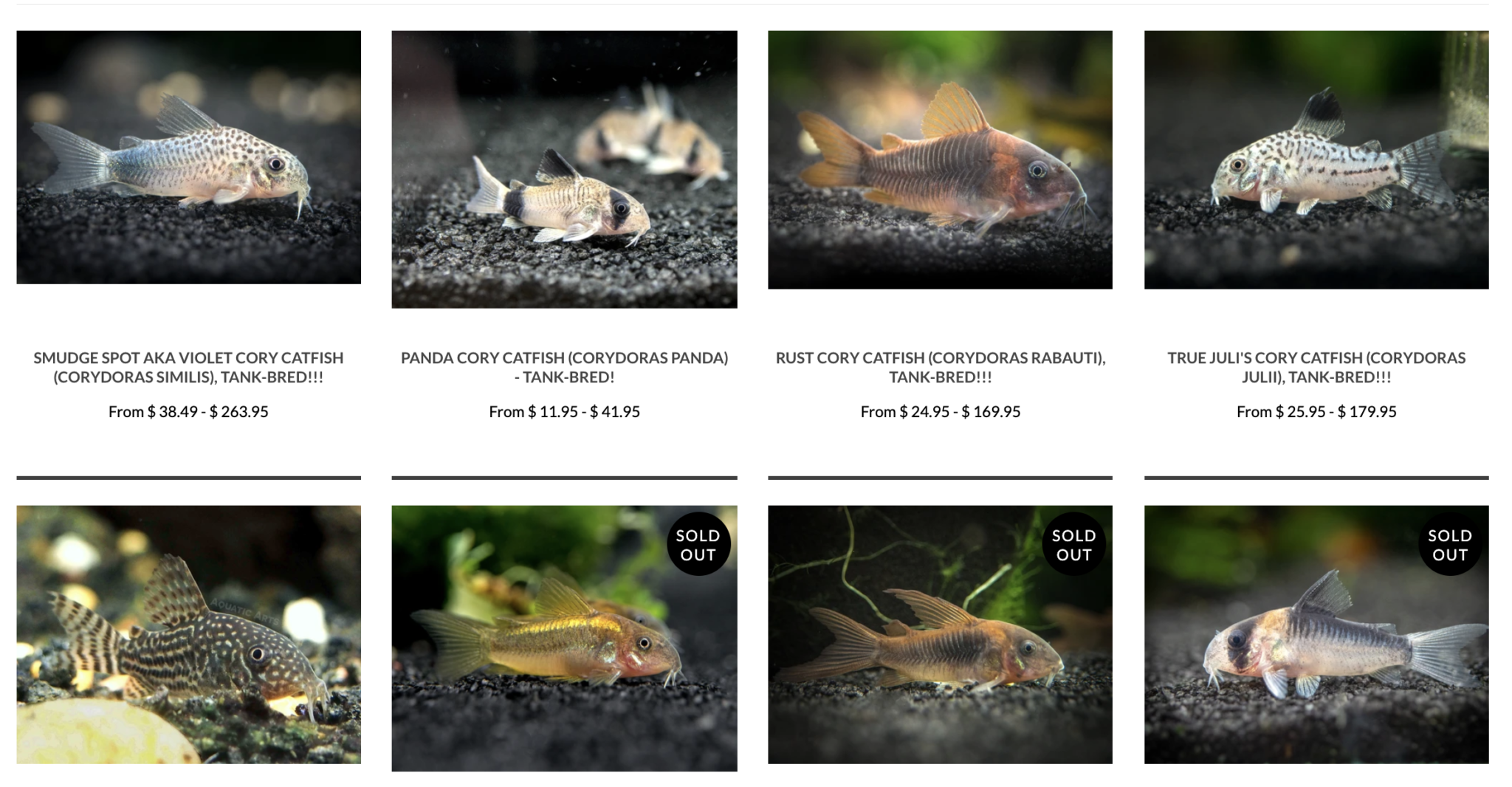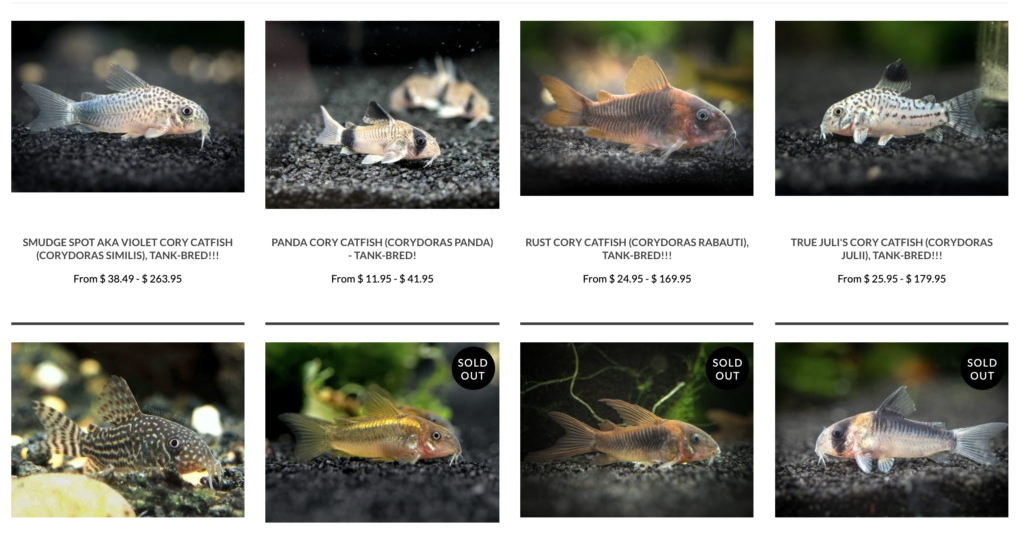 Their emphasis on quality means their prices do run a little higher than most distributors. However they are focused on providing mostly captive bred options of some of the rarest fish in the trade.
Aquatic Arts has very reasonable shipping prices considering the speed as well, with prices running from $15-30 for 1 to 2 day UPS Air service. As a result of choosing such a fast provider they have a live arrival guarantee for all of their animals! Aquatic Arts also offers a 15% discount on all orders of $200.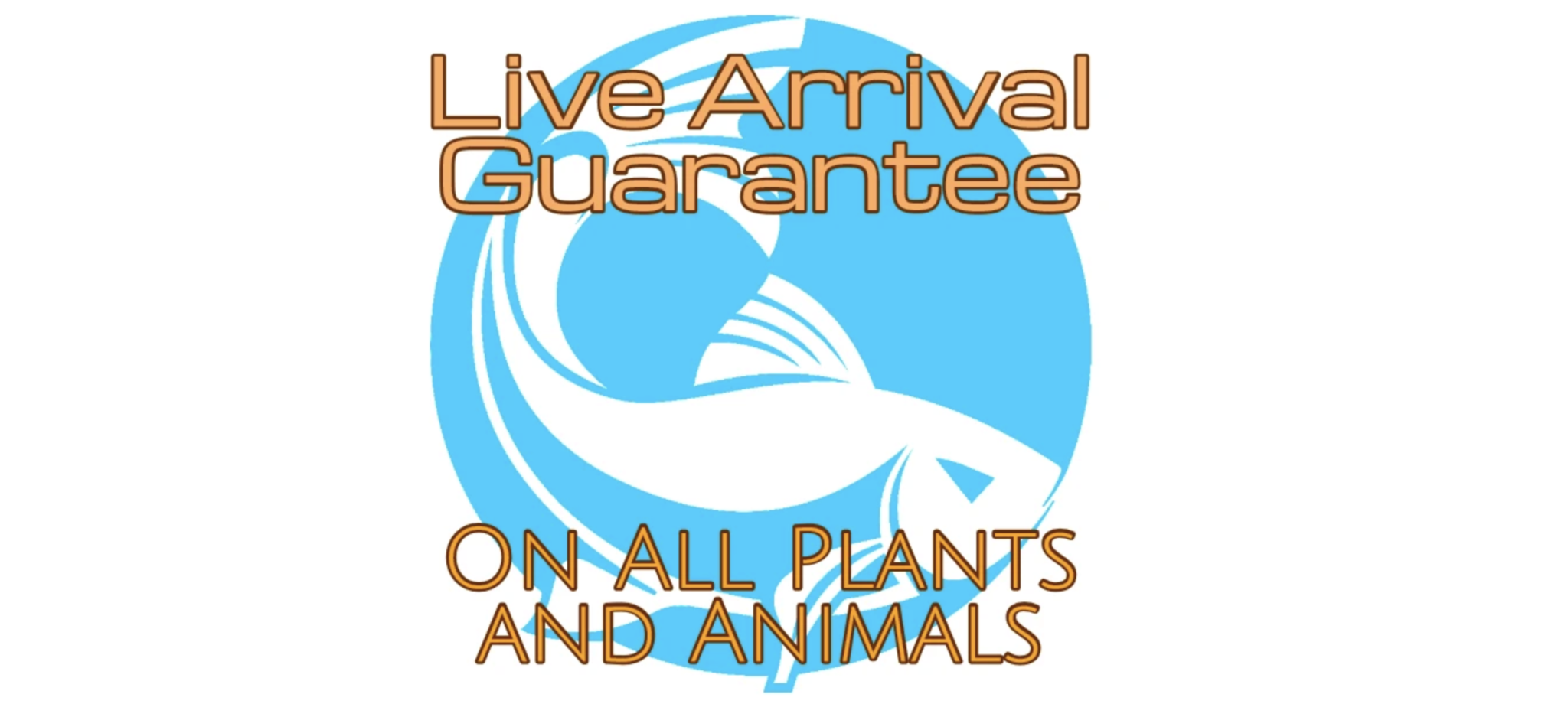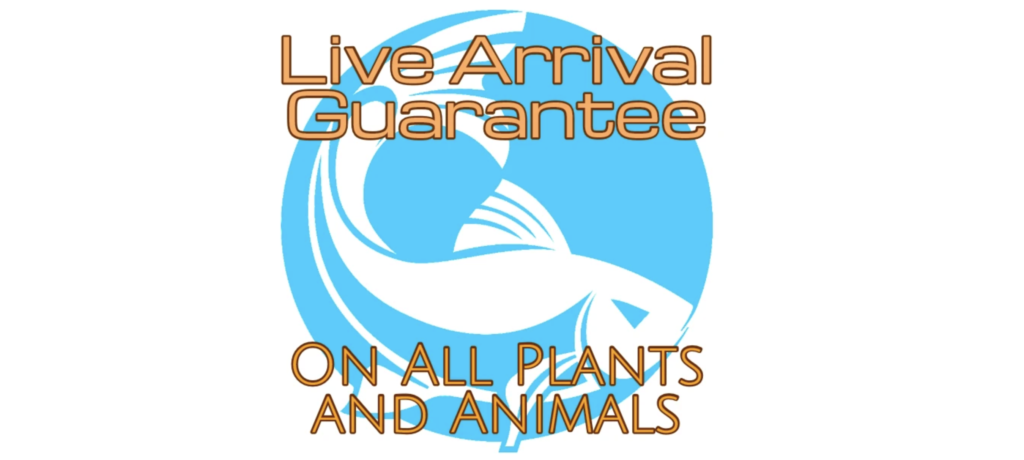 Given their focus on fish health, sustainability, and diversity, I'd gladly order from Aquatic Arts over a typical wholesaler that puts wild stocks in danger if I were looking for something out of the ordinary!
Aquatic Arts Online Checklist
Fish: Yes
Shrimp: Yes
Plants: Yes
Corals: No
Supplies: Yes
---
The Wet Spot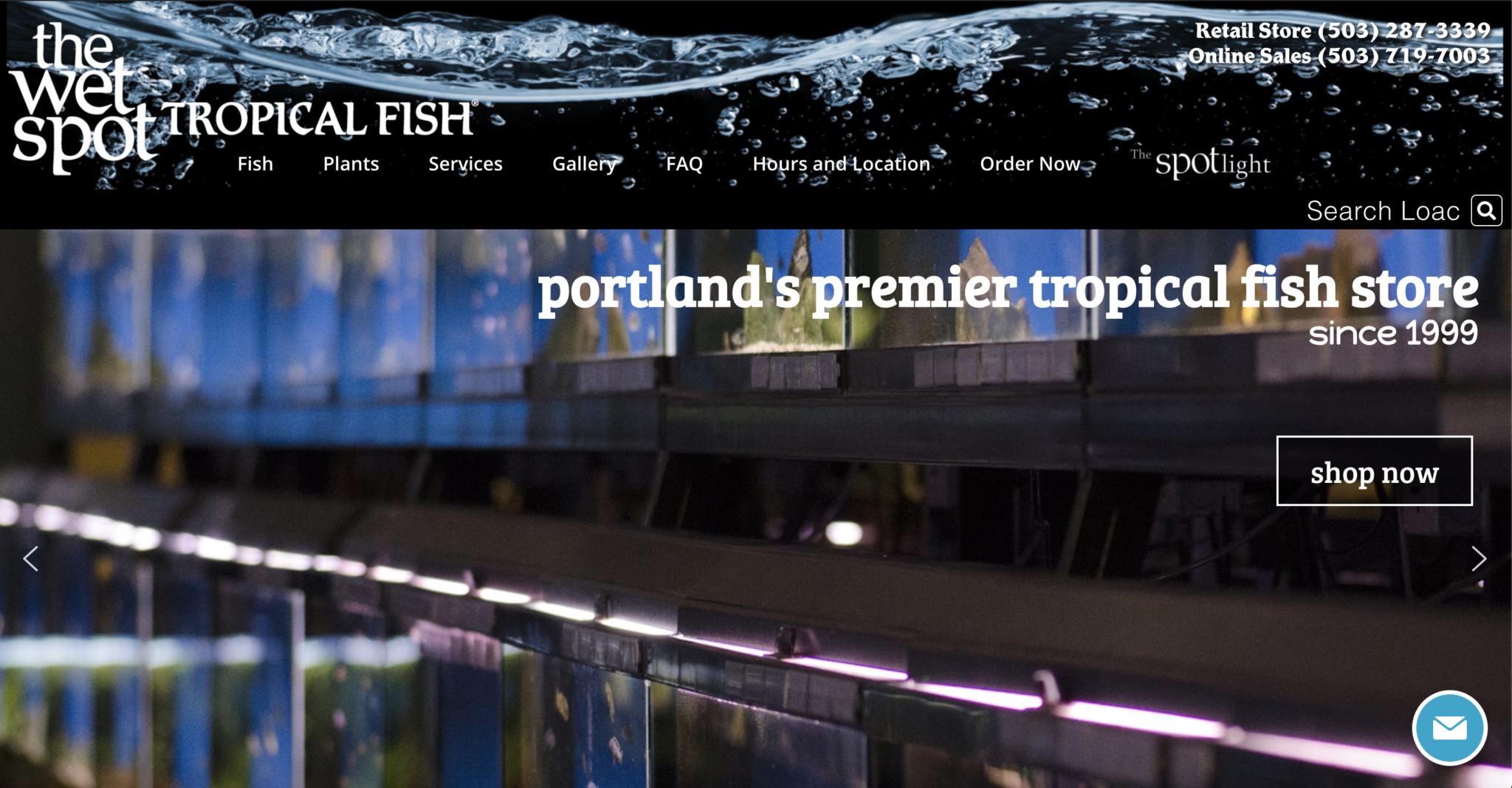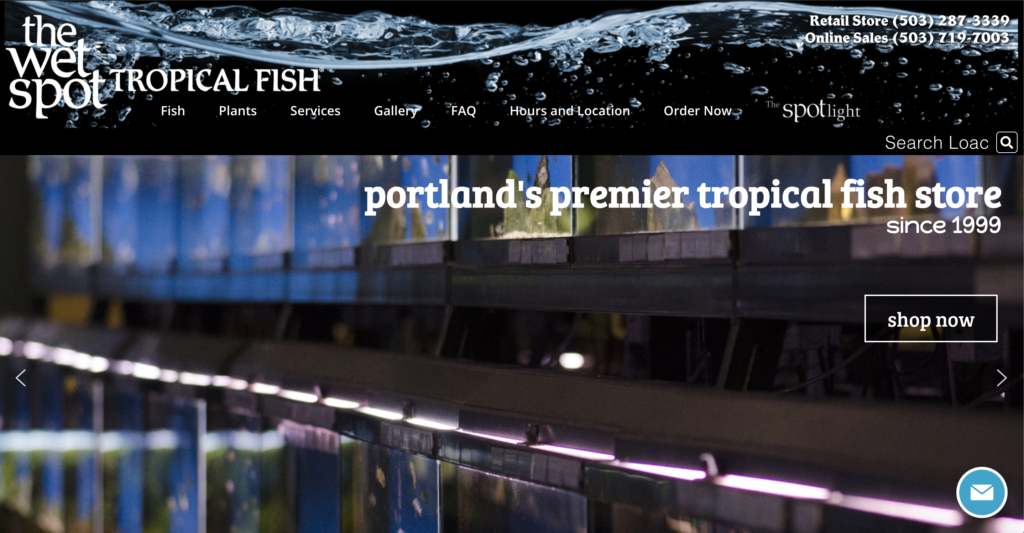 The Wet Spot Tropical Fish is a Portland-based brick and mortar store that's been in business since 1999. They've since expanded onto the virtual world and provide a diverse array of common and specialty fish.
If you're a fan of Cichlids, Tetras, and Catfish The Wet Spot is easily one of the best online fish stores! Each category tops a hundred species, including select wild caught Corydoras and tank raised Malawi Peacocks.
They do impose minimum orders on many of their smaller, less expensive fish, like Livebearers and Cyprinids, which may disrupt your plans if you simply want 1-3 additions to your current fish school.
The Wet Spot also has a nice selection of live plants – not as diverse as, say, Aquarium Plants Factory. But well balanced, carrying both high demand species like Anubias, exotics for specialist aquascapers, and even Paludarium favorites like Sundews.
Unlike many distributors The Wet Spot provides decent notes describing their collection, including precisely how many are in stock, whether they offer sexed pairs, and other relevant details.
Their Live Arrival guarantee isn't as generous as other distributors (some of whom provide 14-day guarantees) but does provide relief in case of dead on arrival specimens. They do have a few exemptions but only for known sensitive shippers like Stingrays and Discus.
The Wet Spot Online Checklist
Fish: Yes
Shrimp: Yes
Plants: Yes
Corals: No
Supplies: No
---
Imperial Tropicals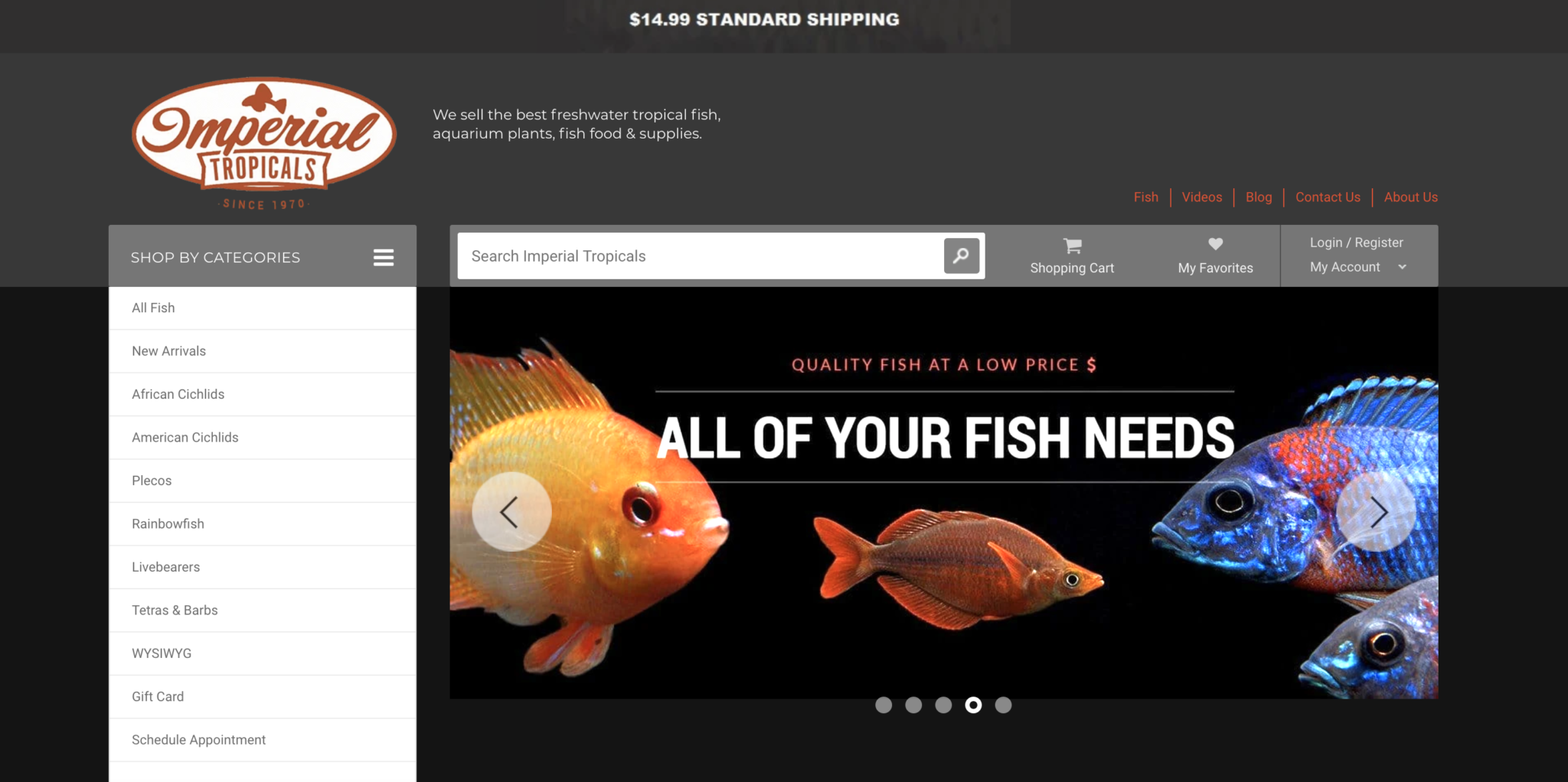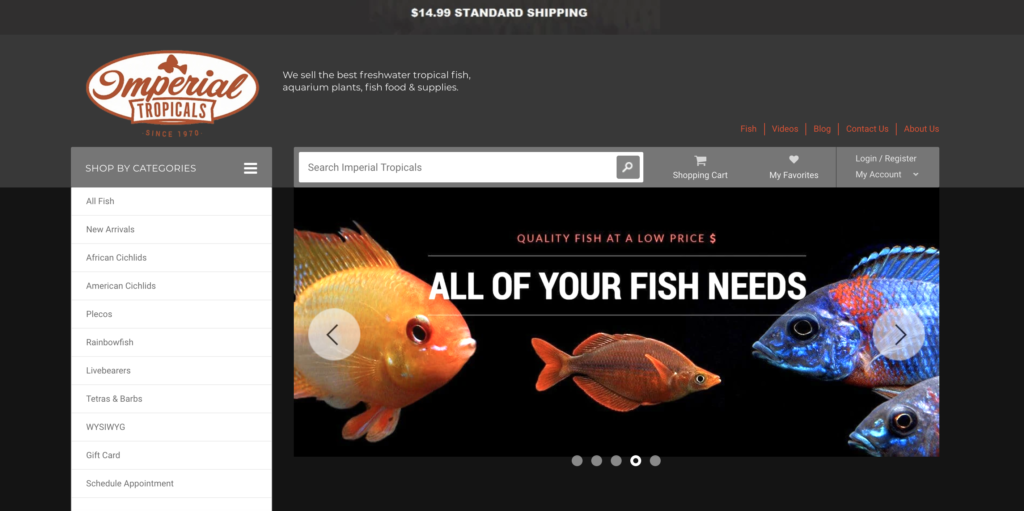 Lakeland, Florida-based Imperial Tropicals is an old name in the game. This family business was established in 1970 and is still going strong in 2020! In 50 years of wholesale experience they've managed to streamline their approach to perfection and have opened their doors to hobbyists via their website.
Residents of the Southeastern USA (AL, FL, GA, KY, LA, MS, NC, SC, TN, VA) will find their flat $14.99 shipping rate via UPS Ground especially affordable! Their Live Arrival Guarantee covers 100% of their stock so long as you provide photographic proof within 2 hours of receiving it.
If you're a fan of handpicked specimens and are unsure about buying fish online, their What You See Is What You Get (WYSIWYG) selection is right for you! Imperial Tropicals handpicks and photographs show quality Mbuna, rare Catfish, Discus breeding pairs, and other fish of interest they only carry one or two of!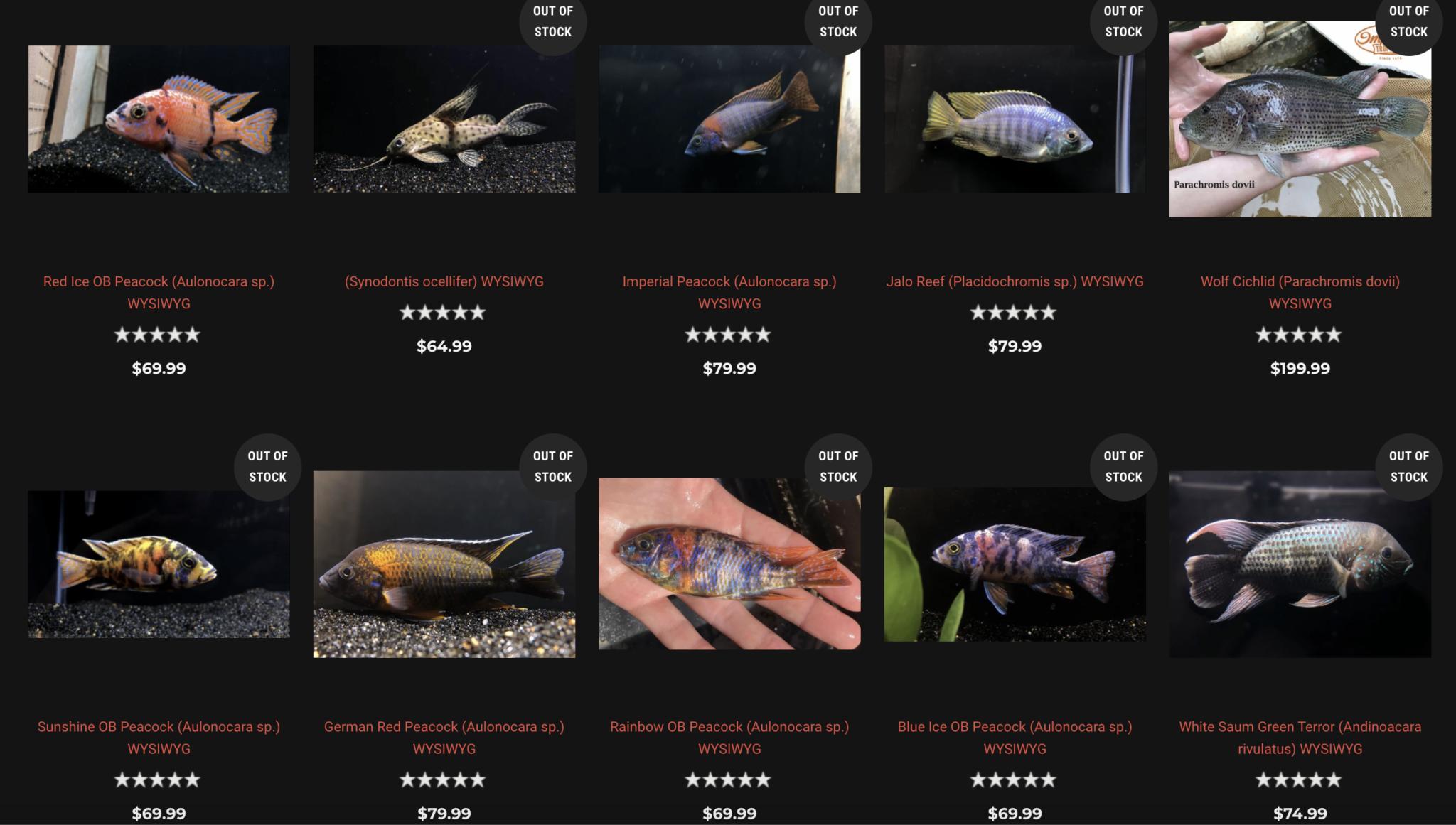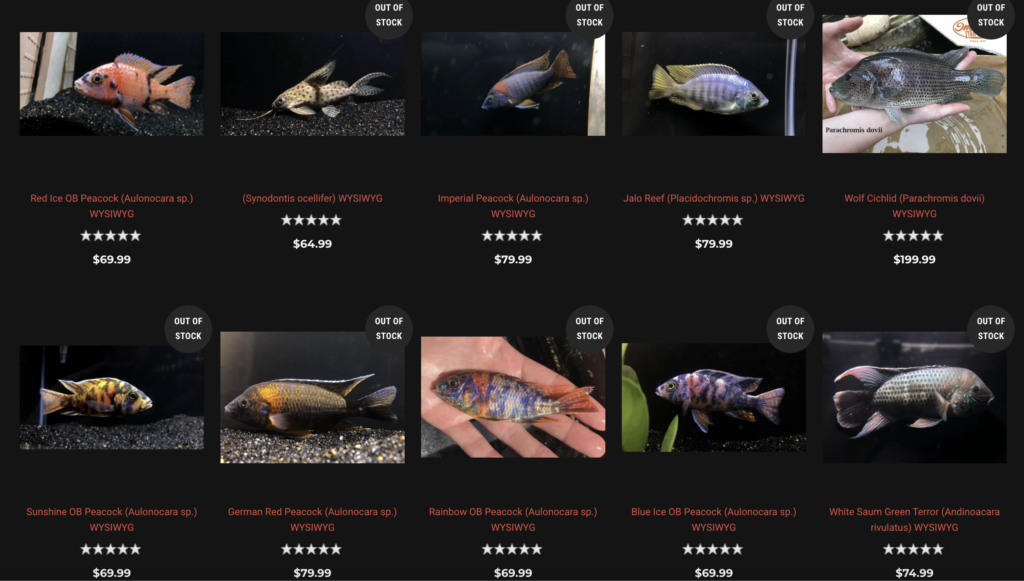 Aquatic plant lovers may be a bit disappointed; Imperial Tropicals has a robust selection of the most popular aquarium plants but relatively few exotics. Freshwater invertebrate keepers will have more to celebrate as they have several unique species, including Dwarf Crayfish and Nerite Snails on hand.
Imperial Tropicals also impressed me with their social media presence, providing videos and photos of their latest stock on their Facebook page as well as discount codes and care info!
Imperial Tropicals Online Checklist
Fish: Yes
Shrimp: Yes
Plants: Yes
Corals: No
Supplies: No
---
eBay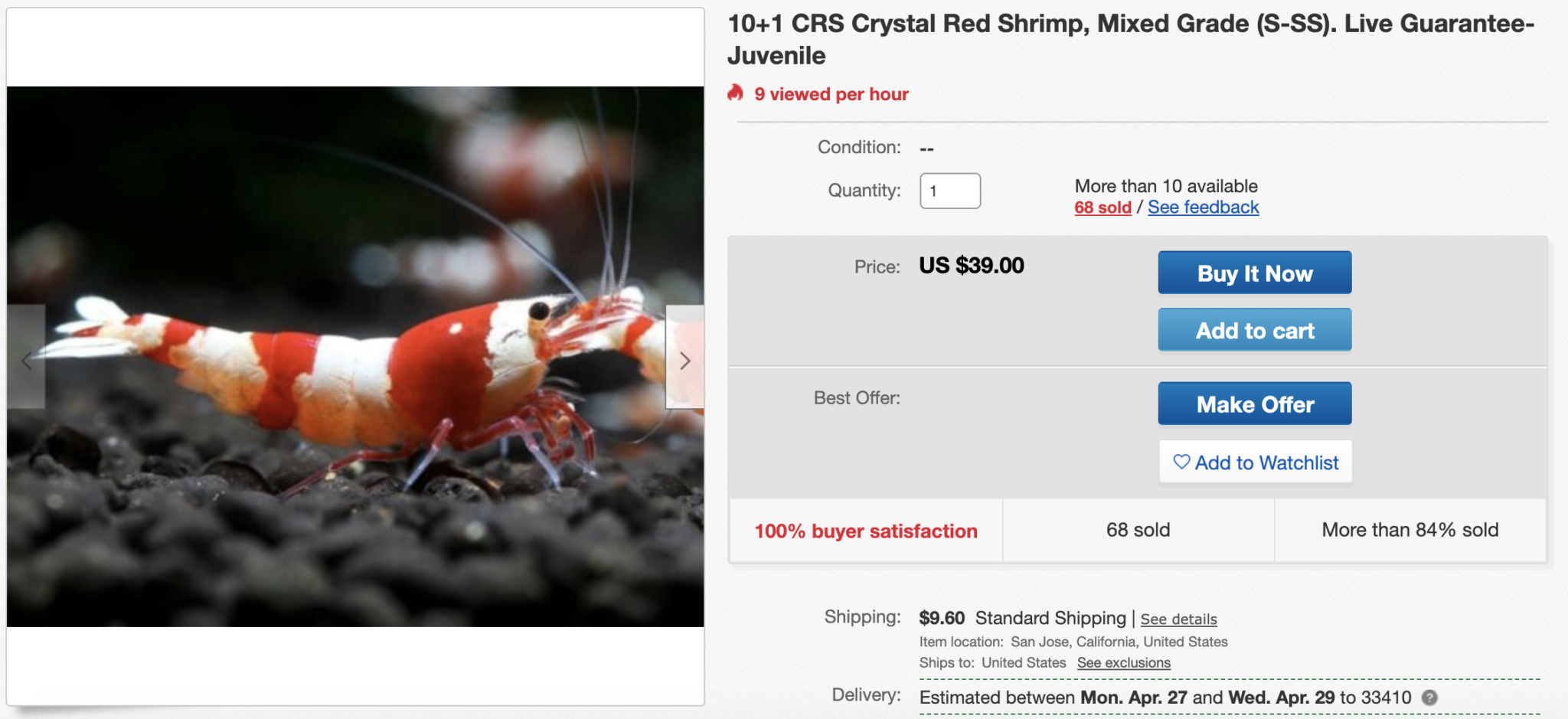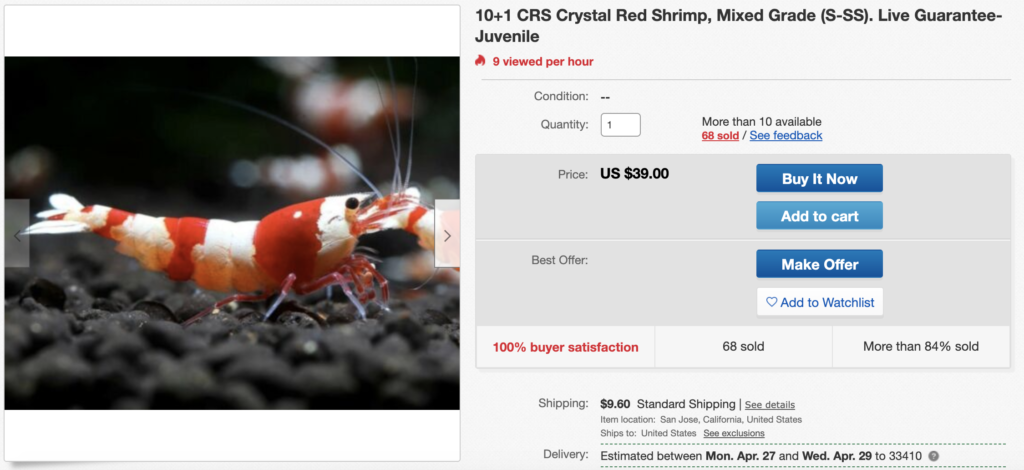 While eBay is well known as a place to buy literally anything people are often surprised to learn that there is an excellent selection of exotic fish for sale there! Breeders and wholesalers from all over the world have fish that even specialty aquarium stores have trouble sourcing.
If Bettas are what you love you can choose from hundreds of varieties shipped to your door straight from Thailand. African Cichlids, rare Plecos, and even peat filled tubs of annual Killifish eggs are all easily found and at very competitive prices.
Shipping through eBay is the only real concern as sellers may use any number of services, some of which may be rough on your fish.
Most sellers of exotic aquarium fish on eBay are professional wholesalers and breeders. However, the occasional hobbyists looking to sell a few young fish may not provide the insulation or higher oxygen levels required in case of shipping delays.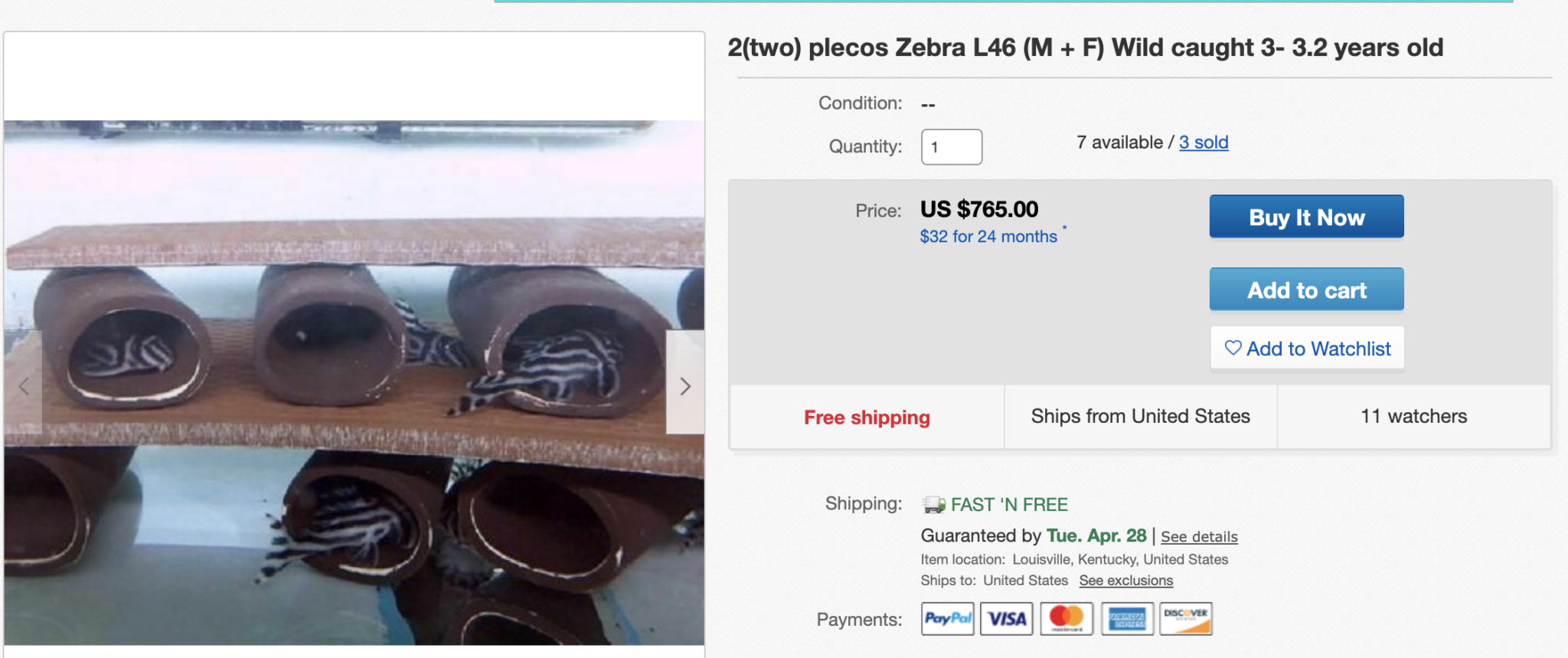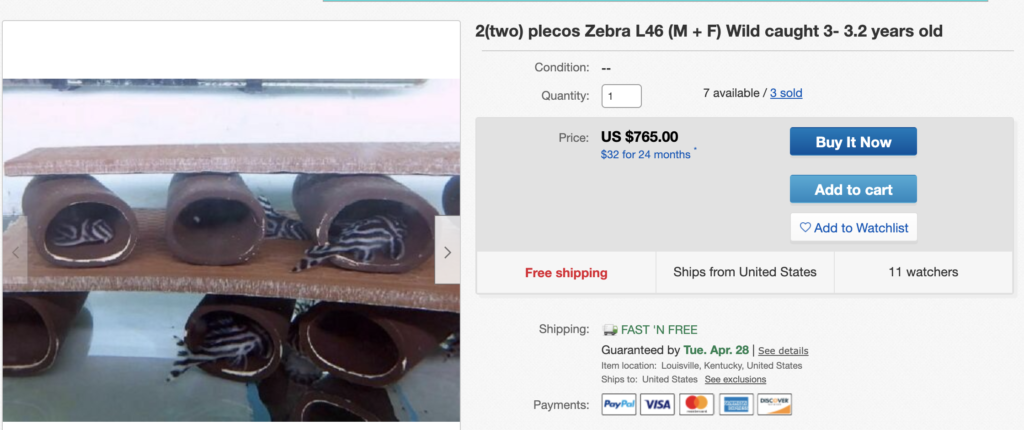 Checking seller feedback and any websites linked will help ease any anxiety you might feel over buying through eBay. Considering the reasonable prices, fast customer support, and niche fish available, it remains one of the best online fish stores!
eBay Online Checklist
Fish: Yes
Shrimp: Yes
Plants: Yes
Corals: Yes
Supplies: Yes
---
Aquarium Plants Factory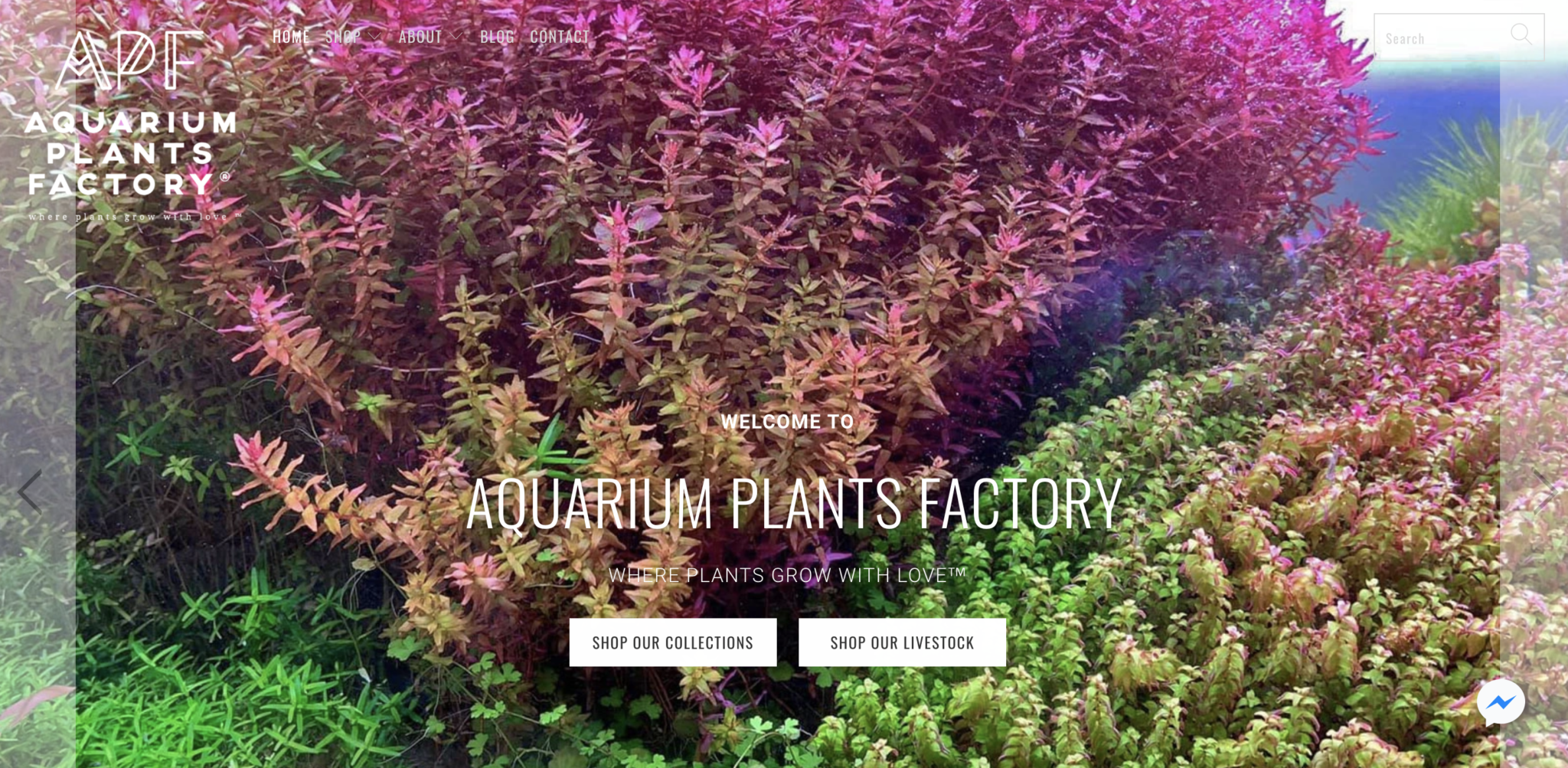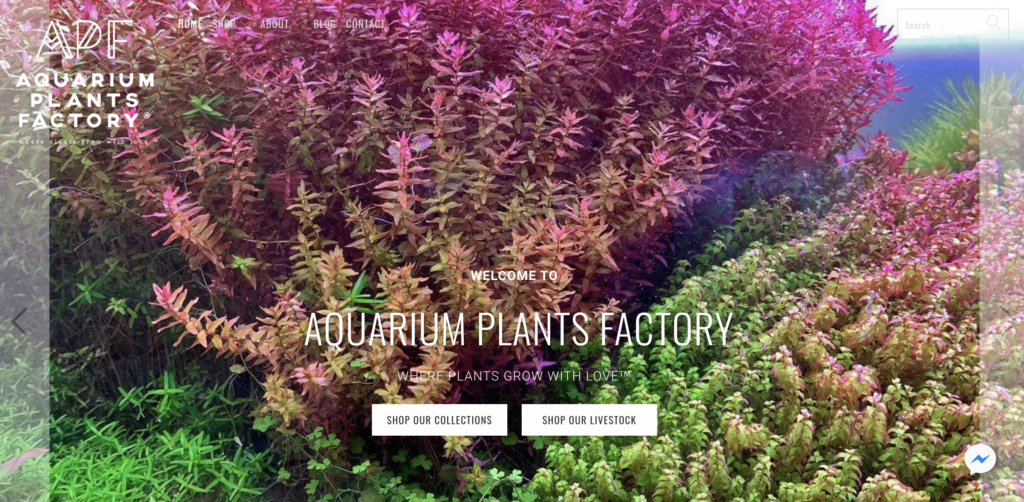 While they also provide fish and shrimp, Aquarium Plants Factory is the best place to buy aquarium plants (and corals) online that I've come across! They offer common species like Elodea and Micro Swords as well as rarities even specialty retailers don't usually carry, like Utricularia graminifolia and Madagascar Lace Plants.
Aquarium Plants Factory also offers a Buy 2 Get 1 Free deal on dozens of their aquatic plants. The deal includes all sorts of desirable species, including Anubias Nana var. Petite and Red Tiger Lotus bulbs.
If you need large numbers, Buy 2 Get 1 Free becomes Buy 4 get 2 Free, and so on, which makes aquascaping with carpeting and foreground plants significantly easier on the wallet! Shipping for plants is entirely free as well.
As an aquatic plant oriented distributor their livestock selection is smaller and tailored to plant-safe invertebrates for aquascapes. Unusual fish like Panda Loaches and invertebrates like Assassin Snails and Amano Shrimp are just a sampling of what's on offer!
Saltwater enthusiasts will also find their selection of stony and soft corals well worth a look. They have an excellent selection of captive aquacultured varieties as well, which are not only hardier but far more sustainable than wild harvested corals.
Aquarium Plants Factory Online Checklist
Fish: Yes
Shrimp: Yes
Plants: Yes
Corals: No
Supplies: Yes
---
Aquarium Co-Op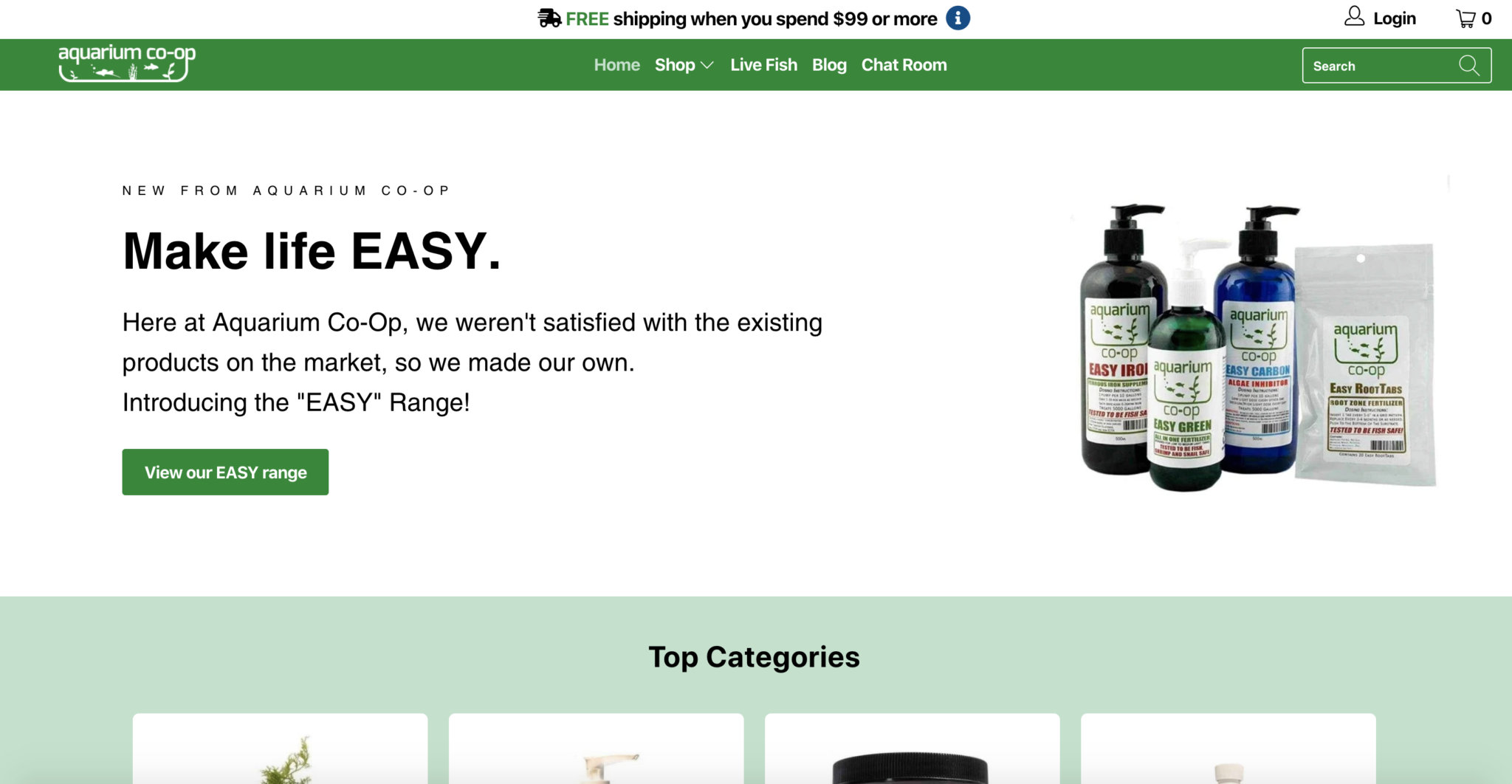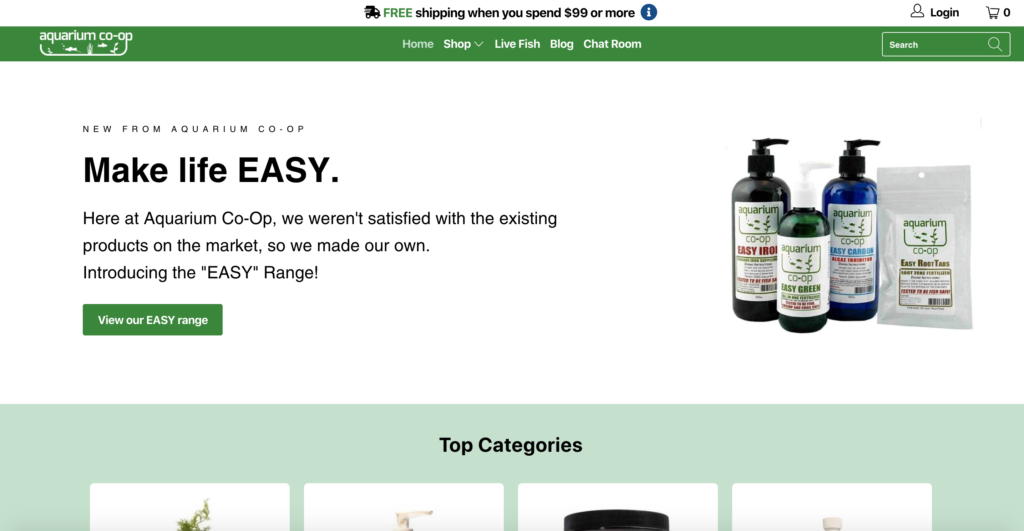 Aquarium Co-Op is one of my all time favorite brands in the fish-keeping community. Corey, the owner, is extremely transparent with his business and share a ton of awesome information on his YouTube channel. I highly recommend checking it out if you have any sort of interest in aquaria videos!
Their brick and mortar store also carries a wide selection of live aquarium fish, however online purchasing is not currently available.
One thing I like about Aquarium Co-Op is their commitment to product diversity. While they carry the typical selection of Tetra, MarineLand, and Hikari products they also carry niche brands that are often higher quality.
Looking at their Aquarium Fish Food selection we have access to insect based foods like Fluval Bug Bites and spirulina-based formulas if we want to avoid the standard wheat-based foods most retail stores provide.
I'm also very impressed with their plant selection as they carry a good balance of common and specialty varieties. Carpeting plant lovers will find gems like Monte Carlo and several moss species to sample. Aquascapers should take note of their pre-colonized decorations carrying Java and Christmas Moss.
They also specify the following: "*Our plants are held in tanks with algae eating snails, fish and shrimp." There's nothing worse than finding hair algae on newly purchased plants that then spreads to your aquarium!
Aquarium Co-Op Online Checklist
Fish: No
Shrimp: No
Plants: Yes
Corals: No
Supplies: Yes
---
The Shrimp Farm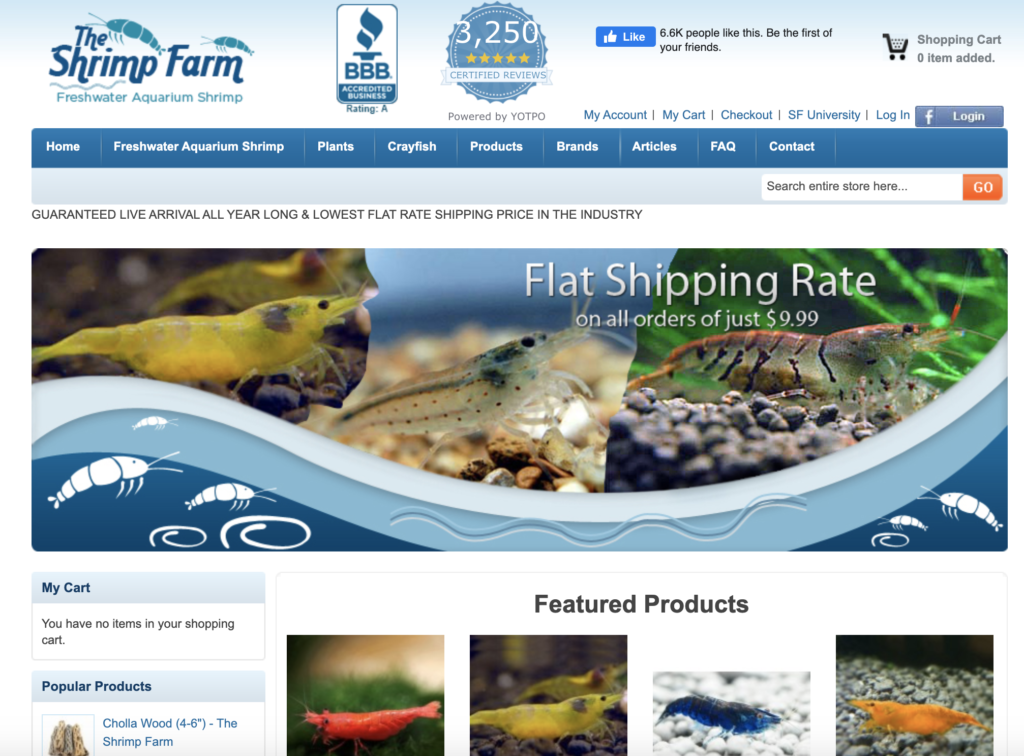 Lovers of Freshwater Dwarf Shrimp (Caridina and Neocaridina species) need look no further than The Shrimp Farm. With operations both in the USA (WA) and recently Canada, The Shrimp Farm is a specialty distributor for this growing aspect of the hobby!
The Shrimp Farm also carries shrimp-related supplies like feeding dishes, Indian Almond Leaves, and Azoo Shrimp Growth and Breeding formulas.
Given how small and numerous freshwater shrimp orders can be, The Shrimp Farm has a flat shipping rate of $9.99. This holds true regardless of order size and is the least expensive shipping rate for any online fish store selling live items!
In terms of species variety, The Shrimp Farm is unmatched by any of these distributors in variety save for Aquatic Arts, which also carries larger species like Bamboo and Vampire Shrimp. However Aquatic Arts has a higher shipping rate for their orders and tends to carry smaller numbers of each species.
Standard shipping orders take 1 to 3 days to arrive in most cases. And unlike other distributors The Shrimp Farm offers a full refund to your method of purchase rather than store credit in case of dead on arrivals.
The Shrimp Farm's website also contains a wealth of informative articles on feeding, breeding, compatibility, species profiles, and more!
The Shrimp Farm Online Checklist
Fish: No
Shrimp: Yes
Plants: Yes
Corals: No
Supplies: Yes
---
Aquabid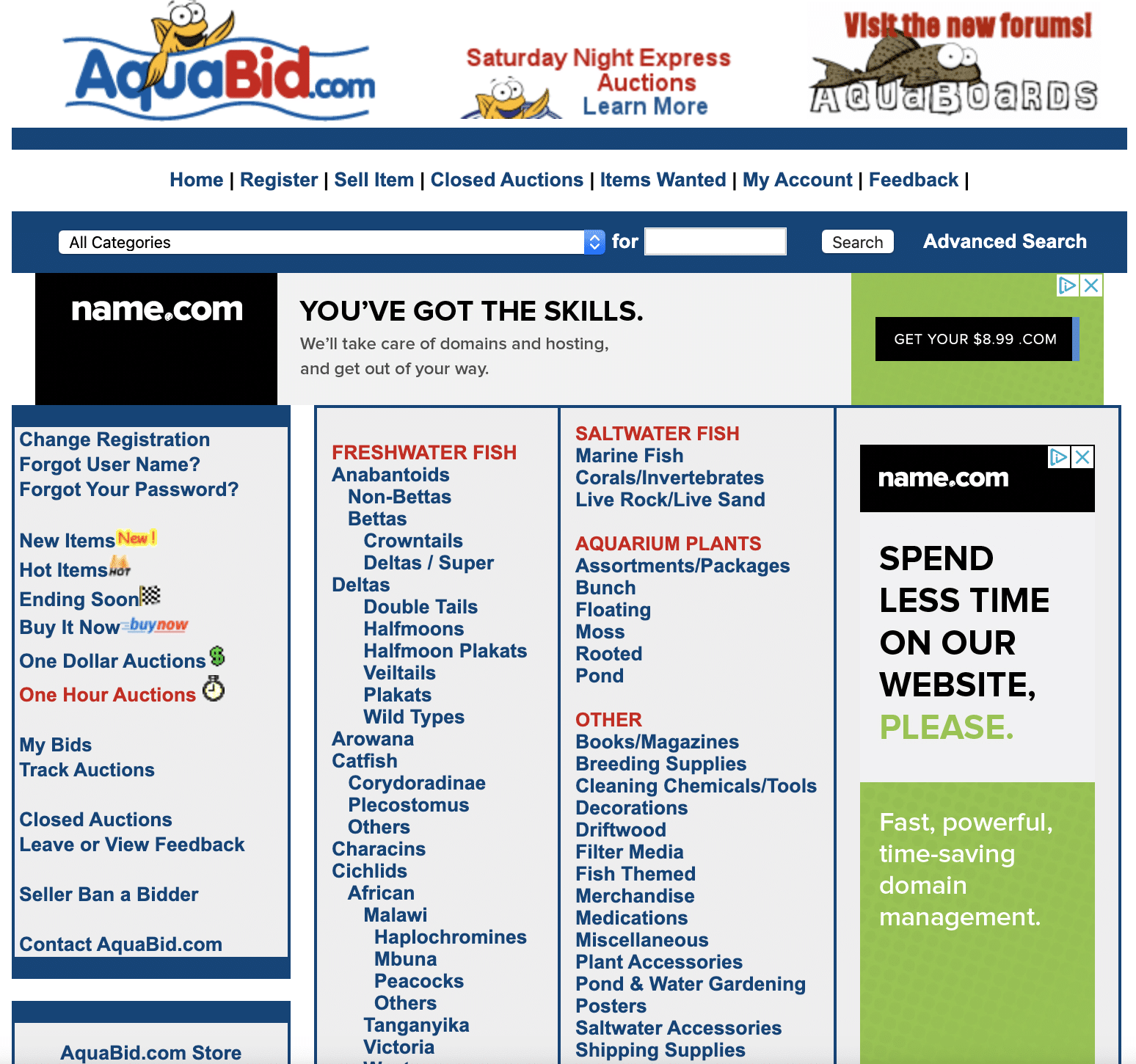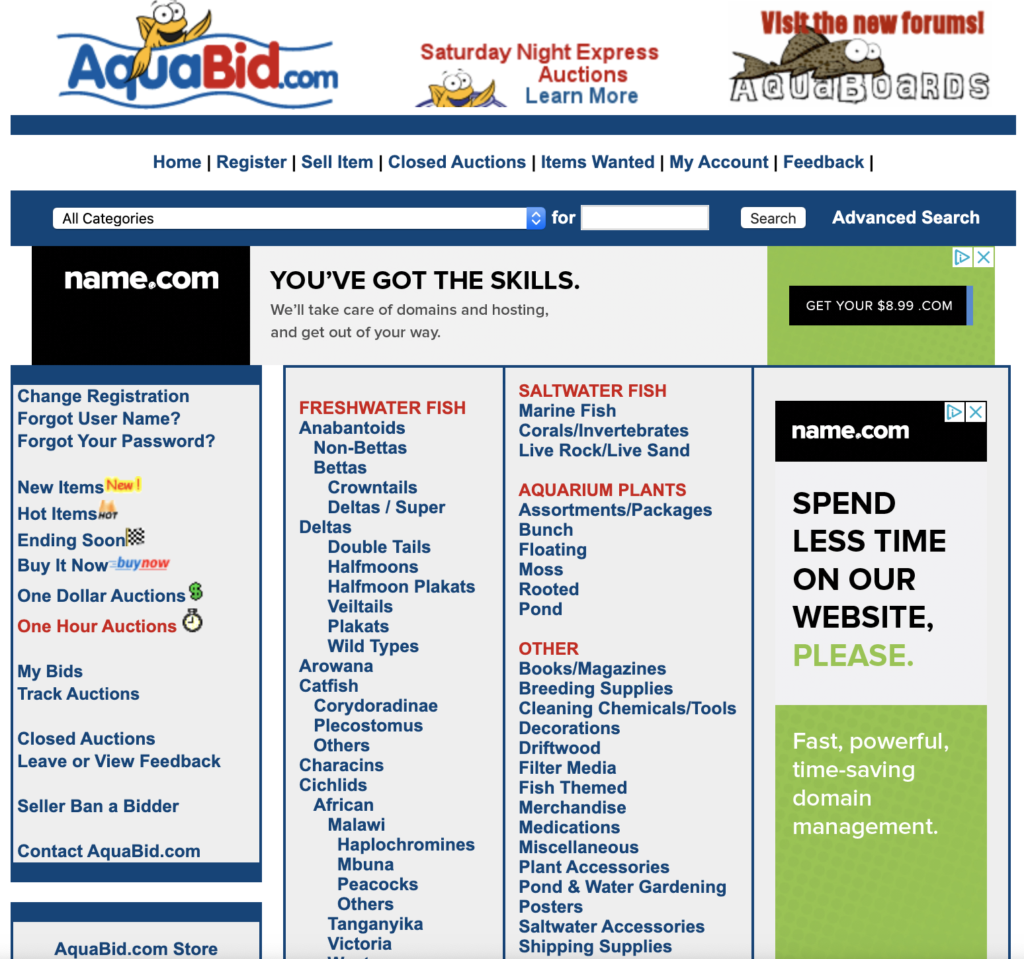 In terms of sheer variety Aquabid is definitely one of the best online fish stores! Unfortunately their saltwater fish selection is severely lacking but you can find a little of literally every fish category here.
Fancy Bettas straight from Thailand, wild South American Cichlids, rare Killifish varieties, and even US native fish can all be found on Aquabid.
Naturally, prices vary since it is an auction-based website. However many sellers set their opening bid as the Buy It Now price, effectively making it an instant purchase rather than an auction.
Shipping rates and guarantees also vary depending on the seller and locations involved. Keep in mind that rates can often be higher on Aquabid. Many sellers are hobbyists who don't have the volume discounts on supplies and shipping that wholesalers do.
Aquabid sellers also tend to offer a wider selection of uncommon plants, including specialty mosses and bulb species.
Like eBay, you have access to seller reviews, easing anxiety for first time buyers, as well as details on their location. Most wholesalers provide photos not only of the exact fish for sale but photos of their facilities as well.
Aquabid carries supplies as well, from test kits and heaters to pumps and fish food. This is truly a one stop shop for all things aquarium related, so long as you don't mind a little haggling!
Aquabid Online Checklist
Fish: Yes
Shrimp: Yes
Plants: Yes
Corals: Yes
Supplies: Yes
---
Chewy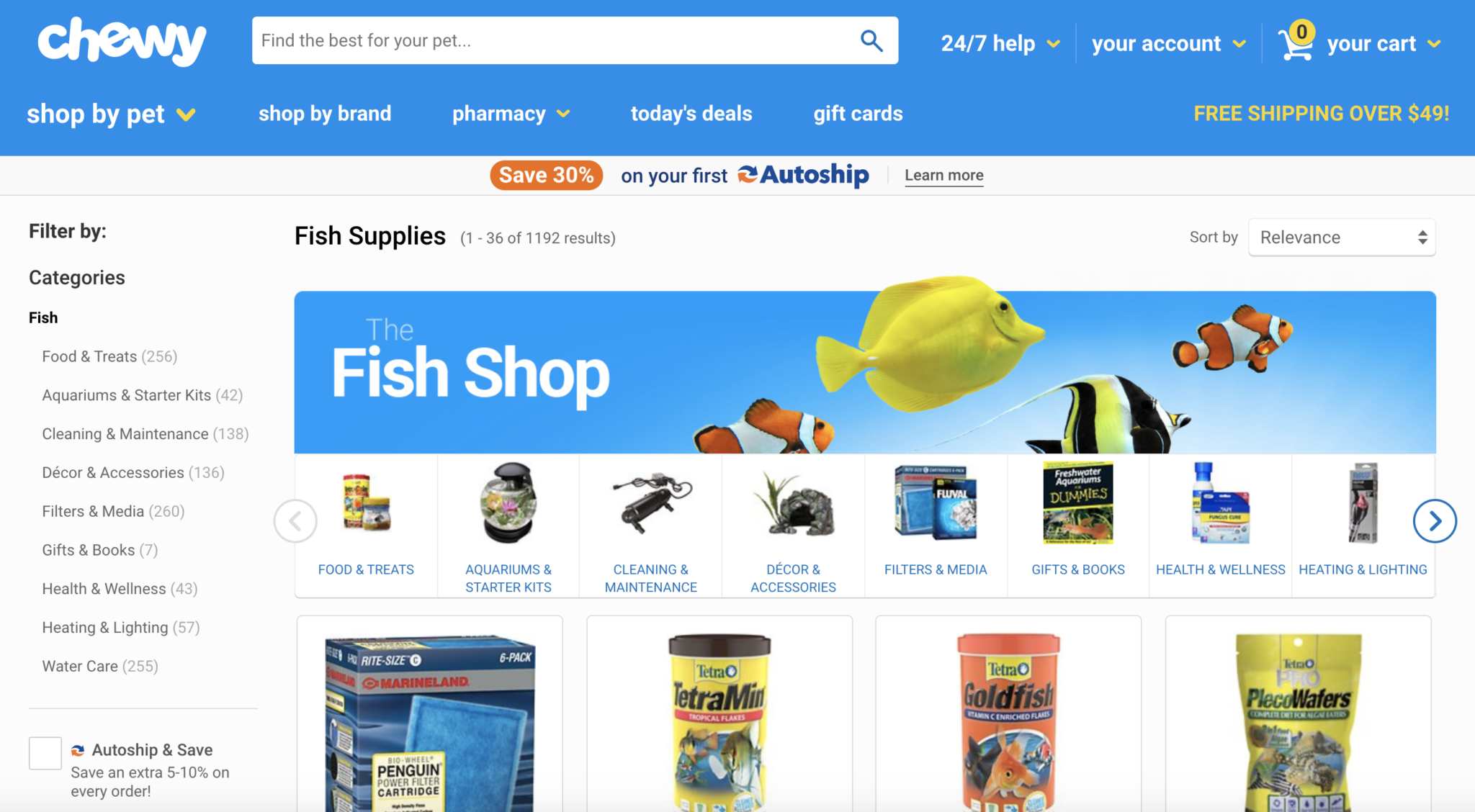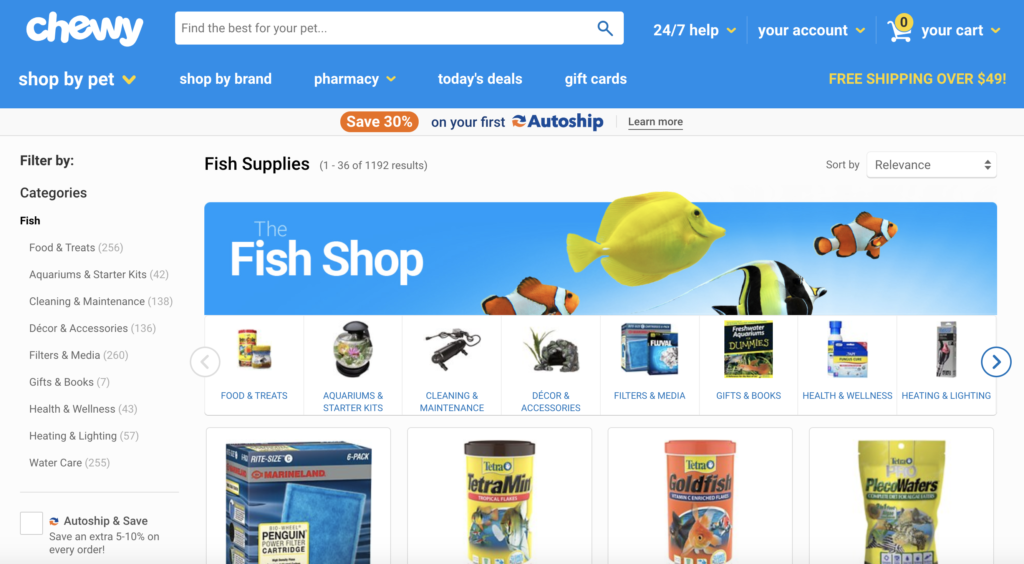 Chewy is one of the largest providers of pet supplies in the country, with 15 physical locations across the USA stocking over 2000 different product brands.
Chewy's team of online experts is unique among online pet stores in offering 24/7 assistance to customers uncertain on which product to go with or how to checkout.
Chewy organizes their immense fish supplies category by brand, item type, specific kinds of fish, and other metrics that make it easy for shoppers to hone in on what they need. Their selection includes standard items like food and filters as well as specialty goods like protein skimmers and pond pumps.
If you happen to own pets besides fish Chewy has your dog, cat, reptile, bird, and horse needs covered as well. They also provide free shipping on order over $49!
Their 100% Unconditional Satisfaction Guaranteed Policy is especially generous as they will honor returns even if you try a product and it turns out your pets are less than impressed with it.
Unfortunately, they don't carry live fish, plants, or corals. Chewy is the supply depot of choice for thousands of pet owners looking for the widest selection and best prices!
Chewy Online Checklist
Fish: No
Shrimp: No
Plants: No
Corals: No
Supplies: Yes
---
MarineDepot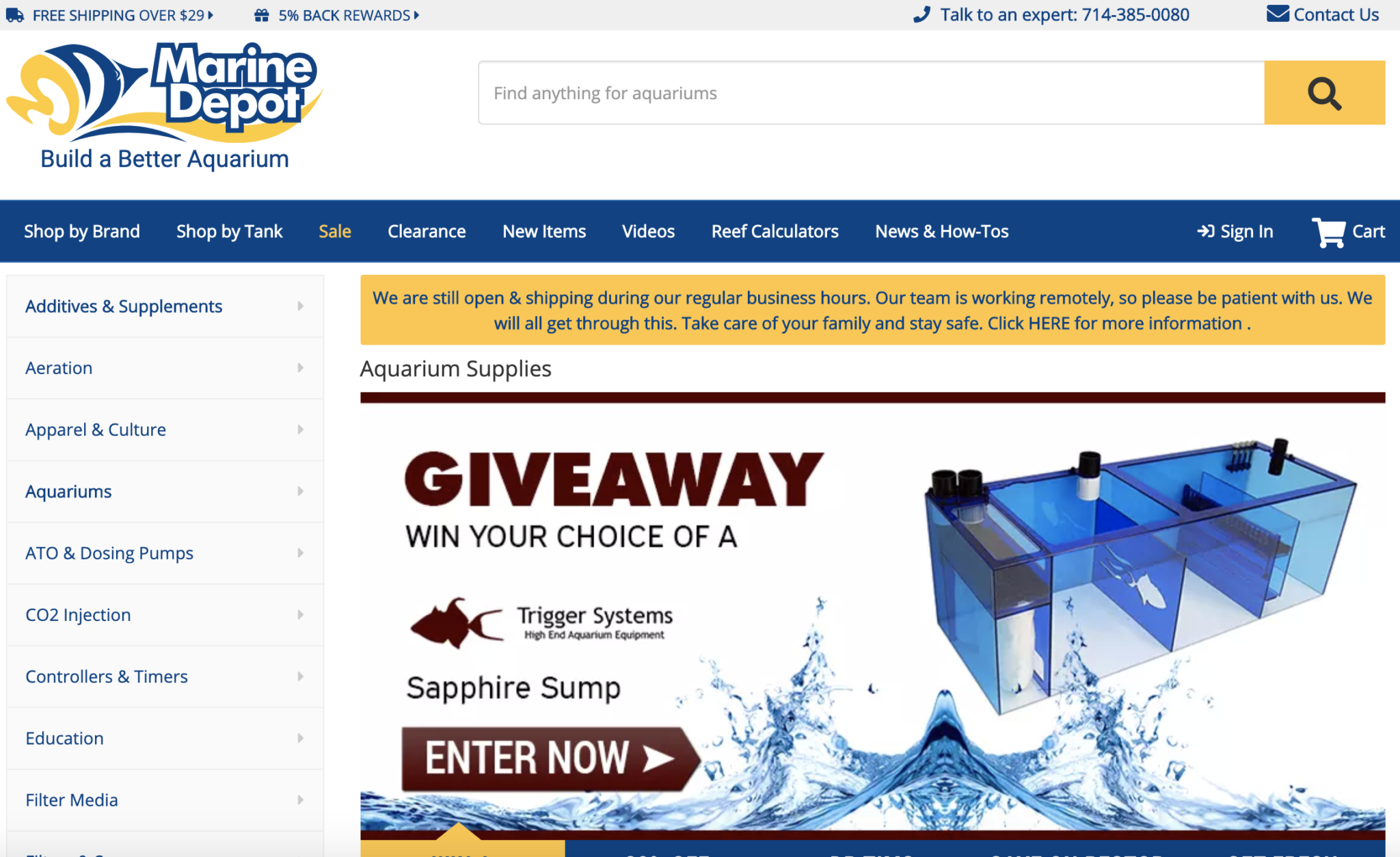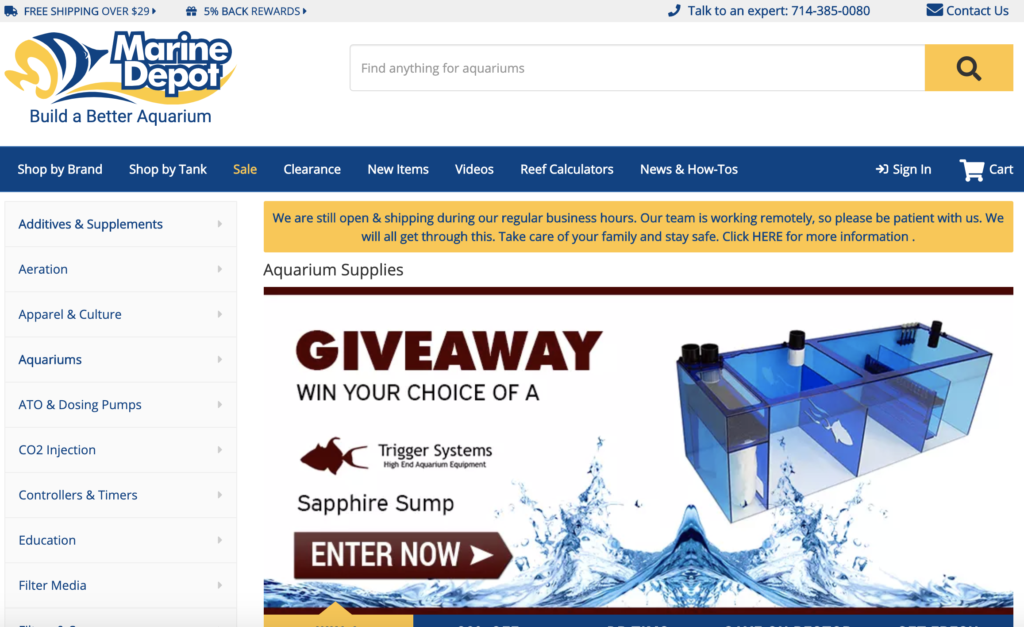 California-based MarineDepot is the best online fish store for fresh and saltwater aquarists looking for both common and specialty goods. Marine Angelfish sponge-based formulas, chillers, CO2 injectors, and other products hard to find at your local fish store are all in stock here!
For aquarists who know they need a large selection of items for a new reef setup but aren't quite sure what, MarineDepot has Reef Tank Packages laid out. Instead of having to call you can add their recommended lighting, skimmer, filter, etc for your tank size straight to your cart.
Another attractive aspect to MarineDepot is their easy to understand shipping policy. Orders under $29 have a flat $2.99 fee and anything over is shipped free via Standard speed. Orders over $250 are instead Expedited for free!
Regular shoppers will definitely want to sign up for their Rewards Program as well, offering %5 back on future purchases!
MarineDepot Online Checklist
Fish: No
Shrimp: No
Plants: No
Corals: No
Supplies: Yes
---
Bulk Reef Supply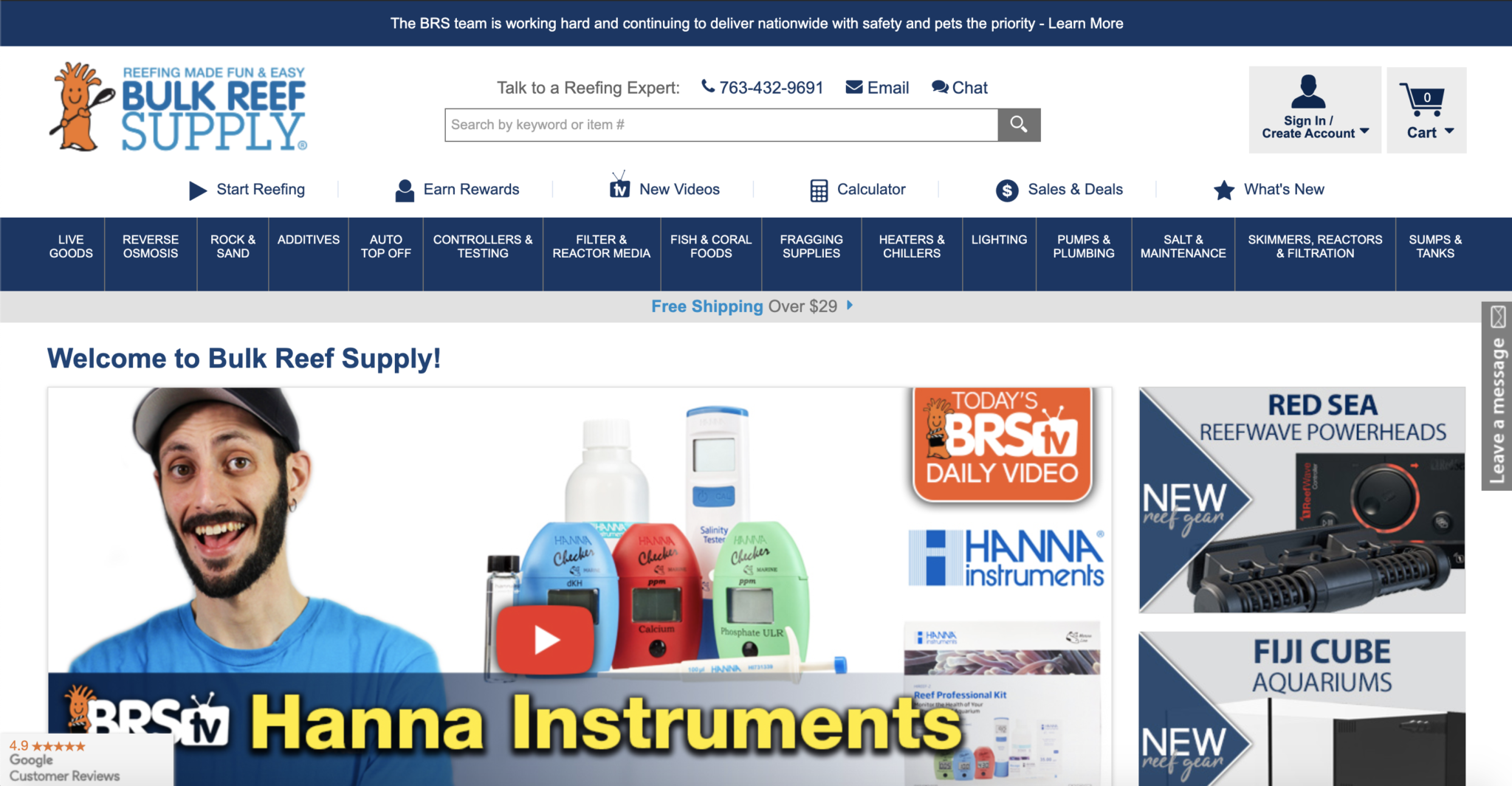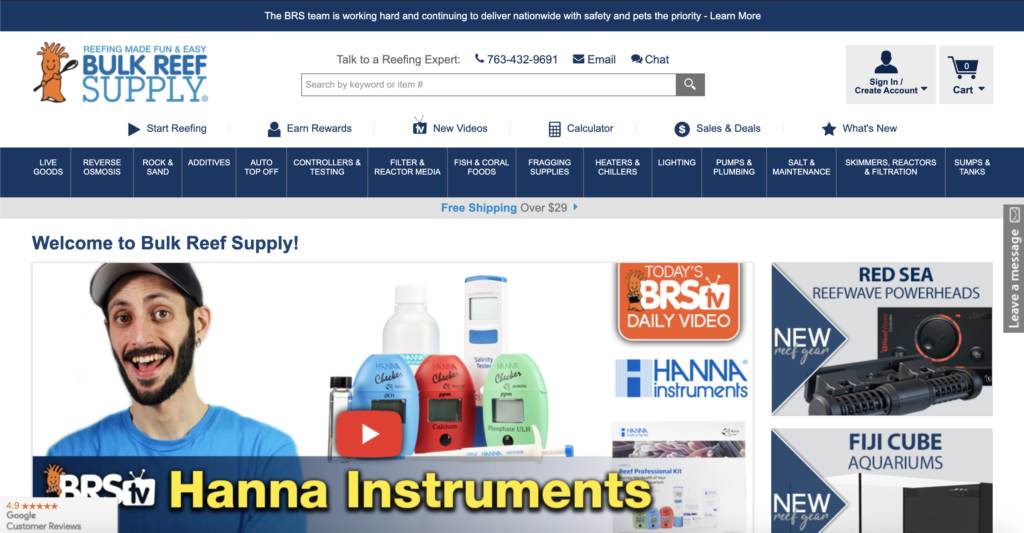 Bulk Reef Supply is a Minnesota-based business in operation since 2007. They offer an incredible array of saltwater reef oriented supplies – literally everything from aquariums to food are on offer through them!
For each product section Bulk Reef Supply also offers educational videos on how to set up a biopellet reactor, programming your automatic feeder, and other useful topics. Their video selection covers subjects ranging from beginner to expert level, offering something to all audiences.
And like a few of the other online fish stores here Bulk Reef Supply offers 5% cashback on future orders!
If you're looking for live goods Bulk Reef Supply has a good selection but isn't on par with wholesalers like Live Aquaria. They don't carry live fish but they are one of the best places to find both macro and coralline algae. They also offer several live coral packs!
Bulk Reef Supply Online Checklist
Fish: No
Shrimp: No
Plants: Yes (Macroalgae)
Corals: Yes
Supplies: Yes