Goldfish are some of the most popular fish in the world for very good reason. Beautiful, easy to care for, and very long lived, there are few fish more pleasing! While every local pet store is likely to have a few, sometimes they simply won't have the color or shape you're after. In that case, let's explore the 10 best places to buy goldfish online!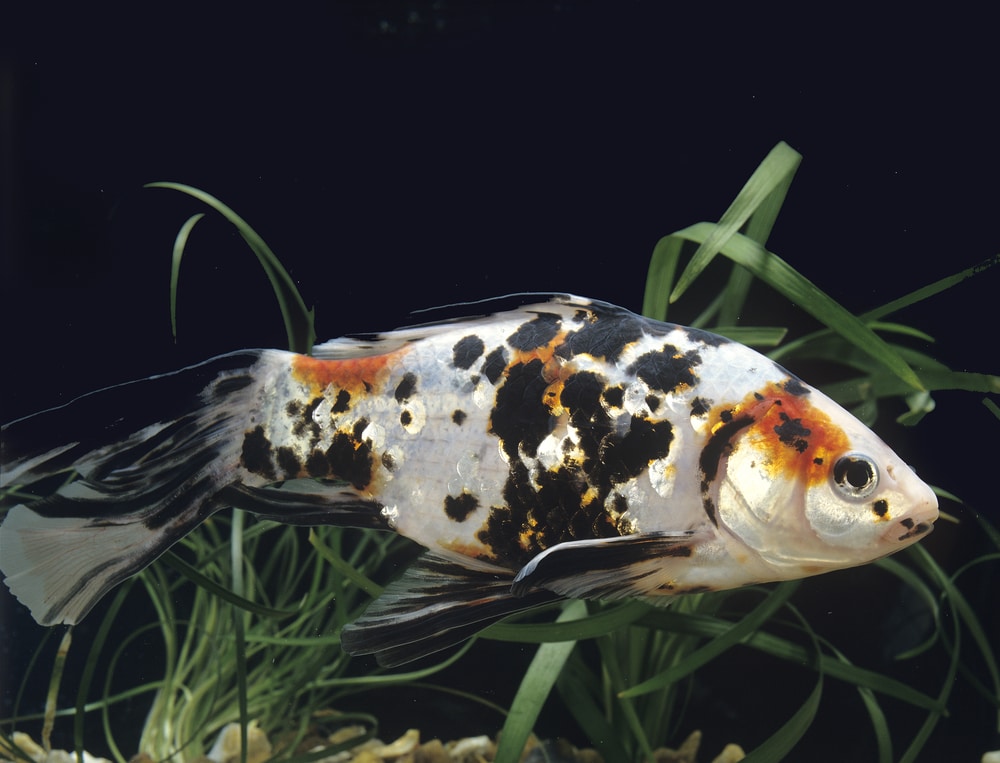 Best Places to Buy Goldfish Online
As popular as goldfish are there are tons of great outlets for buying goldfish online. Whether you're interested more in common goldfish at a good price or ultra-rare imports from Asia, there's something for every fish keeper in this list!
Goldfish Island
Goldfish Island has been operating in the Boston, Massachusetts region since 1989! The storefront was founded by Sheldon Yong under the name of Aqua World Aquarium. Their success catering to Boston goldfish lovers has enabled them to not only rebrand but shift to a larger facility in 2011 to handle the volume of orders they take in.
Goldfish Island works with farms and specialty breeders across Asia to import the best bloodlines to the United States. All of their fish undergo an extensive 15-30 day quarantine procedure where they receive medication, enriched foods, and are observed to ensure they are healthy and ready for sale.
They are one of the best places to buy goldfish online if you're looking for highly unusual breeds that you'd never encounter in a pet store. Thai Goldfish are highly in demand right now and they carry several lineages imported straight from Thailand. Their prices also range from $20-30 goldfish to sexed, breeder goldfish with fine lineages that cost hundreds of dollars each.
And if you're in need of fish care products they carry the entire Hikari line of Goldfish pellets as well as API Melafix and other medications.
LiveAquaria.com
When it comes to buying any kind of fish online, it's hard not to bring LiveAquaria.com into the discussion. They are one of, if not the largest online retailers in the country and have an astounding collection of not only goldfish but cichlids, tetras, corals, and fish supplies.
LiveAquaria.com has an extensive collection but features all of the more common breeds, including Pearlscales, Black Moors, Orandas, and other fish you'd typically find at your local pet store. They do carry a few uncommon varieties, including Blue and Red Cap Orandas, however.
They also have a highly popular Diver's Den where the fish on display are WYSIWYG (what you see is what you get). Any goldfish that are listed here are individuals on sale, meaning the photo is of the exact fish! This takes out a lot of the uncertainty involved in buying fish online.
LiveAquaria.com also rewards frequent shoppers with a 5% cash back program. And any orders that are over $149 receive free shipping! Considering you're often paying $40-60 to ship most goldfish orders it makes perfect sense to instead spend that cash on some extra livestock!
Coast Gem USA
Based in Chula Vista, CA, Coast Gem USA specializes in betta sales as well as fancy goldfish. They source most of their fish from Thailand and China where the highest quality imports can be found.
Coast Gem is a smaller brick and mortar store and therefore chooses to avoid common varieties in favor of breeds that can't be found anywhere else in the country. The Thai Kirin Demekin, Lemon Ranchus, Super Black Ranchus, and other stunning goldfish are what they carry. Just know that you're paying appropriate prices for such rare specimens.
I also find Coast Gem USA's live arrival guarantee to be one of the best in the industry because it covers not only their overnight air option but also the 2-3 day shipping. You have a 2 hour window in which to provide photographic evidence of a dead on arrival fish. Coast Gem will then provide you credit minus the shipping fees towards your next purchase; a solid compromise!
Dandy Orandas
Dandy Orandas is a Clarkston, Michigan-based operation that's been in business for over 20 years now. They've partnered up with several breeders based in Asia and even have exclusive importing rights, ensuring they carry some of the most unusual and hard to find goldfish around!
Thanks to their month long quarantine period, every incoming fish is screened for parasites, buoyancy, vigor, eating habits, and more. They are allowed to fully recover from their international journey before being placed on sale through their website.
Unlike many of the other places to buy goldfish online listed here, Dandy Orandas is an auction house. You have the opportunity to bid on each fish, which may drive the price high – or give you a bargain price on a specimen no one else is interested in. If you're interested in WYSIWYG purchase then fish auctions are a great way to ensure there are no surprises in terms of size, appearance, or sex.
King Koi and Goldfish
If Asian imports are what you prefer then the website of King Koi and Goldfish is well worth browsing. They import specialty koi breeds from Japan as well as high-end goldfish from China and Thailand.
They pick the finest specimens from over 20 Asian fish farms and quarantine all of their livestock to ensure good health before passing them onto you. I do like that they spell out the entirety of what goes into their quarantine process, from the specific medications used to the timetable. This gives buyers extra confidence in King Koi and Goldfish's process. 
While their retail store was fairly recently opened in 2016 their family-owned aquarium fish business has 30 years of history backing it! In order to minimize any chance of cross-contamination, they currently operate four facilities in total; 1 quarantine facility, 2 holding facilities, and 1 retail facility.
King Koi and Goldfish also carries a wide range of dry goods like food and medication from name brands like Hikari, Hai Feng, and Laguna. They are also a betta importer that carries the latest and most popular varieties such as the Alien Betta!
AquariumFish.net
As one of the "firsts" in several respects, AquariumFish.net has a storied history. Their original facility was built in 1976, making it one of the oldest in the world that's continually been in service. The Bailey Brothers, Tom and Nevin, are the founders and have been in the fish business for over 50 years now.
And the AquariumFish.net website was set up in 2000, making it venerable as far as websites go. It definitely has a dated look, as if it hasn't changed since 2000, but I find it quite charming, though a little strange to navigate at times.
But what's much more important is their goldfish collection. AquariumFish.net caters both to hobbyists looking for standard varieties like comets and orandas as well as specialists who want fancy orandas, ranchus, and other pricier goldfish.
And if you're in the market for tropical fish AquariumFish.net has a huge collection of tetras, barbs, nano fish, cichlids, and saltwater fish that you can add to your shopping cart. Their shipping rates are also very affordable considering it's all overnight delivery. And for orders over $169.99 you get free next-day delivery!
Zhao's Fancies
Zhao's Fancies is a goldfish farm based just outside of Atlanta, GA that was started fairly recently in 2017. The abundant sunshine and mild climate of the region are perfect for outdoor goldfish farming. Bo Zhao and his wife Amy are the couple in charge of the operation alongside Orlando, their dog mascot! Bo has 16 years of experience as a goldfish breeder in China and uses his resources there to import high quality bloodlines for American collectors.
One aspect of Zhao's Fancies that really caught my attention is their bright natural light photography. Most of their listings are WYSIWYG and they use a well lit outdoor display tank where you can see the fish, fins fully extended and colors intensified by the sunshine.
While they have breeder facilities built and running it's mostly their unique imports that are listed on their site. From 5-inch adolescents to 9+ inch adults, there are several goldfish breeds I've never once seen in a brick and mortar store in the US.
East Coast Ranchu
East Coast Ranchu is the passion project of a single passionate goldfish keeper who works out of a breeding facility in his home basement. E.C. Ranchu has been in operation since 2009 and all of his expertise has come from hard study and trial and error.
Since all of East Coast Ranchu's goldfish are captive bred in the USA, there's nothing to worry about in terms of import and quarantine sickness. Nor are there import taxes and fees that get passed onto you as the final purchaser. His facilities are also kept continually free of parasites and other issues because he isn't constantly getting in massive imports of fish that may harbor them.
Something else to love about East Coast Ranchu is how well designed their website is in terms of details and extra tidbits of interest! They are one of the few goldfish breeders fully integrated into Instagram.
East Coast Ranchu also has a portrait gallery of their show quality breeder fish (along with their names, such as "Stewie Griffin," the Thai Buffalo Head goldfish). And they even have a live stream of several of their tanks featuring high end ranchus and orandas! And if you see a fish you fancy, their live stream price list allows you to buy the exact fish that you got to view remotely!
Chu Chu Goldfish
Texas offers a fine climate for outdoor goldfish and tropical fish rearing. Chu Chu Goldfish is located in Austin, the heart of the Lone Star state. They are importers of high quality goldfish lines from China and Thailand, offering breeds that are hard or impossible to find in the USA and Canada.
Chu Chu Goldfish ships all of their fish on Tuesdays only, so you may have to plan accordingly around their schedule. Tuesday shipping ensures that orders sent via USPS will arrive on time and won't sit in a warehouse over the weekend.
If you're a goldfish breeder yourself then you know how difficult it can be to get sexed fish, especially expensive breeder goldfish. Fortunately, Chu Chu Goldfish does the hard work for you, differentiating between males and females so your own breeding projects start off right.
Blackwater Creek Koi Farms
Nearly all of the places to buy goldfish listed here specialize in Chinese and Thai goldfish breeds. If you prefer Japanese goldfish varieties Blackwater Creek Koi Farms has several worth looking at. Pond keepers will undoubtedly find plenty of koi to add to their shopping cart as well.
As befitting koi farmers they photograph all of their fish images from above. And the goldfish varieties they carry are those bred for top viewing pleasure, as befitting the Japanese pond aesthetic. Butterfly comets, shubunkins, wakin, and sanke goldfish are just a few of the Koi-like varieties they carry.
Blackwater Creek has dozens of WYSIWYG listings for both koi and goldfish, taking the mystery out of your online purchase. They also offer mixed goldfish lots and trios of rare Japanese goldfish breeds such as the Wakin and Watonai.