So you're looking to get into freshwater fishkeeping…
First off, congratulations! Fishkeeping can be an amazing, enjoyable hobby. I have been keeping fish for nearly 15 years and still learn new things every day.
Secondly, you're already off on the right foot by researching. Way too many people walk into the pet store with no previous knowledge and buy fish that they aren't prepared to keep – only to have them die days later.
In this guide, we will walk you though a few of the best freshwater aquarium fish for beginners, as well as how to set up your first fish tank the right way. Use the quick links below fish quicker navigation if you please.
---

Best Freshwater Aquarium Fish for Beginners
Here are a few of our favorite freshwater aquarium fish for beginners:
1. Cory Catfish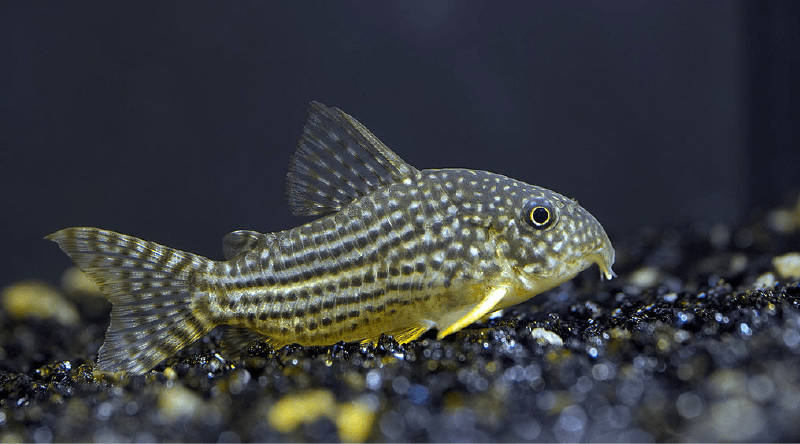 If you've read other articles on my blog, you're probably aware that Cory Catfish are one of my all-time favorite freshwater aquarium fish. These bottom-dwelling catfish are one of the best community fish out there – they survive in a wide range of condition, get along with (nearly) every species, and are active and entertaining to watch.
Since Cory Catfish are schooling fish, so they should be kept in groups of at least 4-5. They are not picky eaters and should do fine on a mixture of flakes and pellets. Dried Bloodworms are also a great supplemental food that will keep your Cories happy and healthy.
Because of their docile nature, I recommend only keeping Cories with other peaceful species such as Tetras, Mollies, Loaches, Plecos, and Danios.
Care Level: Easy/Moderate
Temperament: Peaceful
Tank Size: 20 gallons for groups of 5
2. Guppies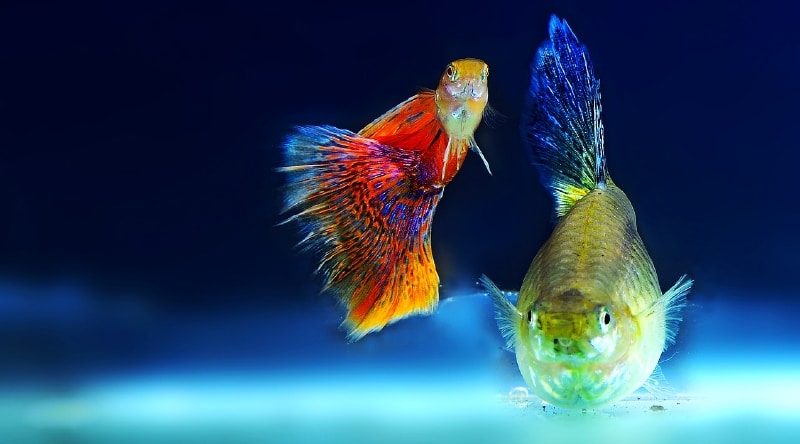 Fancy Guppies are one of the most popular freshwater aquarium fish out there – and for good reason! Their hardy nature, bright coloration, and ease-of-care makes them a great choice, even for first time aquarium owners.
Because of their small size, Guppies are fine in pretty small tanks – 10 gallons should be more than enough. That said, Guppies are also known to reproduce very fast. 5 can turn into 50 in no time, so make sure you have a plan for all of the fry.
In terms of care, Guppies are about as easy as they come. As long as your aquarium is set up correctly and you feed with a high quality flake food, raising a healthy school of guppies should be a piece of cake.
Care Level: Easy
Temperament: Peaceful
Tank Size: 10 gallons
3. Mollies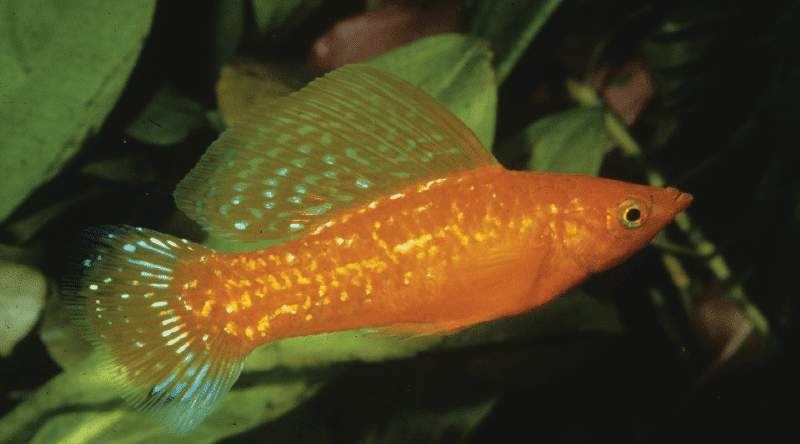 Mollies are a hardy, easy-to-keep livebearer known for their wide range of colors. Much like Guppies, Mollies thrive in most conditions and reproduce extremely quickly. That said, they are a bit larger and require a little more room.
Mollies are an omnivorous species, so they will eat just about anything fed to them. Flakes, pellets, and frozen foods all work very well. Mollies are also available in tons of different variations and colors, so every new aquarist should be able to find a type that fits their tank well.
Care Level: Easy
Temperament: Peaceful
Tank Size: 10 gallons
4. Swordtails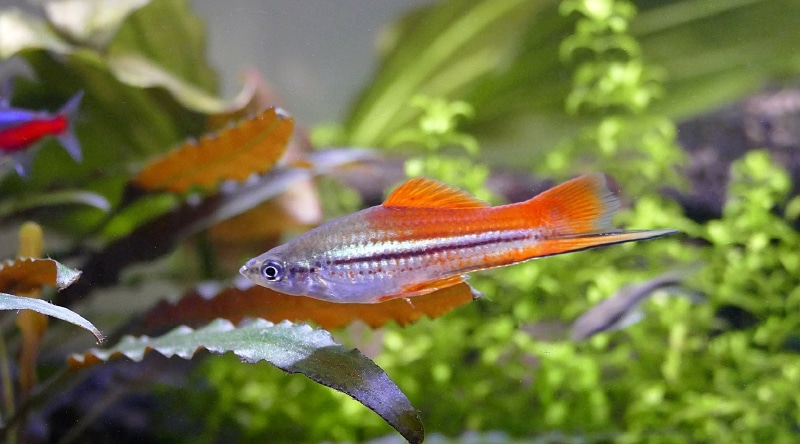 Often grouped with Guppies and Mollies, Swordtails are the final livebearer on our list – but with a unique twist. Male Swordtails are equip with an interesting "sword" protruding from their tails, giving them their name. This unique trait makes them a great attention grabber in any community aquarium.
Like most livebearers, Swordtails are easy to keep and thrive in a wide range of environments. If kept in groups, Swordtails will also reproduce very quickly. As a small and peaceful species, they should be kept with other community-friendly fish.
Care Level: Easy
Temperament: Peaceful
Tank Size: 10 gallons
5. Kuhli Loach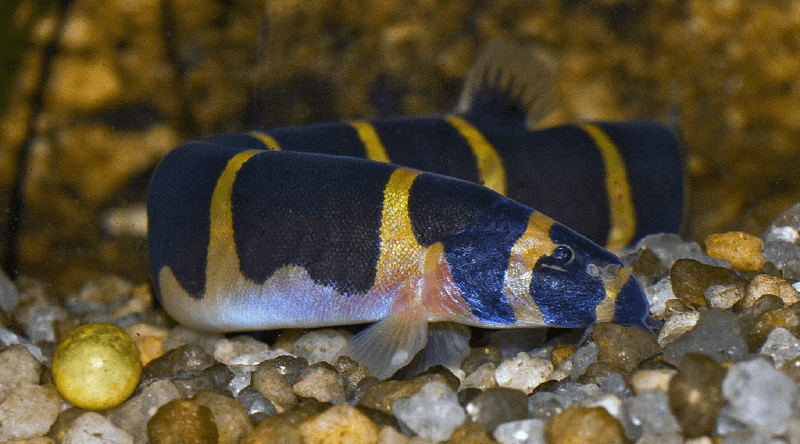 If you're looking for something a little different, a Kuhli Loach might be the perfect freshwater aquarium fish for you. Though this species resembles an eel, it is actually not in the eel family at all.
Kuhli Loaches are most active at night, so don't expect to see them too much during the day. That said, Kuhli Loaches are much more likely to be active during the day if they are kept in groups of 3-4.
Another reason that Kuhli Loaches make great beginner aquarium fish is because they stay small (especially when compared with other loach species). At 3-5″ max length, a group can be kept in a 20 gallon aquarium with no problems.
Care Level: Easy/Moderate
Temperament: Peaceful
Tank Size: 20 gallons
6. Neon Tetra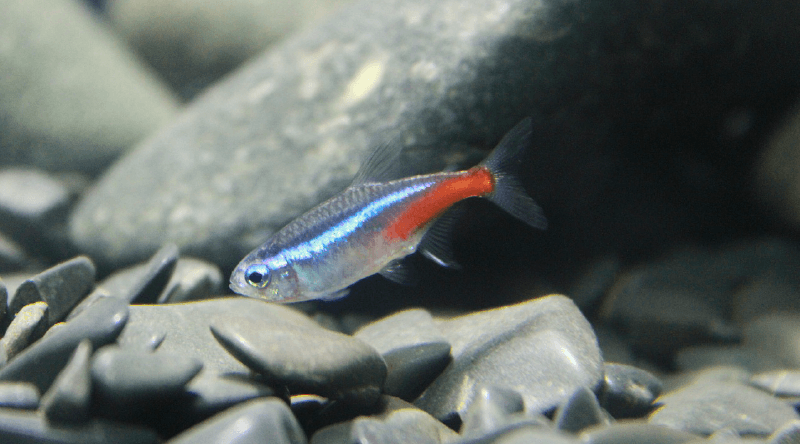 Neon Tetras are small, high-energy fish known for their bright colors and interesting schooling habits. If you're looking to set up a lively, natural aquarium, Neon Tetras are the perfect choice.
Since Neons max out at around 1-1.5″, good size schools can be kept even in small tank. Personally, I like to stock 1 Neon Tetra per gallon of water. That said, 10 gallon tanks should only house 5-7 Tetras sinse water parameters tend to swing around a little more.
Neon Tetras are considered pretty easy to keep and can adapt to many types of water conditions. As long as your tank is stable able cycled properly, you shouldn't have any problems keeping this species.
Care Level: Easy
Temperament: Peaceful
Tank Size: 10 gallons
7. Bristlenose Pleco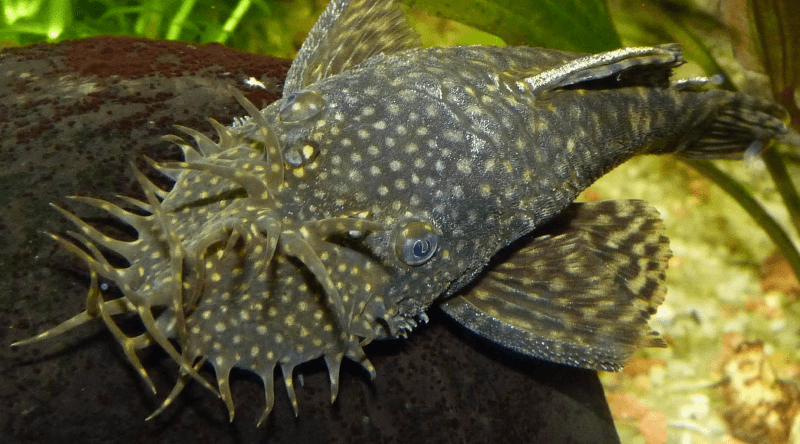 The Bristlenose Pleco, often referred to as the Bushy Nose Pleco or Armored Catfish, is one of the most popular types of Pecostomus in the aquarium hobby. Despite its alien-like appearance, the Bristlenose Pleco is actually a great, peaceful addition to any community aquarium.
One great thing about the Bristlenose Pleco is that it stays relatively small compared to other Pleco species. At right under 5″, they should be kept in tanks of at least 30 gallons.
Because of their huge appetite for algae, Bristlenose Plecos do a great job at cleaning up aquariums. That said, aquarium owners should do supplemental feedings of algae wafers to keep their Bristlenose Plecos well fed and healthy.
8. Betta Fish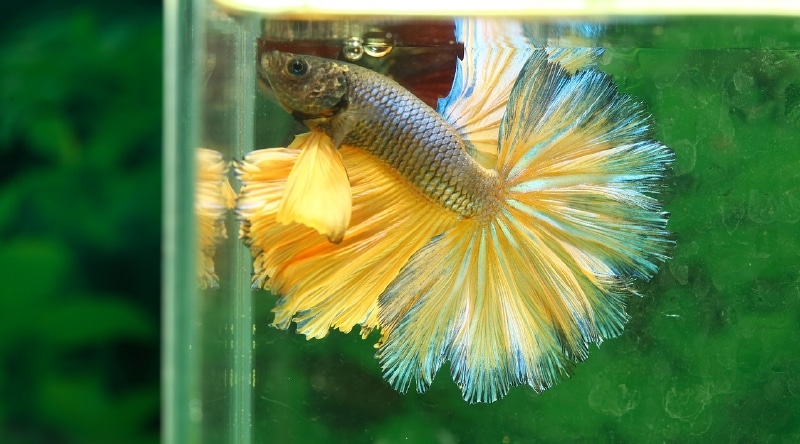 Even if you have never owned an aquarium before, chances are you've heard of Betta fish. These popular freshwater aquarium fish are famous for their bright coloration, versatility, and spunky personalities.
Despite the common belief that Betta fish can live in tiny bowls, you should really never attempt to keep them in anything less that 5 gallons. Small bowl are not only cruel, but can also cut a Betta's lifespan significantly. This list of the best Betta tanks is a great resource for housing a Betta the correct way.
Though Bettas usually prefer a tank to themselves, there are several other species that can co-habitat with them well. A few suitable Betta tank mates include Cory Catfish, Plecos, and certain Tetras.
Care Level: Easy
Temperament: Aggressive
Tank Size: 5 gallons
9. Zebra Danio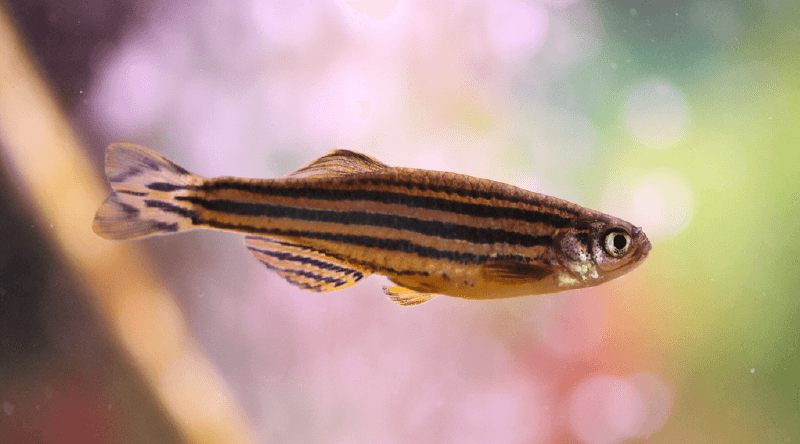 Zebra Danios are one of the most iconic beginner freshwater aquarium fish in the hobby. They are prized for their instantly recognizable striped pattern, energetic antics, and ease-of-care.
Zebra Danios are most energetic when kept in small schools – a group of 7-8 Danios will provide all the entertainment you need from a freshwater tank. Because they tend to be so zippy and lively, a tank of at least 20 gallons is recommended.
Care Level: Easy
Temperament: Peaceful
Tank Size: 20 gallons
10. Dwarf Gourami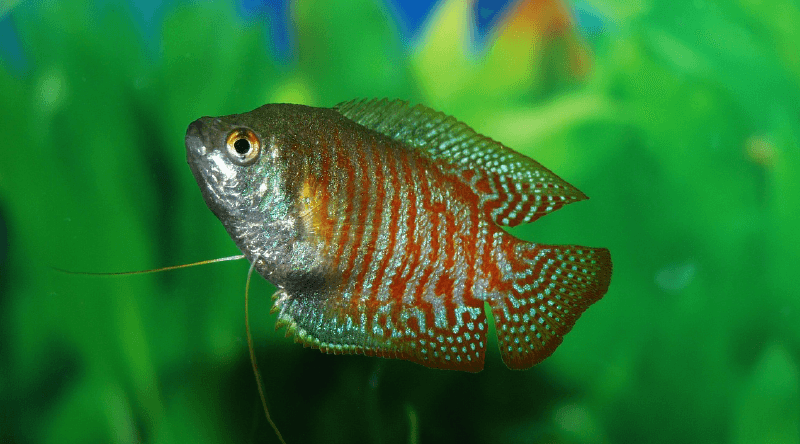 A hardy and colorful species, Dwarf Gourami rank high as one of the top recommended beginner aquarium fish. Not only are they easy to keep and extremely adaptable, Dwarf Gourami also make excellent "centerpieces" for any aquarium due to their electric colors and large personalities.
Dwarf Gourami should be housed in aquarium at least 20 gallons in size. They are generally peaceful in nature, but can become territorial if placed in small tanks with other fish. Some suitable tank mates include Cory Catfish, Guppies, Platies, and Endlers.
Care Level: Easy
Temperament: Semi-Aggressive
Tank Size: 20 gallons
11. Goldfish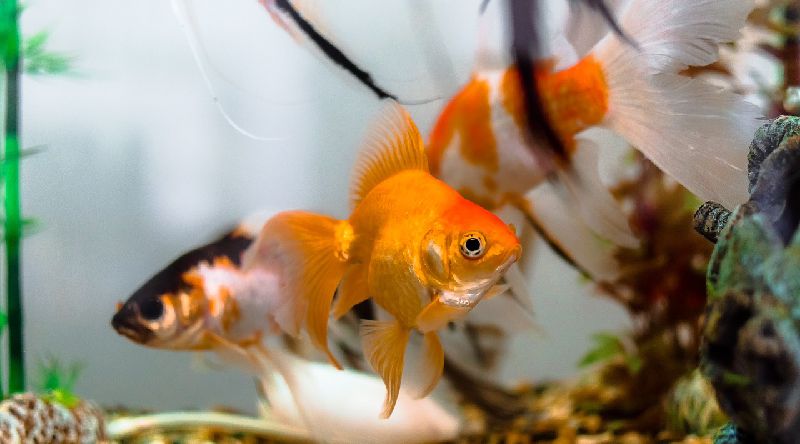 Goldfish are the most popular freshwater aquarium fish of all time (by far). Much to the surprise of most beginner aquarists, Goldfish come in tons of different varieties and colors (many of which are very easy to keep).
Much like Betta fish, the idea that Goldfish can live in bowls is completely wrong. In reality, Goldfish tanks should be at least 20-30 gallons.
Besides the slightly large minimum tank size, Goldfish are extremely easy to keep and do well in a wide range of conditions, making them the perfect beginner fish. That said, they prefer a cooler environment than most tropical aquarium fish (68-75°F), so they tend to do best in goldfish-only tanks. Goldfish also do well on a simple flake food diet, so no special feeding is required.
Care Level: Easy
Temperament: Peaceful
Tank Size: 20-30 gallons
12. Convict Cichlid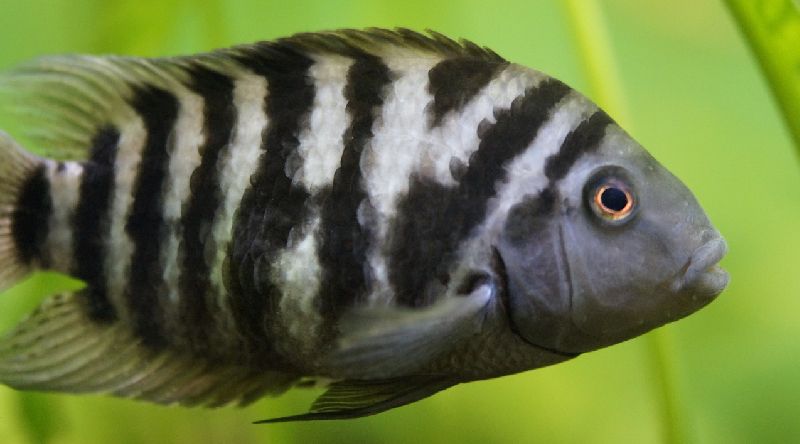 In my opinion, Convicts are one of best beginner Cichlids out there for new aquarium owners. In fact, my first ever fish was a male Convict Cichlid (and I still own a few of his offspring nearly 20 years later!).
If you have any interest in breeding fish, Convict Cichlids are definitely the way to go. As long as your tank is stable and you have a male/female pair, not much else is required for these fish to spawn – and as a hardy species, Convict fry as pretty easy to raise.
Be warned, though – as a species of Cichlid, Convicts aren't always the most friendly fish (especially when they are spawning or caring for fry). If you decide to go with Convict Cichlids, save yourself the headache and avoid adding any tank mates.
Care Level: Easy
Temperament: Aggressive
Tank Size: 20 gallons
13. African Cichlids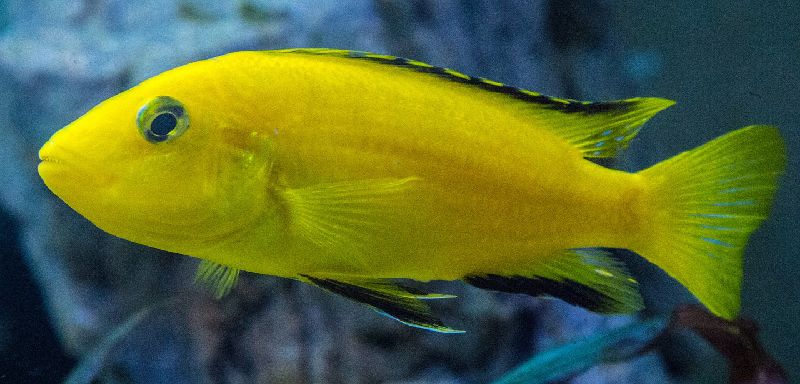 The term "African Cichlid" is a blanket term that includes tons of different Cichlid species (over 1,200) – some of the most popular include the Yellow Lab Cichlid, Peacock Cichlid, and Zebra Cichlid.
In general, African Cichlids tend to be colorful, hardy, and prolific breeders. As with most cichlids, though, they can be a bit aggressive – choose tank mates carefully if you want to house them with other species.
Most African Cichlids are mouth-brooders, meaning they hold offspring in their mouths for 3-4 weeks until they can fend for themselves. If you have any interest in breeding fish and want something unique, I highly suggest looking into African Cichlids – the mouth-brooding process is truly amazing to watch.
Care Level: Easy
Temperament: Semi-Aggressive
Tank Size: 20 gallons
14. Red Cherry Shrimp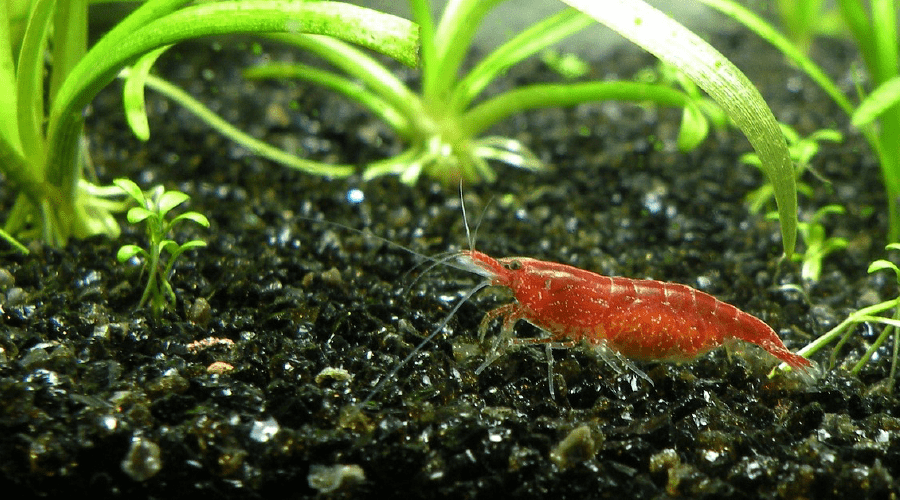 Red Cherry Shrimp aren't technically fish, but they're interesting nonetheless. Small, colorful, and easy to keep, Red Cherries are the most popular freshwater aquarium shrimp out there.
While most shrimp are especially sensitive to water conditions, Red Cherries have been selectively bred for hardiness. That said, Red Cherry Shrimp still require good water conditions to thrive. In addition, Cherry Shrimp are best kept in shrimp-only tanks – otherwise, they usually become an unfortunate snack for hungry fish.
Care Level: Moderate
Temperament: Peaceful
Tank Size: 10 gallons
15. Cherry Barb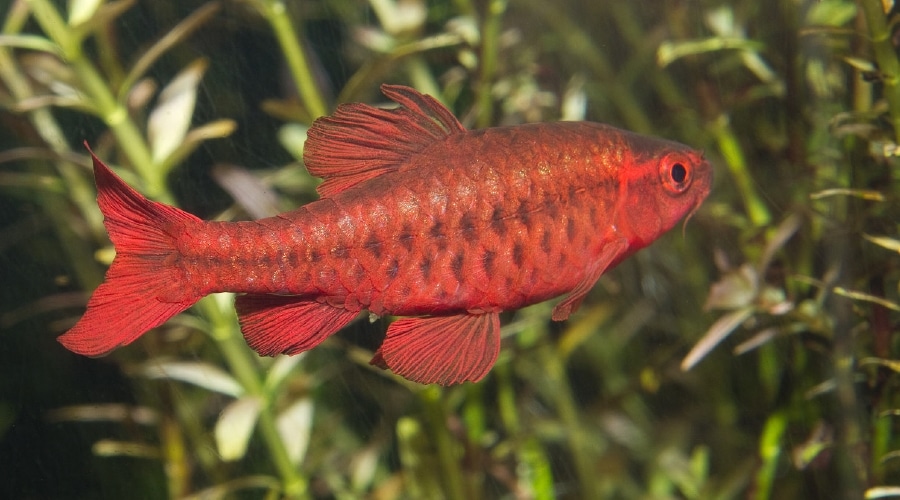 If you're looking for a colorful aquarium fish, Cherry Barbs are hard to beat. These bright-red Barbs and not only eye catching and energetic, but also very easy to care for.
One great thing about Cherry Barbs is that they are just as content by themselves as they are in community tanks with other fish. Although they are generally peaceful and get along with other species, these Barbs can be a bit skittish when kept around more aggressive fish.
Overall, Cherry Barbs are a great beginner fish that add a sense of liveliness to any aquarium they reside in.
Care Level: Easy
Temperament: Peaceful
Tank Size: 20-30 gallons
16. Tiger Barb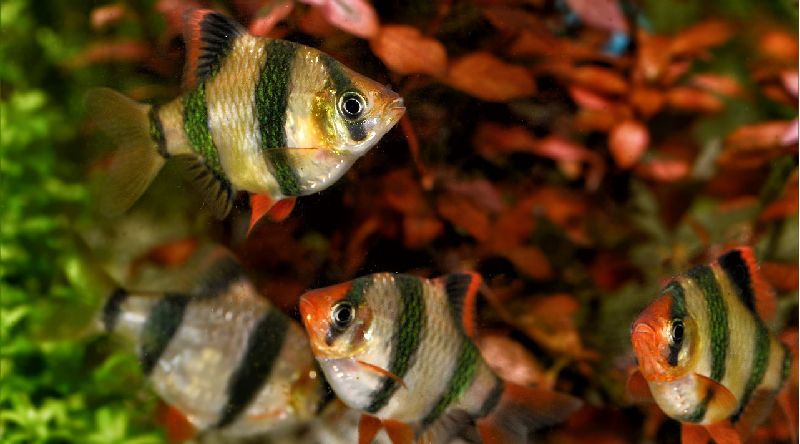 The Tiger Barb is a lively, energetic fish famous for its recognizable orange and black striped pattern. As a schooling fish, Tiger Barbs should be kept in groups of 5-6 for best results.
In my opinion, Tiger Barbs are one of the most entertaining fish to watch – these little things NEVER stop moving. That said, they can be a bit nippy. Be careful when keeping them with long-finned fish such as Angelfish.
As an omnivorous species, Tiger Barbs should be fed a mix of flake food and meaty food (frozen brine shrimp or bloodworms) for optimal health. They also feel most "at home" in planted aquariums, but plants definitely aren't an absolute must.
Care Level: Easy
Temperament: Peaceful (though slightly nippy)
Tank Size: 20-30 gallons
---

How to Set up Your Fish Tank (The Right Way)
Setting up your fish tank correctly the first time can save you a ton of time and money in the long run. Here is our step-by-step beginners guide for setting up your first fish tank:
Step 1: Gathering the Equipment
Picking out the right equipment is vital to the success of your tank. Remember, fish should not be kept in bowls! If you're interesting in buying a complete kit, we recommend the Marina 20 Gallon Kit. It contains most of what you need to get a tank running and is much better than other kits on the market.
Sale
If you're looking for a more custom setup, here are a few things you will need:
Tank: A lot of beginners make the mistake of thinking small tanks are easier. In reality, the tiny water volume of small tanks makes it very hard to control water parameters. In my opinion, 20 gallons is the magic number for first time fish keepers – large enough to offer some stability, but small enough so it's not a ton of work.
Filtration: Unless you're keeping really difficult fish (which none of the above are), a hang-on-back filter should be more than sufficient. I've use the AquaClear Power Filter for years – its powerful and pretty quiet compared to other filters on the market.
Heater: A heater not only gives you precise control over the water temperature of your tank, but also allows you to create a stable environment for your fish. I recommend the Cobalt Aquatics NeoTherm.
Substrate: Most species on our list are fine with a simple gravel substrate (the only exception is Cory Catfish, which require a softer sand substrate).
Water Conditioner: Water straight from the tap is not suitable for aquariums, as it contains chlorine and other harsh chemicals. Water condition removes these toxins and makes your tap water safe for fish.
Step 2: Setting up the Tank
Now that you have all the right equipment, it's time to put everything together! Here are a few basic steps to follow when setting everything up:
Rinse & Lay the Gravel: I can't stress that first part enough – do not forget to rinse your gravel. Gravel straight from the bag will create a cloudy mess that is very hard to fix. Rinse until the water runs clean, then lay gently int eh bottom of your tank.
Fill & De-Chlorinate: Once the gravel is laid, it's time to fill your tank! Pour water into your tank as gently as possible. Once filled, add the appropriate amount of water conditioner per the bottle's instructions.
Aquascaping: Now that the tank is filled with de-chlorinated water, feel free to let your creative process flow. Add decorations, live/fake plants, air stones, or anything else you desire.
Heaters, filtration, lighting: Add your new heater, filter, and any other equipment you purchased.
Step 3: Cycling
Cycling is the most important (although also the most ignored) step in setting up an aquarium. But what exactly is the cycling process?
In simple terms, the Nitrogen Cycle is the process of building up colonies of beneficial bacteria that convert harmful compounds (ammonia caused by fish waste and uneaten food) into safer compounds, such as nitrate. Without these beneficial bacteria, Ammonia and Nitrite levels in your aquarium will skyrocket – which means serious problems for any tank inhabitants.
For the sake of making this article as short as possible, we're not going to go through the entire process of completing the nitrogen cycle in this post. Instead, check out our beginner's step by step guide to the nitrogen cycle here.
Step 4: Maintenance
Once your tank is cycled and your fish are swimming happily, all the hard work is done, right? Unfortunately, no…
In order to keep your tank healthy, regular maintenance is require. Here are a few things you should do to keep your aquarium running smoothly:
Weekly or bi-weekly water changes: Water changes are a great way to remove unwanted toxins (ammonia, nitrite, and nitrate) and re-introduce important trace elements that make for healthy fish. Make sure you always use water condition on the new water that you're putting into your tank.
Regular testing: Testing your water chemistry regularly is the only way you can really understand what's going on beneath the surface. The API Freshwater Master Test Kit is the best water tester on the market.
Filter cleanings: A lot of gunk tends to build up in the filter (obviously). That said, never wash your filter under sink water. Huge colonies of beneficial bacteria (which are vital to the heath of your tank) that live in the filtration media will be wiped out by untreated water. Simply rinse you filter sponge in a small cup of tank water for best results.
Final Thoughts
Keeping freshwater aquarium fish can be an extremely rewarding and enjoyable hobby – but it definitely comes with a good amount of work. Though this complete guide, you should be able to choose a great beginner fish and set up your tank the correct way.
Good luck and happy fish-keeping!